Sara Gunn-Smith and Craig Smith couldn't believe their luck when they stumbled upon a semi-detached property in their neighbourhood big enough for their young family to live in. But there was work involved to upgrade the house.
In this article we cover:
Tips on buying a house to renovate
Bidding for a sought-after property
Making a VAT saving of thousands of pounds
Space saving design tips for a 140sqm house
Planning permission hurdles, including deck height
Kitchen and bathroom design tips
Insulating a house with little insulation to begin with, including dormer
Window replacement tips
Specification and details of heating and ventilation choices
Issues on site and how they were dealt with
Going from contractor led to direct labour
Tips to stay on budget and taking on the build midway
Supplier list and floor plans
Professional photographs
"Before we bought our forever home we had lived in this neighbourhood for 11 years, in a three bed semi-detached house," says Craig. "Since having our children, we outgrew the house slightly but wanted to stay local as we are close to both friends and family, and love living in this part of town."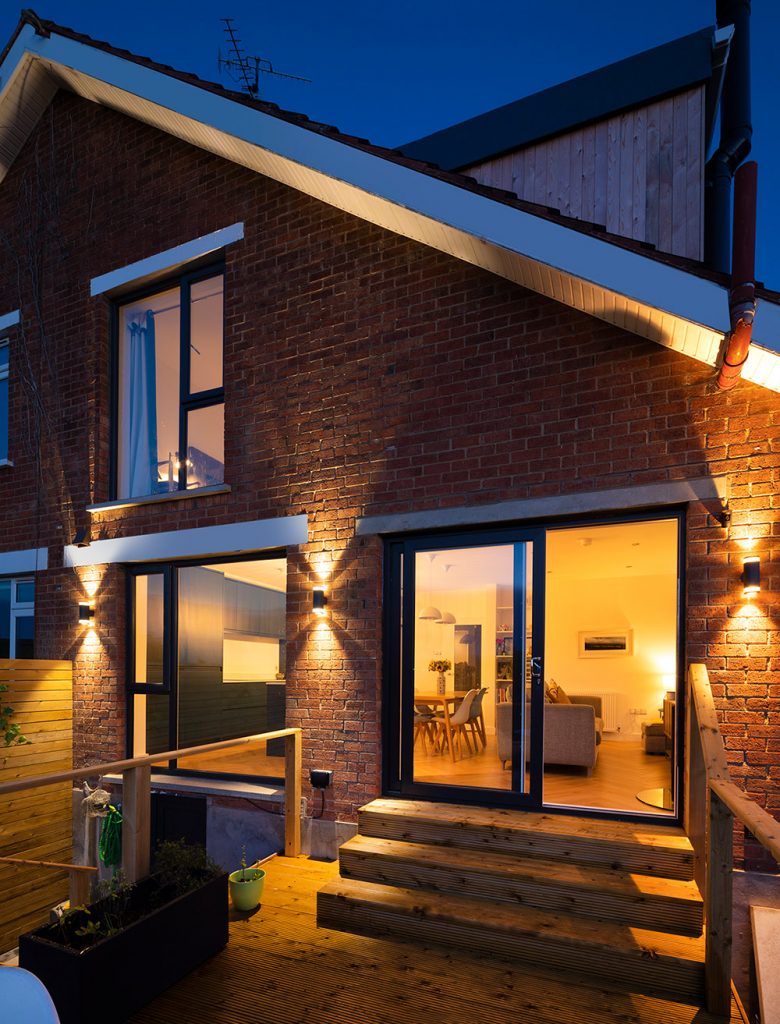 "We toyed with the idea of keeping the house and extending, and actually had plans drawn up a few years ago but realised that wasn't the answer to our problems. So we started to look around to see what we could buy."
"Nothing suitable came up – everything was too expensive as all of the properties we were looking at were in a ready to move in state, or they would have needed an extension to get the space we were looking for."
"One day we were out for a walk, and in the next street from where we lived, we saw a For Sale sign on one of the houses. These particular houses rarely come up for sale, so we got pretty excited," says Sara.
"Unfortunately, this was in March 2020 and then lockdown hit but we still tortured the estate agent to arrange a viewing – it was the first property he showed once lockdown was lifted, and we were determined to make it ours."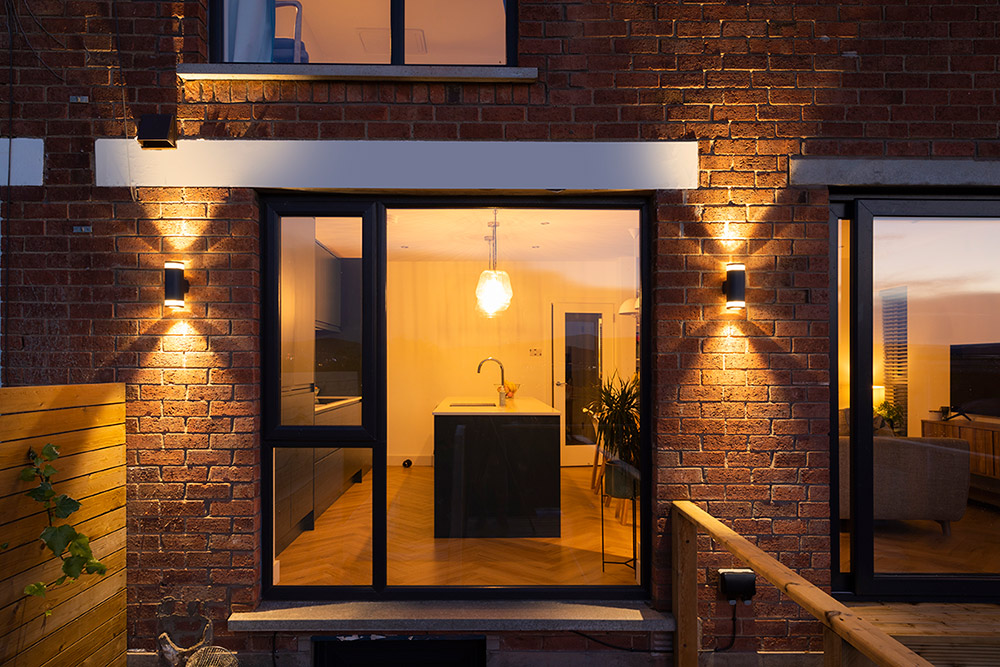 Dream project
"While in obvious need of modernisation, from the photos the house looked promising; it was a good size and had well-proportioned rooms," says Craig.
"We also couldn't believe the size of the garden," says Sara. "The story goes that there was meant to have been another row of houses built at the back of these properties in the 1960s, but it never happened so our block benefitted by having these large gardens."
"We both loved it and, even though we knew it would need significant work, we could see its potential. We were very lucky to find a house this big in this area – the bedrooms are all good sizes and we have family space together, but also have a playroom and 'good room'. We also knew it would make working from home a lot easier than it was in the previous house."
"Somehow we managed to secure it," says Craig. "Other people had outbid us but as it was a family sale the sellers were keen to see it go to another family, and we had a deposit ready to go so were in a good position to move quickly."
"We wanted to start on our renovation plans straight away, and the owners were really accommodating. They allowed the estate agent to let us in a few times as the sale was going through," says Sara. "This meant we were ready to hit the ground running when we got the keys."
"We did a lot of research into renovations and discovered that if the property had been unoccupied for more than two years, which it was, we would get a reduced VAT rate of 5 per cent on certain elements of the build. We had to go with a contractor for that to kick in."
"When we first heard about it, we tried to get proof that it was unoccupied from the electoral roll or utility companies, but couldn't because of GDPR. We eventually managed to get a letter from our estate agent. That saved us a few grand on the kitchen."
Design and planning permission
"We got a lot of inspiration from the TV show Your Home Made Perfect and from house accounts on social media. I also had very specific ideas of what would work for us," says Sara.
"The house was built in 1964, and felt like a happy family home, with the same owners from then. We wanted the same vibe and aimed to renovate the house as sympathetically as we could with a mid Century modern style. Large windows, clean lines for skirting boards and banisters, square edges, that kind of thing."
"We had a friend recommend a wonderful architect, John Donnelly, who talked us through the process. He happened to live a couple of streets down and had great ideas of how to make the most of the incredible views. We were of a similar mind of what the house could be like."
"He gave us lots of practical tips, including about placement of the downstairs wc, where to build in storage, window sizes and he made us really think about how we would use the house in everyday life. With 140sqm, we had plenty of room for what we wanted, it was just a question of making the space work for us."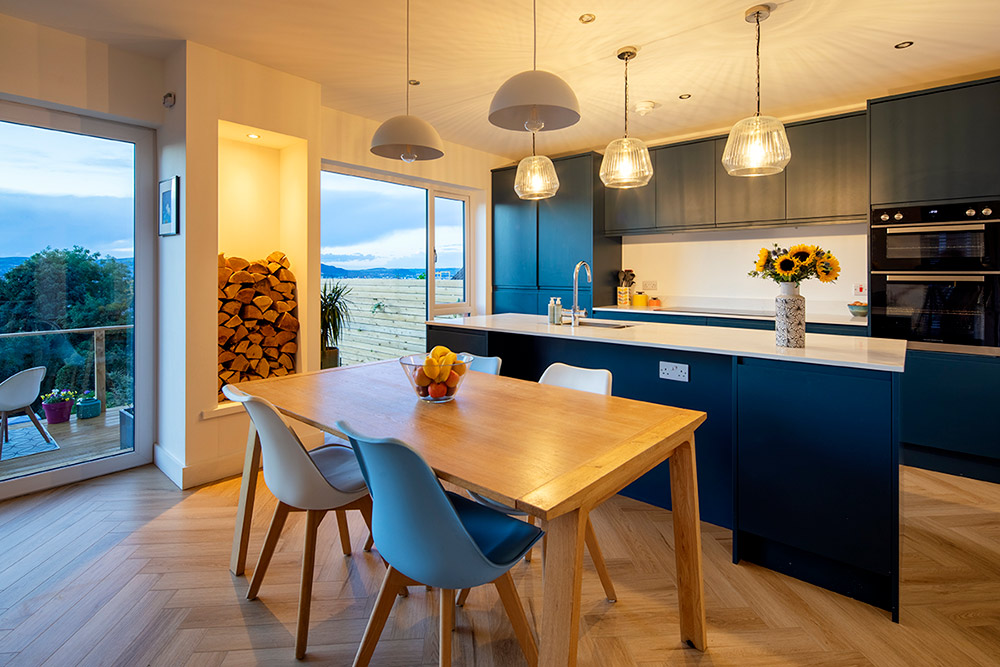 "We had to move around the floor plan – our idea was to knock a wall down between the existing kitchen and dining room and then move the kitchen to the other side so we could have sliding doors out onto a raised deck so our living space would be directly connected to the outside."
"We also knocked down a large chimney breast to accommodate the new kitchen layout. Unfortunately, with the changes we couldn't keep the original 1960s kitchen, which was amazing."
"We knew we wanted the kitchen to be at the heart of the open plan area – it's a rectangular room so we went through variations but settled on a bank of units and a sink with boiling water tap on the island. With the furniture from our previous house, it's a little bit of a tight squeeze to make it function three ways, but we are planning to buy a new sofa and to get a custom made dining table soon so that everything flows perfectly."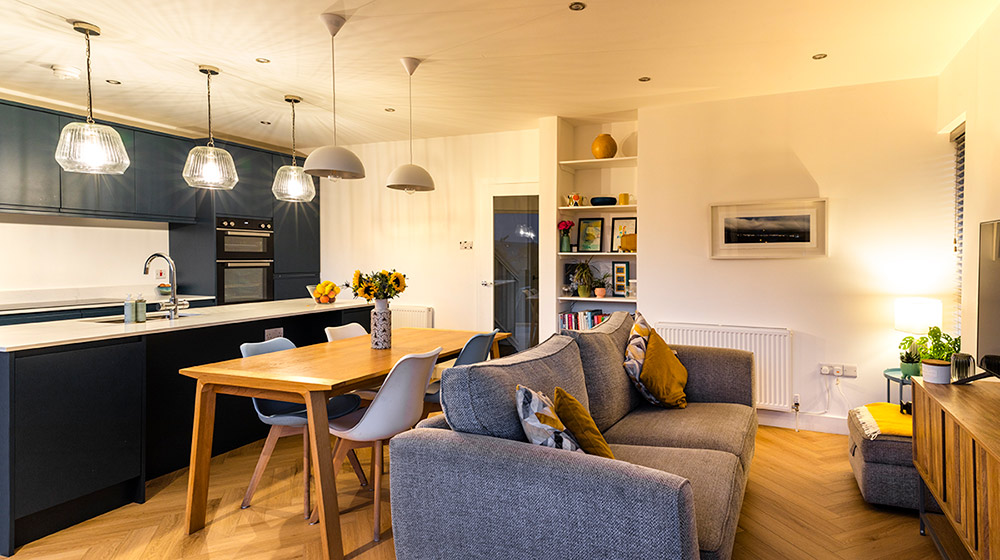 "Our architect came back with initial plans quickly – there wasn't much of a change on our end as we didn't have to extend outwards," says Craig. "Foundations for an extension would have been extremely expensive to do as we are so high on a hill."
"We knew we would need planning permission for the raised deck because it's more than 300mm from the ground. We had already been through the process while selling our previous house as we had to get retrospective planning permission for a similar deck before selling it."
"To give some privacy to our attached neighbours, the planners made it a condition that we add tall fencing around it. We also changed the external appearance of the house by dropping some of the windows to the floor and that was approved too."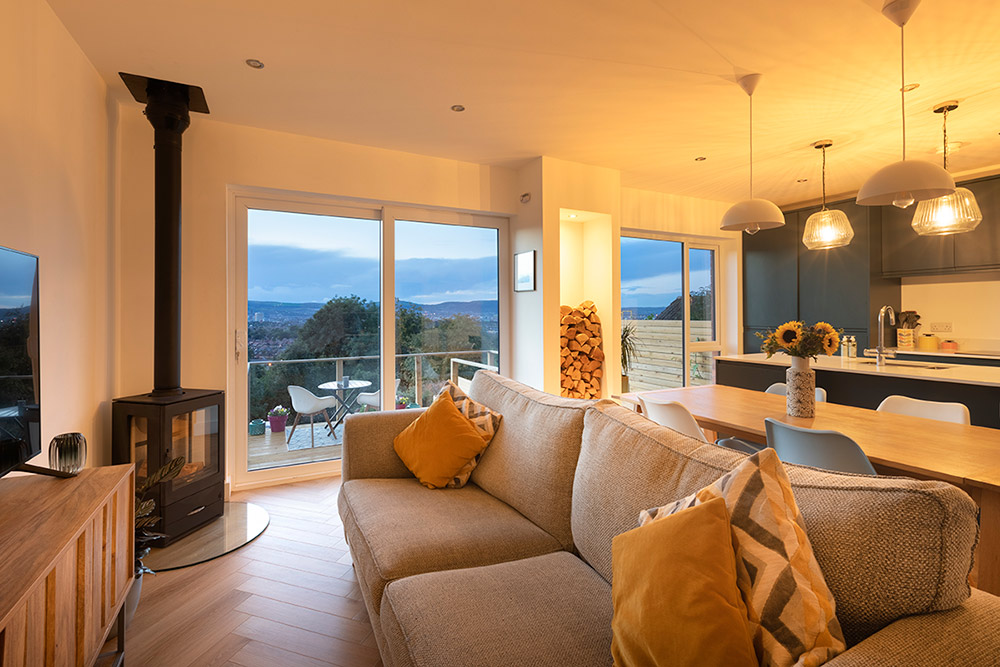 Making the house warm
"We replaced the entire heating system, including all pipes, converting from oil to gas," says Sara. "The boiler upgrade also allowed us to save some space in the house and we now have a downstairs wc where the tank once was."
"We also replaced all of the old radiators. We had fancy ideas for designer rads but our budget dictated otherwise, as we needed so many, so we have simple but functional rads."
"For heating we also added a freestanding wood burner in the corner of the main living space. This is something we wanted from our experience in our old house. It gives off so much heat, it's really cosy."
"The house was built with practically no insulation, so we added insulating plasterboard wherever we could internally. We're in a microclimate that's pretty cold in winter – we were used to it as our old house was facing the same way – and therefore knew we would need to focus on keeping the house warm and as energy efficient as possible."
"We also insulated between the joists of the suspended floors on the ground floor, and replaced the small Perspex light well over the stairs with a large feature roof light. We also insulated between floors in some rooms upstairs for soundproofing purposes, as well as heat."
"The dormer was reinsulated and reclad with larch, and for it we got new windows but the same size. I had fanciful ideas of having a modern oriel window in our bedroom but costs dictated otherwise."
"We replaced all the windows, which was expensive, but that also included new windows downstairs in the wc and living area, sliding doors out to the deck and two very large windows which are almost floor to ceiling – they are in the living room and our bedroom and totally worth it for the beautiful views over the city."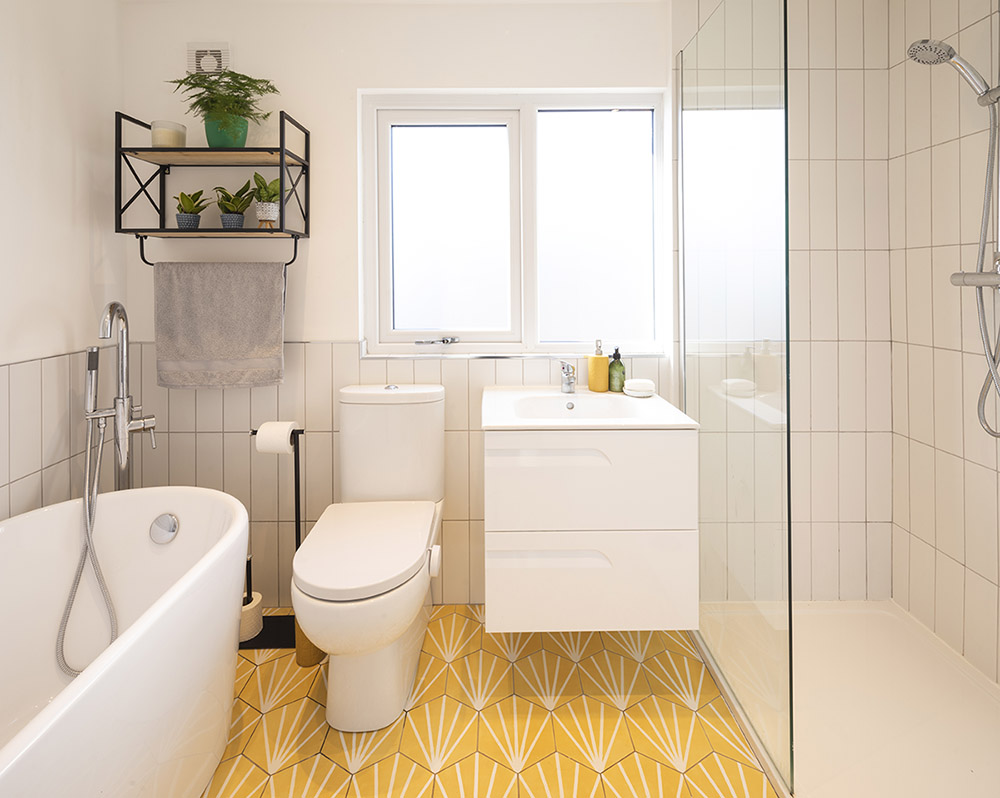 Builder problems
"As we were both working full time, and had the children to look after, we couldn't project manage the build ourselves, which was a shame because we have good, trustworthy trade contacts and would have loved to use them," says Craig.
"But we felt the project was too big to coordinate ourselves, and we sent off our plans to a few contractors. We got no responses, or they were very late getting back to us, or they simply didn't have the capacity."
"One contractor did come back saying he could start straight away, which should have rung alarm bells. The build started off well but quickly went pear shaped," says Sara.
"As the direct build cost was less than 100k we had no contract; we were advised one wasn't needed because we had very detailed construction drawings to follow. But almost from the start, we found that decisions were being made without consulting with us or checking the plans. Simple things weren't done right, or not at all."
"Add-ons started appearing on the builder's stage payment requests, at one point presenting a list of 4k in extras to pay, including tanking (waterproofing) the bathroom which was specified on the plans. All bathroom fixtures and fittings were meant to be included but he charged us for them saying they were extra."
"Because of all the trouble, the architect had to step in and help us out several times. We also had building control help us through this; when they came for sign off, they spotted things like the extractor fans in the bathrooms not leading outside, insulation in the attic not complete, and various other issues."
Parting ways
"At this stage we had been living at my parents' house for five months, which was great, but our children are noisy and we all needed our own space, so it was time to move in even though the house wasn't quite finished," says Sara.
"The house was mostly completed when we parted ways with our builder. He told us he had everything completed but this was simply untrue. There were a lot of aspects not finished, or not finished correctly. For example, we had to pay £300 to another supplier to fix mistakes that were made when wiring in the oven and cooker."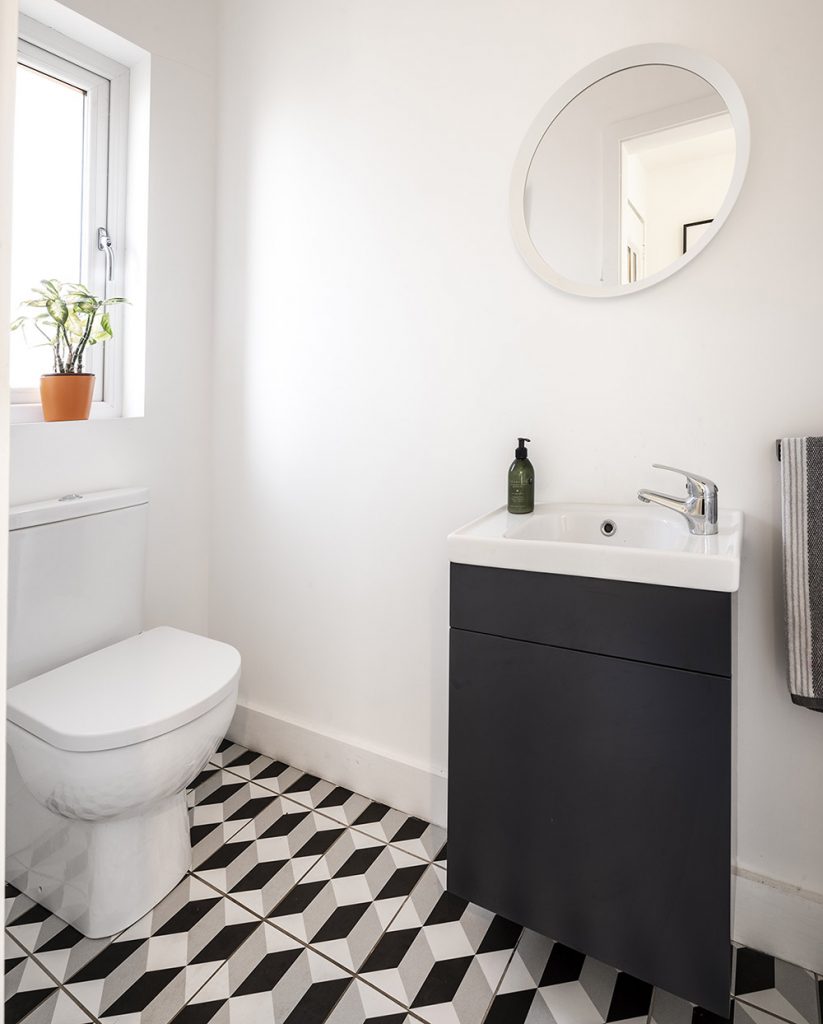 "It was a relief to go our separate ways, a weight taken off our shoulders even though it meant more work for us. We felt we had more control, and we could move on with our lives."
"So we picked up where he left off – the workmanship was really bad so some things had to be redone. The worst example was that the builders had broken the old front door sill (for no explicable reason) which left a massive gap at the bottom and it would blow open with a gust of wind, which meant it was freezing when we moved in and not secure at all."
"We still have things to fix like the front steps," says Craig. "Another example is the electrics; we had specified Cat 6 wiring and that was started, but they didn't wire up the room where the cable comes into the house, so it made the rest of the network points useless. In some rooms there are ethernet points on the wall but there's no cable coming to it."
Family living
Despite these hurdles, Sara and Craig are now living in a fit for purpose home – even if they feel there are still some snags left to fix. "The house is really well equipped for family living," says Craig. "We have the downstairs bathroom near the living room and playroom. We also have an extra living room, which we call 'the parlour' that we love."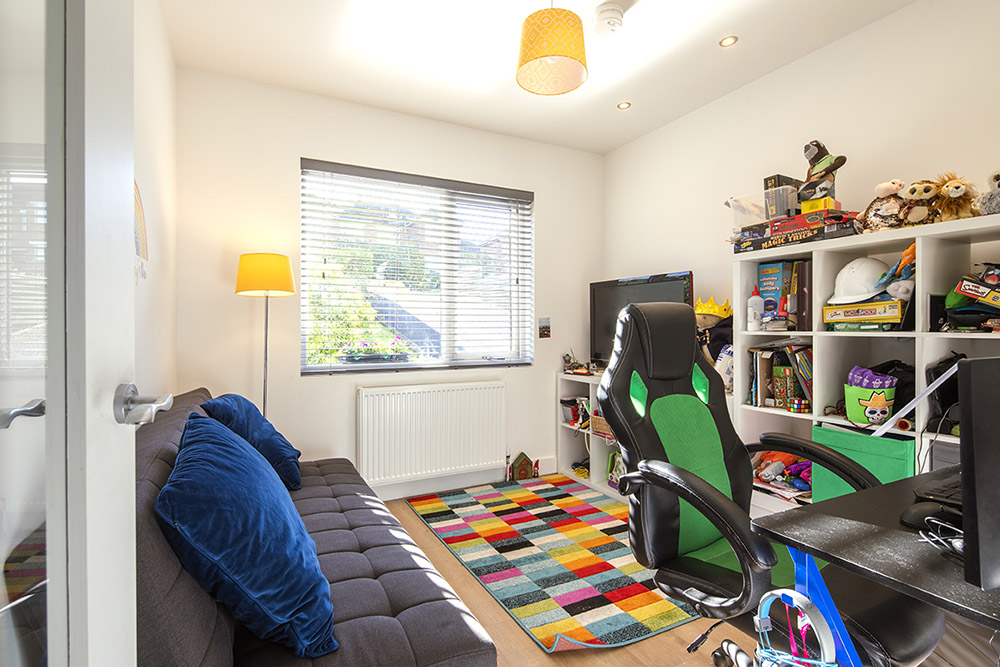 "It's a no-kid zone with the record player, books and a nice booze selection. In the morning it's bright and in the evening, it is warm and cosy; it took us a few months to see how the space would work for us and how to decorate it. It proved to be a lifesaver during last summer's heatwave as the back of the house was boiling with all the windows, so we hid in this room which was nice and cool."
"The garden also added another dimension to the house. Our architect John had ideas for it and gave us a rough plan for the landscaping. We sent it out to 15 people, this was January 2021, and couldn't get anyone to get back to us with a price."
"We knew we had to get it done soon because it was too dangerous for the kids to be out – there was a steep and slippery path with dense planting. In the end, one of our friends recommended a brilliant company who took on the landscaping work for us."
"They really listened to what we wanted and found ways to reduce costs – it was a complete transformation. He was so honest, reliable, and had great ideas. It was a massive job – a digger had to move 90 tonnes of soil before the new retaining walls could be built."
"Now we can get down the garden safely, we have different spaces to hang out in, the planters add greenery and it is brilliant for entertaining friends and family."
"We kept the lawn area for the kids to kick a ball around but have great plans to develop it in a few years. We're really enjoying the space and even though the price of materials was already steep at that stage, we felt it was money well spent."
"Our plans for next year are to add lighting, to make the most of our summer evenings outside, and maybe a few raised beds to grow fruit and vegetables."
Follow Sara and Craig's journey on Instagram @belfastcityviews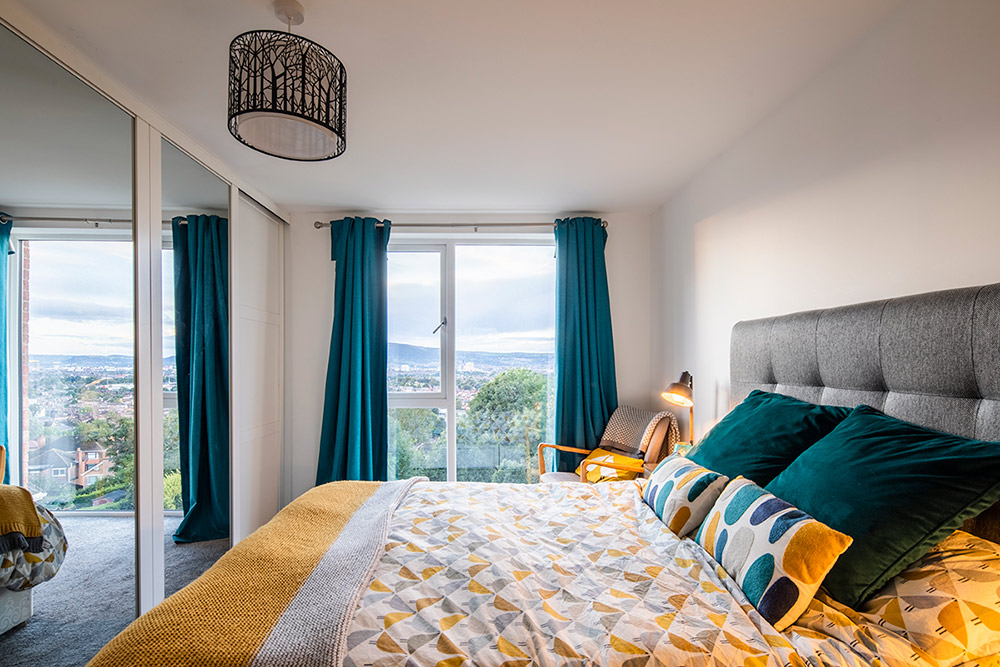 Sara's tips
Be firm. We were very aware of delays with materials because of Brexit/Covid, and were generally understanding and easy going. Unfortunately, I think our good nature worked against us when dealing with the builder and if we were to do it again, we would ask the builder to follow the construction drawings to the letter and wouldn't accept his excuses as much as we did.

Put it in writing. Even if it's a small project and you are bringing a builder on board, make sure your expectations of what is and isn't included in the contract price is put in writing and agreed to with a signature.

Be on site. We were living across the road and were checking in two to three times a day. That's the only way to head things off at the pass. We managed to avert quite a few disasters this way.

Measure twice. With the bathroom, we had to make sure everything we wanted would fit – there was plenty of room but with the layout we wanted, every inch counts.

Take your time with colours. Even though I had great ideas for colour schemes, the house was painted white for us to move into. It paid off to take our time with the internal decisions, to see how natural light, and artificial light, works in each room. I'm looking forward to spending the next few months choosing colours and picking my favourite designer wallpapers to get started on the interiors.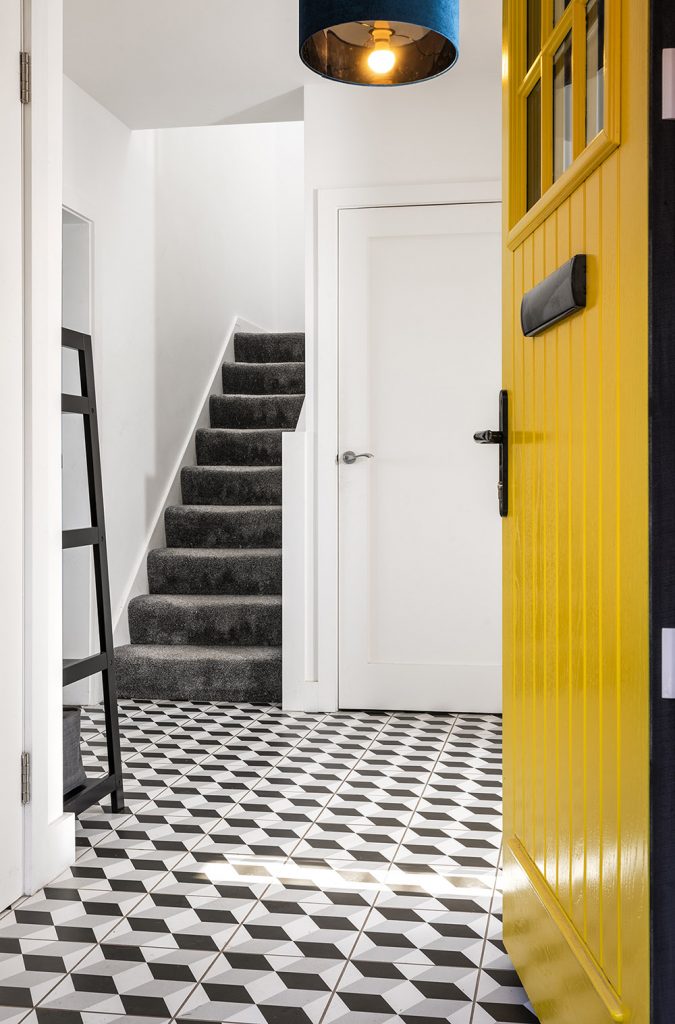 Q&A with Craig and Sara
What's your favourite design feature?
The open plan area is a fabulous space to be in and enjoy the unbelievable views across Belfast – you really see something new every day and the summer sunsets are incredible. The best thing about the kitchen is the big pantry cupboard, where we store the appliances and all the food. The kitchen is really easy to manage and keep clean, and there is lots of preparation space.

What surprised you?
Apart from the builder woes, how much we could save by shopping around for the kitchen. To finalise the kitchen plans, we went to one kitchen supplier for the design but felt their communication wasn't great. We shopped around and ended up getting the same kitchen for significantly cheaper elsewhere.

What would you change?
Upstairs in the family bathroom, there is a walk-in shower and a small freestanding bath. We also chose a wall mounted sink unit to make that fit and to make the most of the space. The builder insisted we couldn't have exactly what we wanted (what was on the plan) so there was a lot of back and forth about putting in a quadrant shower, which we both knew we definitely didn't want.

He reluctantly did what we asked but the shower screen he supplied was too small, and the towel radiator isn't mounted on the wall. The beautiful tiles which I had spent so long deciding on (left) were also laid the wrong way. After months and months researching our bathroom, it was hard to accept that elements of it were wrong.

Would you do it again?
We learned a lot of lessons so would feel much more equipped to take on a similar project but no, we're never doing it again simply because we don't ever need to – this is our forever home.
Spec
Roof: Two layers of 60mm PIR insulation between rafters and lightwell framing. 30mm PIR insulation to sides of lightwell. 200mm mineral wool quilt laid between existing ceiling joists and 200mm laid over joists. U-value 0.12W/sqmK

Suspended floor: Stainless steel chicken wire fixed to floor joists with stainless steel nails to fit in 100mm phenolic board insulation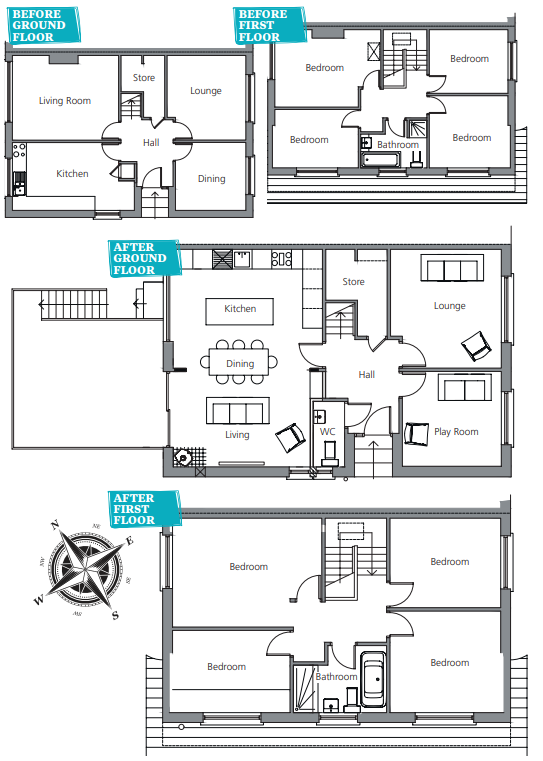 Suppliers

Architect
John Donnelly of McCarroll Donnelly – Architecture and Conservation, mccarrolldonnelly.com
Kitchen
Kitchens Direct, kitchensdirect.co.uk
Blinds
cityblindsni.co.uk
Tiles
armatile.com and carlanto.com
Landscaping
Abbey Paving and Landscaping, email floriantazz90@yahoo.com
Photography
Paul Lindsay, paullindsayphoto.co.uk