A Dublin semi-detached renovation project was ideally suited to expats Edith and Hans Schroeder who went full native with a modern makeover.
In this article we cover:
Full details of insulation and renovation upgrade of 1950s house
Design details and planning permission process
Choice of heating and ventilation systems
Kitchen design
Decisions on the interiors
Dealing with snags
How they managed the project and process of appointing a builder
Changes they would make now that they are moved in
Full supplier list, specification and professional photographs
House Cost: €635,000
Total build cost: €465,000
Including total cost of bathrooms at €12,000, kitchen with appliances at €33,000, plumbing and heating at €26,000 and electrician at €13,000
Plot size: 650 sqm
House size: 240 sqm + 42 sqm attic for storage
BER: A3
Airtightness: 6.2ACH@50PA
Edith and Hans Schroeder moved to Ireland during the height of the Celtic Tiger years, one decade ago, and, as they never planned to be here permanently, they opted for rental accommodation. But as the years wore on they realised they actually did want to stay forever, and that is when the house hunting began.
"We started to look for a house in 2012 and it was very hard to find something we liked for the right price. We were also tired of paying rent and went to visit houses every Saturday but that still didn't progress anything. That's when we began to think about investing in a renovation project," explains Hans, whose search was taking place in Co Dublin within commuting distance to the capital.
"At the time I played golf with a builder who advised me to hire a design professional to help us choose the right house to buy. It can be hard to tell what has potential and what doesn't. He also gave me some insights into the cost of renovating which made me think it probably was the best way to go."
In June 2013 they finally found what they were looking for, a quiet site with plenty of garden space, and near public transport. "It was a semi-detached house built in the 1950s, located in a cul de sac. In addition to the location the shape of the house was very attractive, it's a parallelogram whose smaller side faces the street," adds Hans.
"This allowed us to build something which would look, from the front, similar to all of the other houses but very different from the garden." As the original owners did almost no work on the house, their design professional advised them to strip it back to the bare walls and start from scratch.
"The bathrooms were dated and there was very little insulation. And there was a damp problem in the garage, which had been unsuccessfully converted into a kitchen," expounds Hans. The build started end of April 2014 and lasted until Christmas of that year.
The snag list included small items but also two issues that took a while to sort out, namely the fitting out of the rainwater harvesting system (Hans says the plumber and the builder could not agree on who had to do what) and air leaks in the attic which led to a poor airtightness test result. "All of the issues were resolved but it took six months to sort out," says Hans.
German touch
Once the first headache of finding a house was overcome, the second concerned planning issues, which took about two months. This design phase, says Hans, was the most enjoyable part of the process. "It took us a long time to design the house, not only because of the suggestions made by the planners but also by our neighbours," he says.
"While our architectural technologist Mark believes the design had at least a dozen iterations, it seems to me there were only a handful. We wanted to get it right because we weren't going to start changing things when we got on site."
"Our main focus was to retain the lovely open plan layout we have in our house in Germany. To get that we'd knocked down a few walls, we also extended to build a conservatory," he continues. "We wanted as much light as possible so we put in as many windows as we could at the back of the house," says Edith.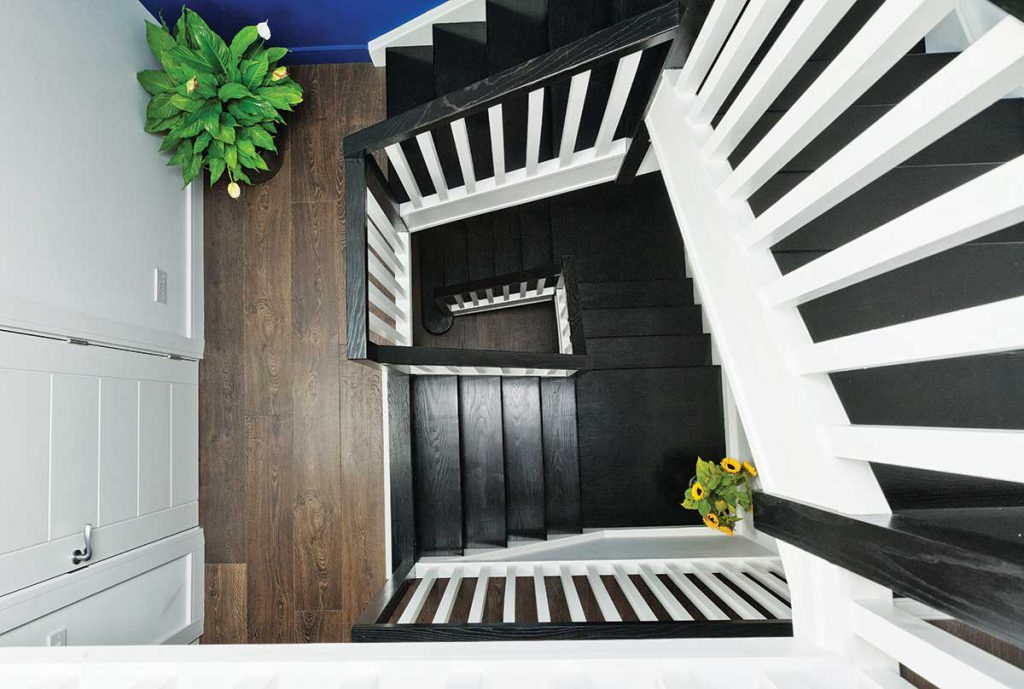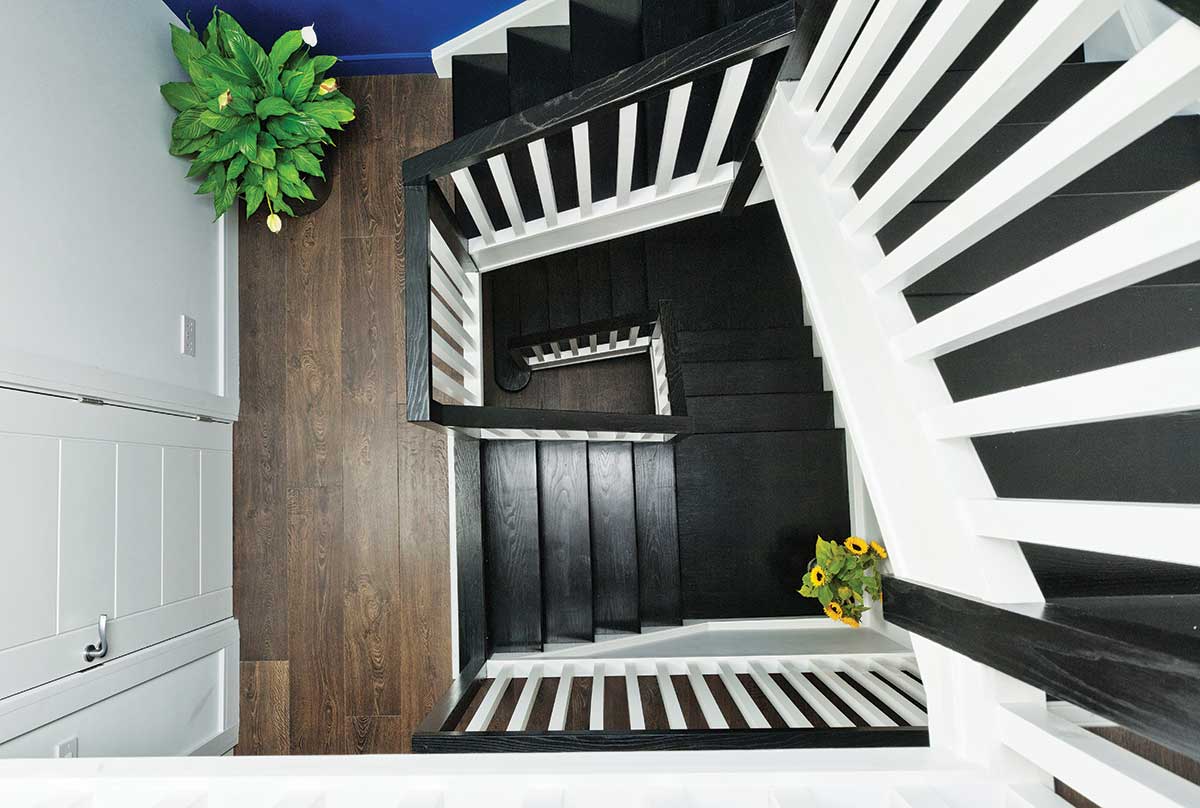 "We introduced sliding units as well as a 3m high corner window." With a complete gutting out and extension, it's no wonder it took a while to fine tune. Add to that the fact that the site is sloping and the design embraces it, and you've got some complexities to sort out.
"There are two steps to the lower living area, the ceiling is at the same level in the kitchen as the living room but overall the height is greater in the living space. We get all day light in here," adds Hans. In a residential area you are likely to get objections especially on a large building project such theirs, which involved a lot of construction.
And so the couple had to reply to a few. "Due to the neighbourhood's high water table, one comment was about the possibility that our house might contribute to flooding issues in the area, so we installed a rainwater harvesting system to take the pressure off the mains."
"We also thought we were future proofing ourselves against water charges but that seems off the cards now. Still, it's good to be flushing our toilets and watering our garden with this recycled water, otherwise we'd be using drinking water to do it which doesn't really make sense," continues Hans.
Mark also suggested building a house that was as efficient as possible to heat and run, and so they opted for high levels of insulation and an air to water heat pump for heating and hot water. While they considered generating electricity with PV panels it didn't make sense to them to do so as there is no feed-in tariff in ROI for small installations.
There is underfloor heating both upstairs and down. "As compared to our previous rental, and considering we only use electricity, our energy bills are about a quarter to a third less now," says Hans.
"In our case this equates to approximately €1,000 per year for all of our energy needs." They do have a stove but it is gas fired, and this was one of the design features that took on a life of its own.
"At first we were only going to put it in the living room, then we thought we should corner it into the dining area also and now it's also visible from the kitchen! It's a three-sided wonder," says Hans. "We love to look at the fire in winter even if we don't need it for heat," adds Edith.
Knowing when to delegate
Hans is well used to having to make decisions in his line of work, but he didn't relish having to take any during the building phase. "It really worked very well for us to have our designer act as a project manager and the quantity surveyor oversee the budget to keep costs down," he confides.
"We are not experienced enough ourselves and many decisions we had to take could have been very expensive if we hadn't been advised by the design team." Still, Hans and Edith were very keen be a part of the process and get involved, insofar as they could with their limited knowledge.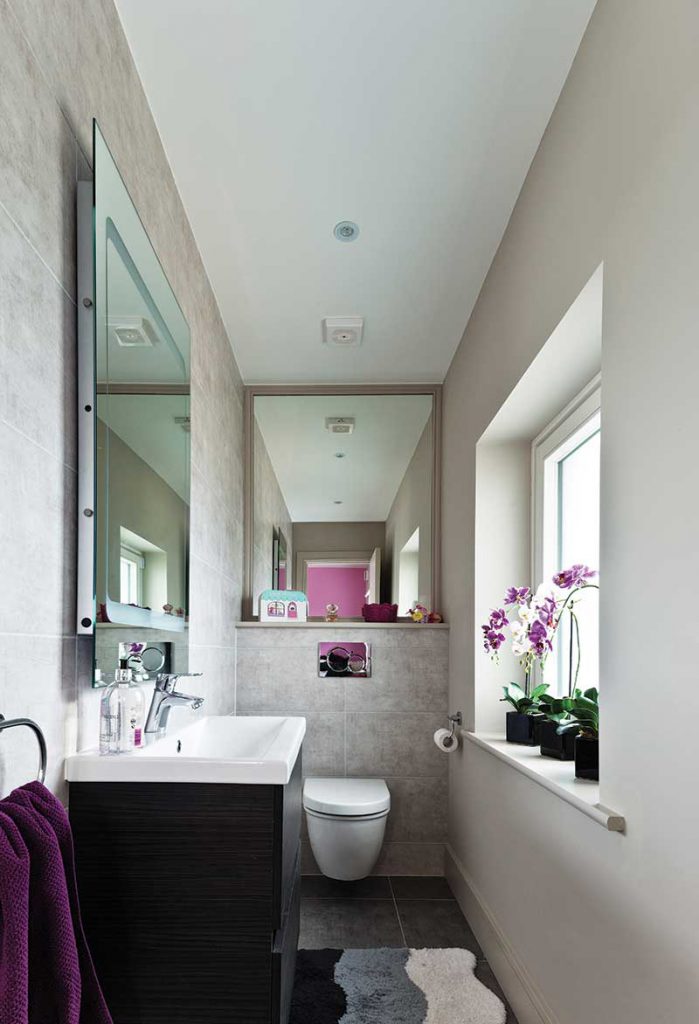 "We chose a builder who didn't have a longstanding relationship with our design team, in large part because we didn't want to feel excluded," explains Hans. "I could have felt like we'd lost control of the project if all of the team was working away on the house on their own understanding." As they were very involved with the design, they wanted to see it through and so visited the site almost every day to observe progress and deal with any questions that cropped up.
"It was very useful to only have the main contractor to deal with, as opposed to each individual trade, but this sometimes made us feel out of place when we were on site as Mark really was the only one who could answer the builder's questions!," says Hans. Mark and his father run the architectural practice together, and Hans especially appreciated how much they listened to their wants and needs.
"Edith and Mark especially worked well together on many of the finer details," says Hans. "For my office also they really took on board how I wanted it to feel. My desire was for it to flow into the main living area but also give it some privacy for conference calls."
The solution was a glazed double door which he more often than not leaves open. For family time they have incorporated a large screen with projector which they can easily put away when not in use; one of their daughters in fact took a particularly keen interest in the interior design process.
"Camille got some work practice experience on our house; she picked all the colours and the interior designer guided her," says Hans. "If I'd chosen them it would all have been white, this is better!" Hans jokes that the painter actually found it hard to follow the colour patterns.
"When there are a lot of different colours it's more difficult to apply," says Hans. "Especially when skirting boards don't match the wall colours. He got a bit desperate at the end but he did have some good advice, like avoiding a white door with a blue wall."
Settling in
Hans and Edith brought all of their furniture home from Germany to furnish their house, but they found they had more than they could fit. "We have cellars in Germany, in Ireland it's the roof space that's used to store items so we moved quite a bit from one to the other," says Hans.
"We spent seven years renting the same house, we'd bought a cabinet and accumulated belongings. This led to us having two sets of kitchen equipment so it was a good time to do a clear out," adds Edith. The kitchen was in fact key to both the design and execution of this building project, being so central to family life.
"The fitter was excellent, he delivered the bespoke kitchen we dreamt of," says Edith. "The work was carried out with much love for detail," adds Hans.
"The fitter took his time during the installation too, and when we asked for more shelves to be installed after the fit-out was completed, there was no problem in arranging this, and it was done quickly," enthuses Edith. Despite the importance of the garden in buying the house, as so often happens with self-builds it's been left to last.
Machinery will make a mess of it anyway so post-build is the best time to tackle it. "The garden is good for the dog so we made sure we had plenty of grass and sturdy fencing to keep him in," explains Hans. "And we do enjoy the decking even though we haven't used it for eating much – considering the weather – but we do use it regularly to have a cup of coffee or a glass of wine."
"When we get to sit out more we'll come up with a plan for the garden, now that we're not thinking about the house all the time," adds Edith.
Looking back Hans says he believes they are now short one room. "We should have extended an extra metre at the back but as our bedroom is actually larger than we need we could give some of it up to help enlarge the main bathroom." Edith says the utility room is also on the small side.
"I'd advise people to give some thought to these perhaps uninspiring rooms – bathroom and utility. As you actually end up spending quite a bit of time in them, and often, it's a good idea to make them as airy as possible."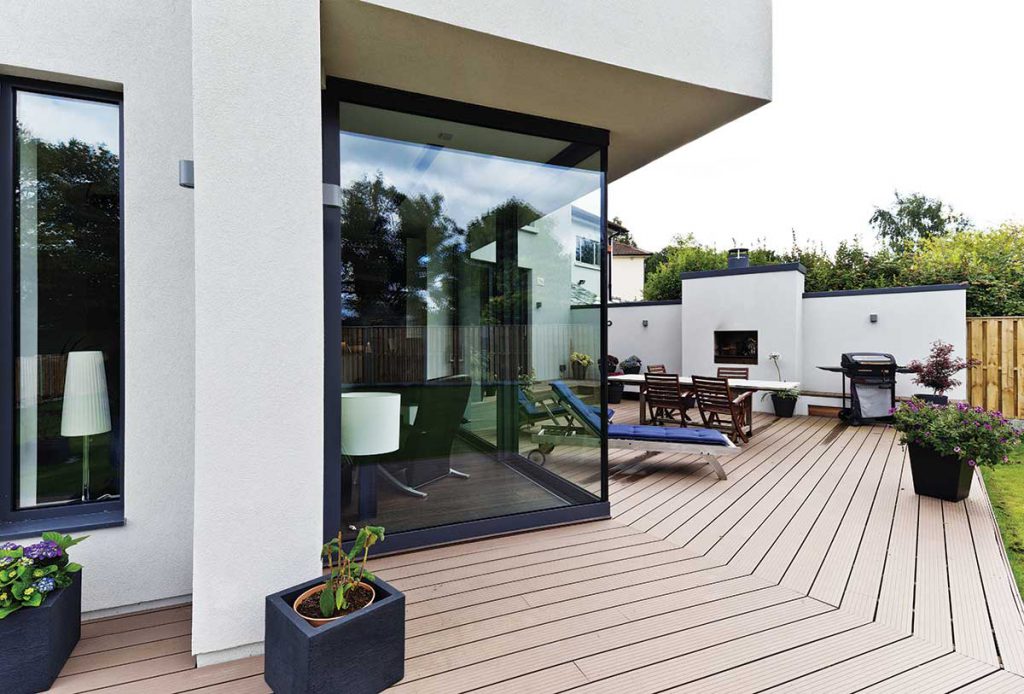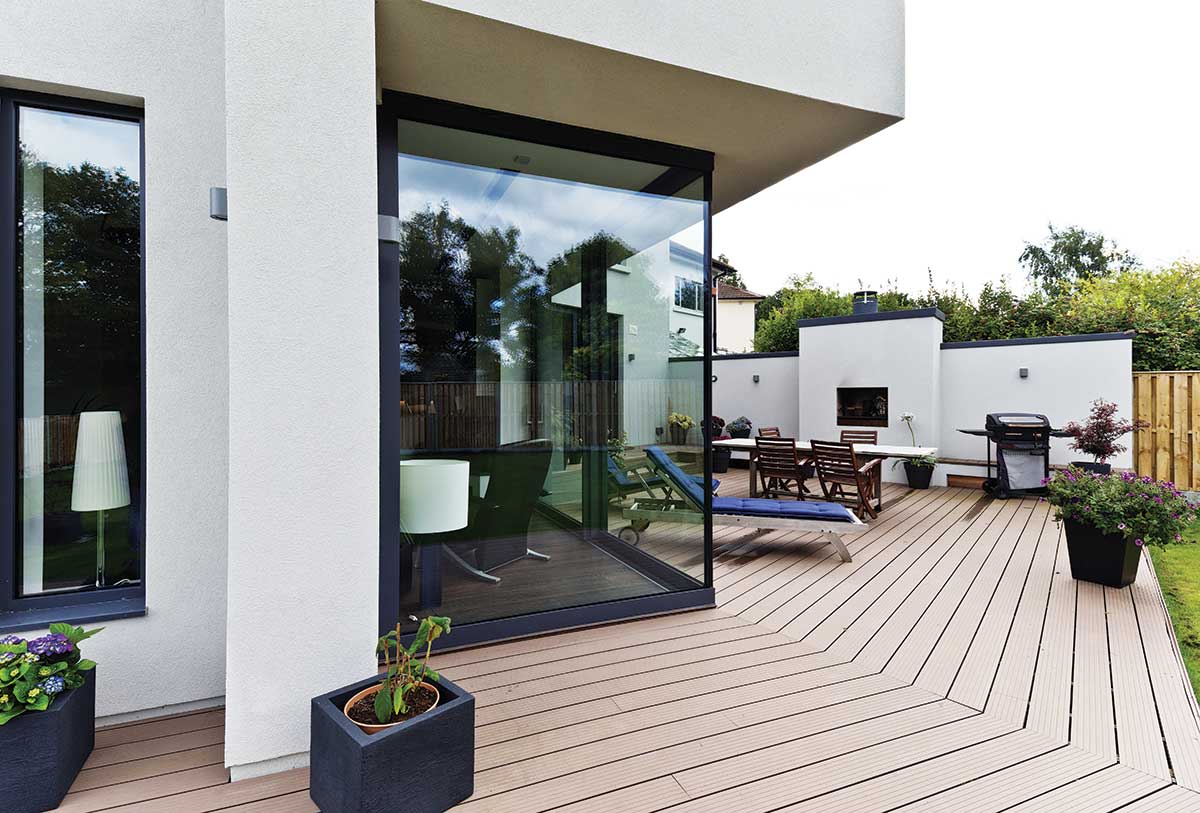 Walls from outside in: 20mm two coat sand cement render, 200mm cavity wall (thermal blocks) filled with 50mm PIR board, 10mm cement/sand render to provide airtight barrier, 150mm PIR insulation fixed to wall, 45mm void for services, 12.5mm insulated plasterboard with 3mm skim coat. U-value 0.12 W/sqmK
Ground floor from top to bottom: hardwood engineered flooring, 15mm liquid screed with underfloor heating, polythene sheet, 120mm PIR insulation, radon/dpm membrane, 200mm structural slab with 40mm cover, 50mm sand over harcore compacted in 150mm layers. U-value 0.14 W/sqmK
Roof: 125mm PIR between rafters and 38mm below, U-value 0.16 W/sqmK
Windows: triple glazed argon filled, average U-value of units 1.65 W/sqmK
Suppliers
Chartered Architectural Technologist: ARC Design, Willow Grove, Delgany, Co Wicklow, www.arcdesign.ie
Interior Architect: Garry Cohn, Willow Grove, Delgany, Co Wicklow, www.cohndesign.com
Energy Consultant: Evolved Energy Solutions, 18/19 South Richmond Street, Dublin 2, www.evolvedenergy.ie
Heat pump: NIBE2040 12kW air to water heat pump
Bathroom design and supply: Waterloo Bathrooms, Dun Laoghaire, Co Dublin, www.waterloo.ie
Kitchen: Dean Cooper & Company, Kilcoole, Co Wicklow, www.dcfurniture.ie. Appliances: Miele, www.miele.ie
Windows: Reynaers windows for all sliding windows and the 3m high corner window, Enniscorthy. Co Wexford, www.reynaers.ie
All other windows: Munster Joinery: Ballydesmond, Co. Cork, www.munsterjoinery.ie
Photography: Dermot Byrne Photography Brookhaven, Herbert Road, Bray, Co. Wicklow, www.dermotbyrnephoto.ie