How Ronan and Laura Campbell built their house in Ronan's parents' laneway in Dublin.
In this article we cover:
How Ronan and Laura got planning permission
Design to fit the laneway
Planning constraints (not what you'd think)
Build method chosen for speed and quality
Build process from start to finish with Covid thrown in
Budget friendly finishes
Landscaping and what would do differently about it
Full floors plans, spec and supplier list
Timeline and top tips to save on your build
Hour-long podcast with Ronan and Laura
Overview
House size: 147sqm
Plot size: 281sqm
Bedrooms: 3
Site cost: €100k
Build cost: €305k
House value: €650k
BER: A rated
Heating and hot water system: air to water heat pump
Ventilation: centralised mechanical with heat recovery
Build method: steel frame
---
When we lived in Canada we heard about laneway housing, a construction practice that is quite commonplace over there," says Ronan. "A laneway house is basically a small house that is built in the grounds of an existing house. It allows people to perhaps build on a family plot where there is a little bit of space that is accessible via a laneway or driveway – hence the name."
"We saw an example of one of these house designs on social media. It was an upside down house; all the bedrooms were on the ground flood and the open plan living areas were on the first floor. We thought it was a brilliant idea and immediately fell for the design."
Shocked by house prices when they moved back to Ireland in 2018, Ronan approached his parents about the possibility of building such a 'laneway house' in the side garden of their home in the desirable Lucan area of Co Dublin.
"They had a small corner piece of land that had previously been granted planning permission, so we knew it was feasible," explains Ronan. "My parents generously agreed to give it to us at no charge, we just had to deal with the legal side of things."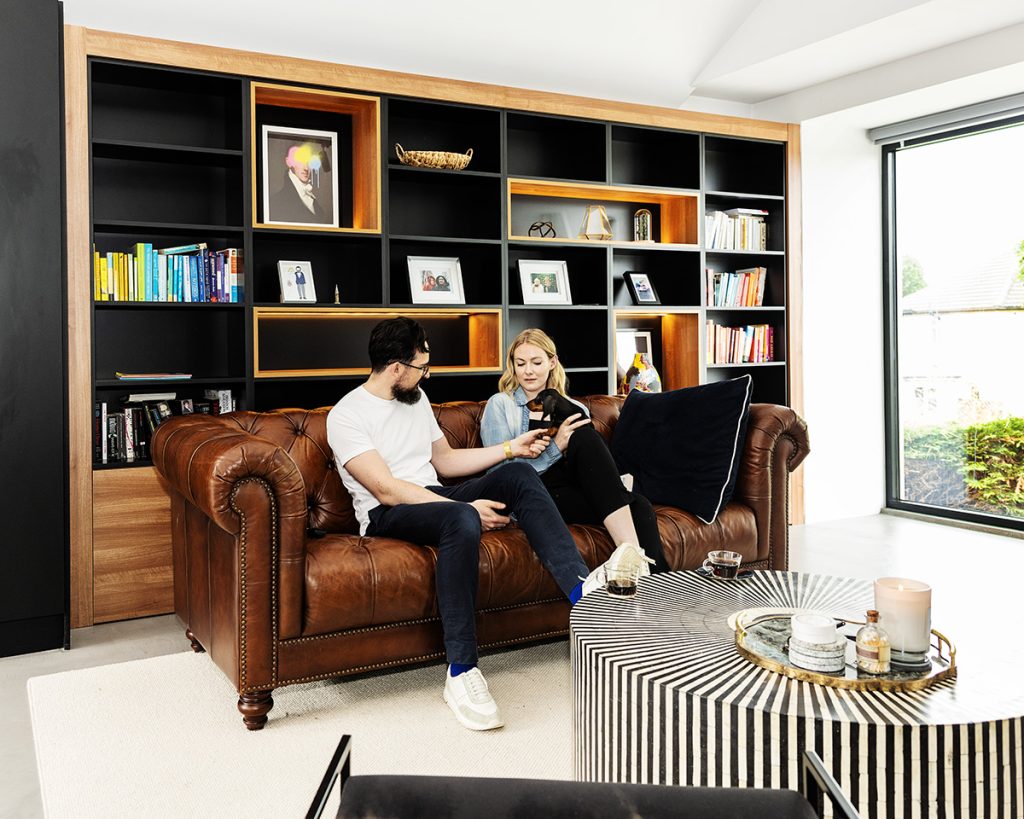 Dublin laneway house design
"Straight away we looked for an architect," says Ronan. "We didn't want a conventional style of house but we were worried that we might have difficulty getting planning permission for something so different."
"When we found Mark, our architect, he gave us exactly what we were looking for; a contemporary house design with a modern monochrome colour scheme and lots of crisp clean lines."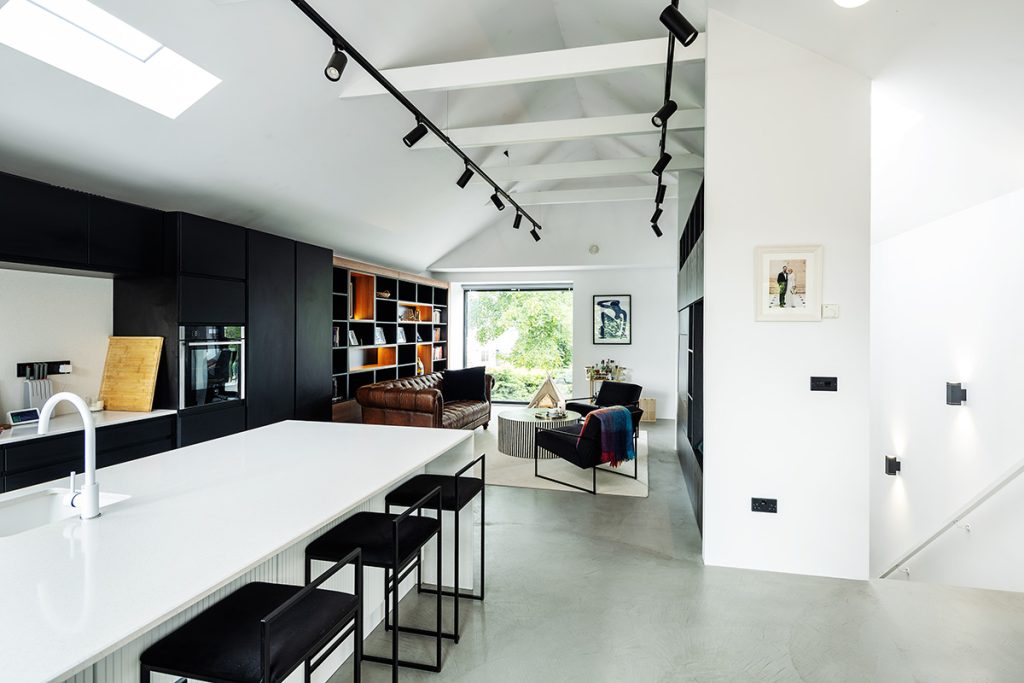 "The house is a fully detached steel frame construction with all the bedrooms on the ground floor and the living accommodation upstairs. Originally, the design incorporated a flat roof but when I did some research, I found it might be hard to get insurance because, being steel framed, it would be classed as a non standard build. We didn't want to provide any more potential insurance problems that a flat roof might present so we changed the design to a pitched roof."
"So upstairs we have a pitched ceiling with rafters. Externally, the roof is clad in black aluminium; the nearly floor to ceiling window frames are also black aluminium and the external walls are an off-white. We love this black and white look."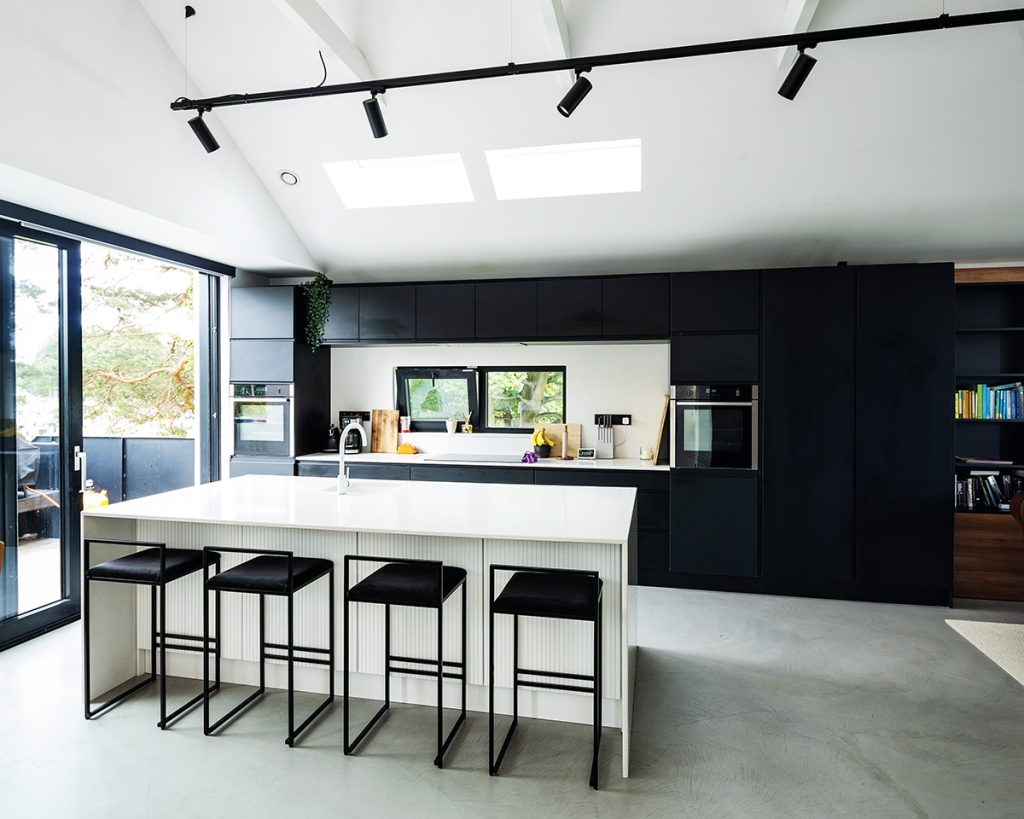 Planning issues
"From his previous experience with the planning process, Mark assured us that, because our corner site was so hidden away, we had a bit of flexibility – that the contemporary styling wouldn't be an issue. He was right about that," adds Ronan.
"However, when we applied for planning permission, we were hit with two additional requirements which we weren't at all prepared for."
"There is a graveyard on the other side of the boundary wall to our site, in which there are two big heritage oak trees which have Tree Preservation Orders on them. The planners told us we would need to get a tree survey done to satisfy them that there would be no likelihood of damage being done to the trees during the construction of our house."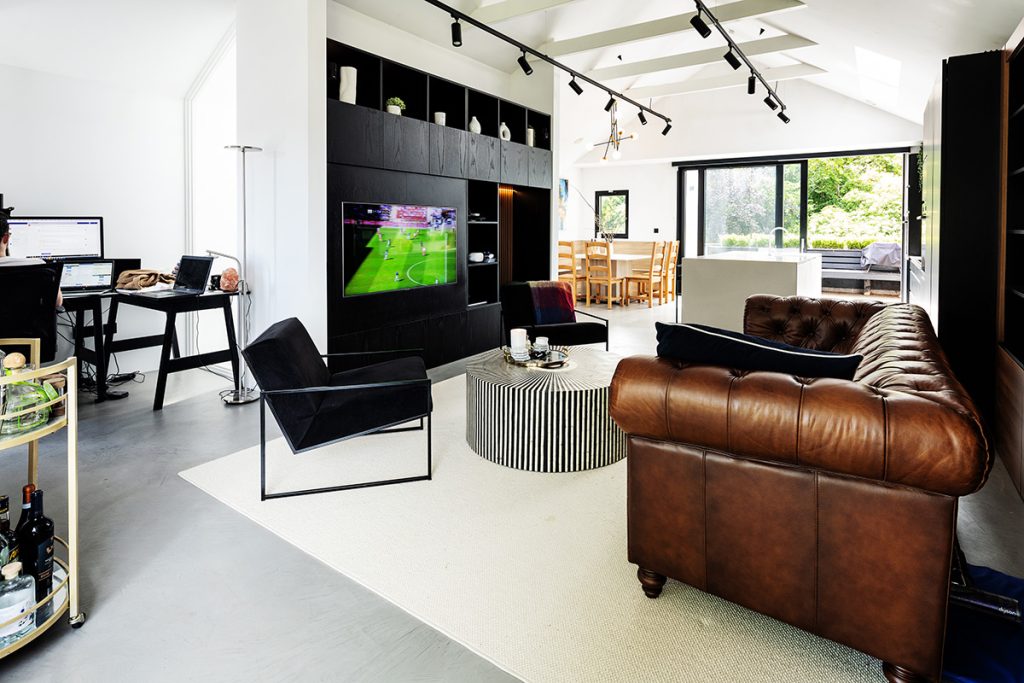 "We would then be required to set up a cordon around the trees to protect them. The bill for the tree survey was €1,500 and then we also had to pay a planning deposit of €7,000 immediately."
"The second requirement was for a bat survey to check if there were any in the area. Thankfully, none were found. If there had been, we would have had to build a bat house in our garden and ensure we didn't change their flight path. This survey cost us another €1,500."
"So, we had two very unique planning issues which caused us three months of panic because of all the hoops we had to jump through and it cost us €10,000 before we had even broken ground!"
Permission was finally granted in April 2019, but they had to wait a further six months to obtain a mortgage and start the build.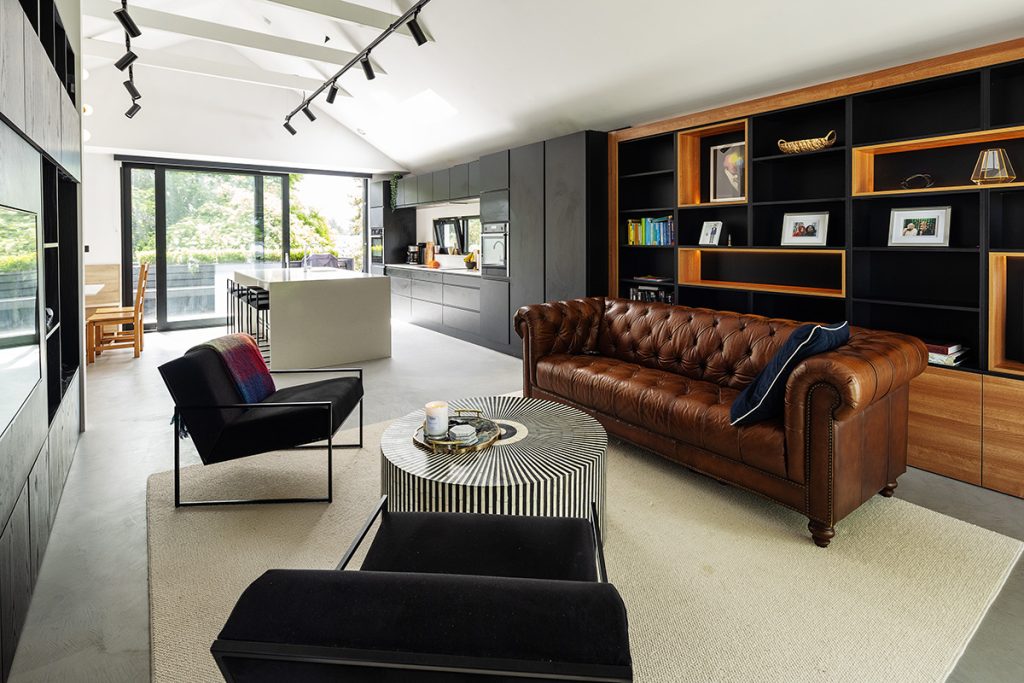 "Because we had been living and working in Canada for a number of years, there was a gap in our financial records in Ireland," explains Ronan. "We had to provide a lot of additional information, but we got there in the end."
"Once planning was approved we had to pick our building method and we chose steel purely due to cost and the speed at which it could be built – the entire house framing was done in three days from the day the steel was delivered. Computer generated plans meant we had holes predrilled for the connections to other frame pieces."
"We did consider traditional blockwork but the cost at the tender stage and time saved was why we chose a steel frame. Most of the build cost quotes came in around €450k versus steel frame at €305k."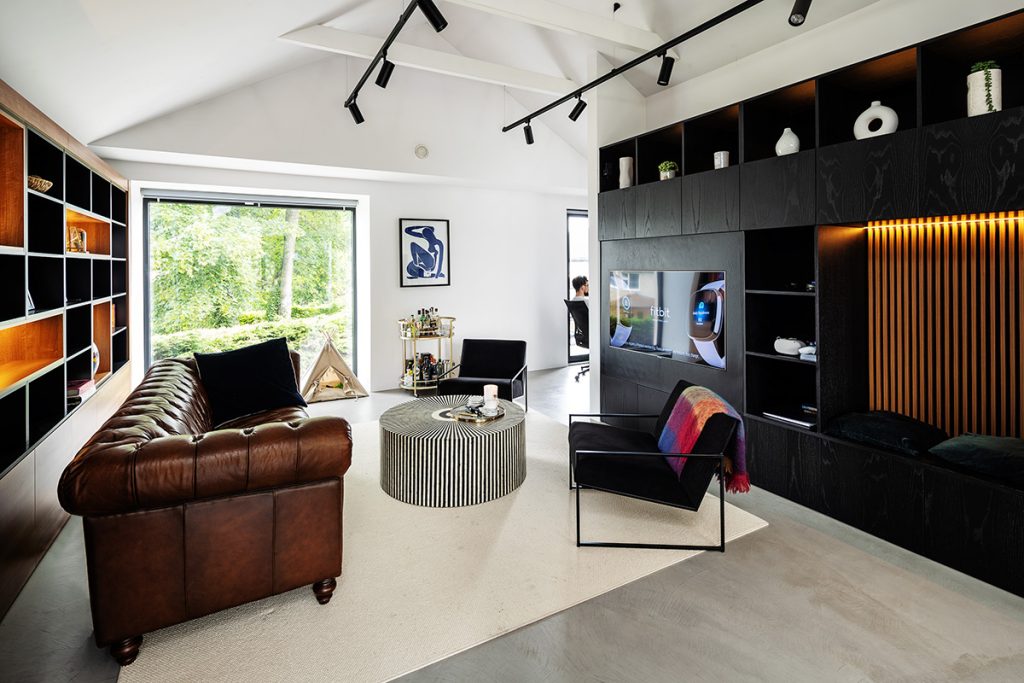 The build
"We broke ground in September, footing the cost for the groundwork ourselves, because the mortgage was still pending. It came through in November and that's when the work really began. We needed to use a significant portion of the mortgage build cost up front, to order the steel frame fabrication from Poland."
Ronan and Laura employed a build and design firm to construct their home. "They delivered the whole project, from the steel frame onwards, and project managed in terms of deliverables," says Ronan. "Mark managed the house design and we made decisions on any design changes that were off spec."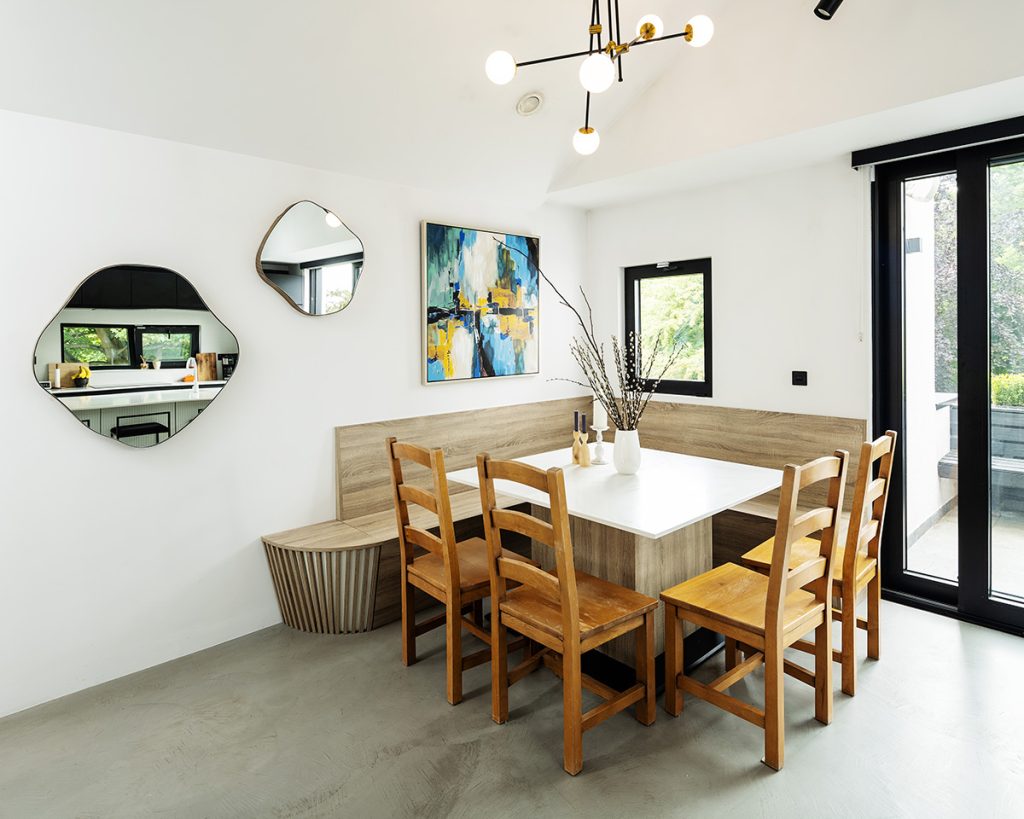 "The builder had an expert team on the job, and it was mostly plain sailing. By Christmas, the house frame was up and everything was ready to go. We were just waiting for the externals, the front door and the windows. There was a big delay with the windows which were eventually delivered to site at 6pm on March 18, 2020, just before Taoiseach Leo Varadkar announced the lockdown."
"All work stopped for eight weeks, which was horrendous – we had been so close to finishing. It just illustrates how an issue with one set of deliverables, such as the windows, can ripple down through the whole build."
Once the build got back on track, the final touches could be made to the upside down house, including underfloor heating both upstairs and down.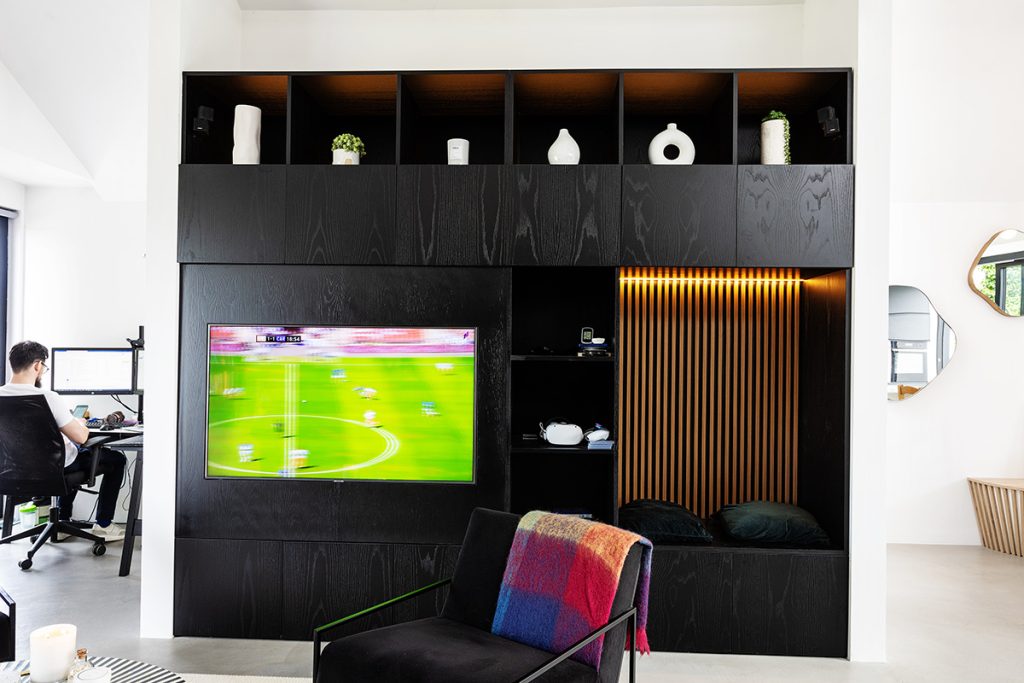 "Our main living area is upstairs and open plan into the kitchen," says Ronan. "It's bright and airy and has access on to a large balcony with an external staircase leading down to the rear garden. The ceiling in the sitting room area is pitched with rafters, which gives a great sense of height. I call it our cathedral ceiling. Although this is a small house, the open plan design makes the best use of space and light and it never feels cramped."
Unusual finishes
"All the interior walls are white, and we have opted not to have skirting boards, which was a pain for the builder and will be a pain for us down the road, but we really like the clean edge look," says Ronan.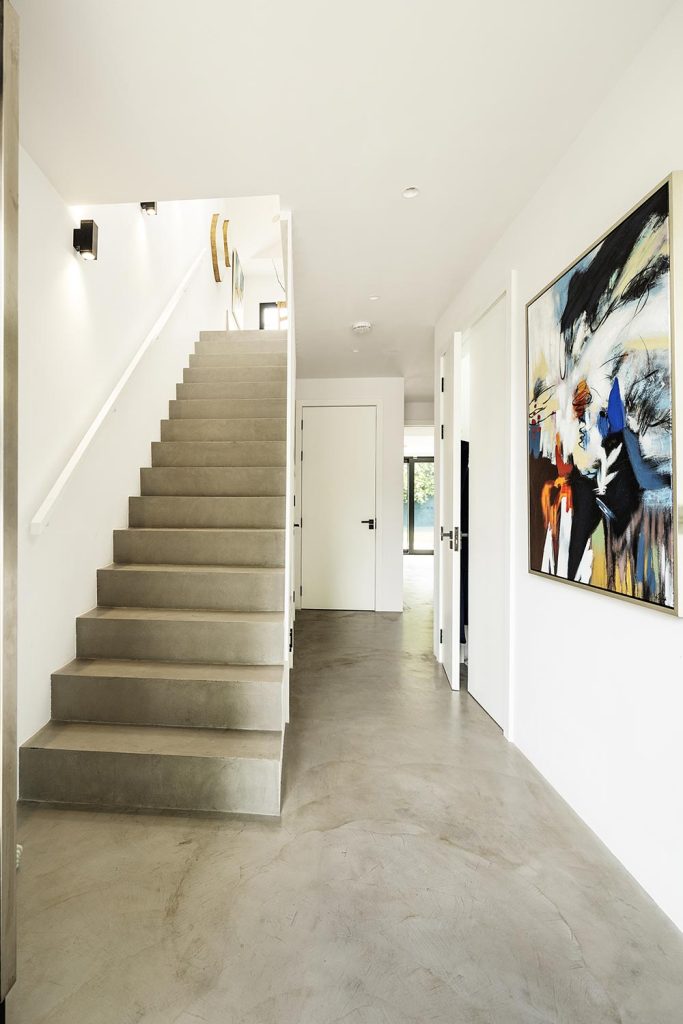 "The door frames are large so all the doors had to be custom made. We saw the height of the door openings in the raw steel frame and decided to keep that oversized look. It actually makes the room appear taller and it's one of the best decisions we made."
"We are also very happy with our choice of a high end shower in our ensuite and a standard one for the main bathroom. It's worth paying extra for a shower that you will be using every day."
The couple decided against tiling the main bathroom and master ensuite. "We visited tiling showrooms, but we just didn't like what was on offer. Instead, we opted for coloured waterproof plaster, which was applied to the walls."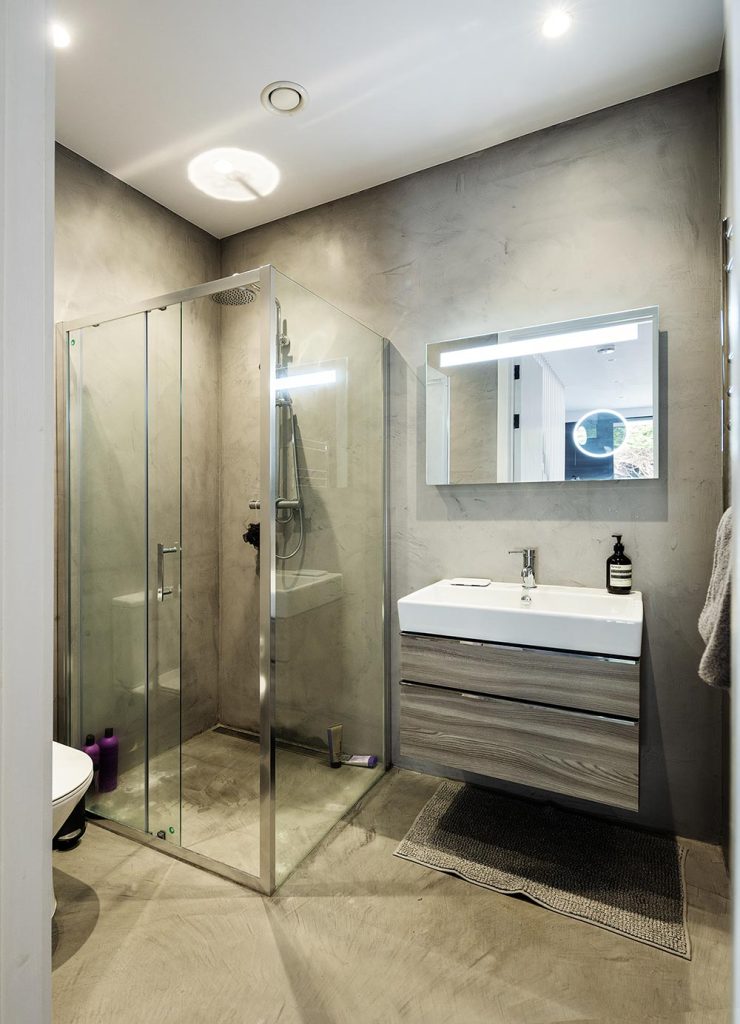 "In the dark, windowless main bathroom we went with a stormy grey, to accentuate the darkness. The walls in the ensuite are a much lighter colour. They should have been a bright white, but the plasterers mistakenly applied the dark colour as the first coat, before finishing the final two coats in white."
"You need to know when to pick your battles on a build," adds Ronan. "If a mistake has been made by the builder or supplier, you really need to ask yourself whether the cost and time needed to rectify it is worth it. We encountered this when the sliding patio door in the kitchen was installed. Instead of it opening from the left hand side onto the balcony, it opened on the right, which impacted on opening the oven door."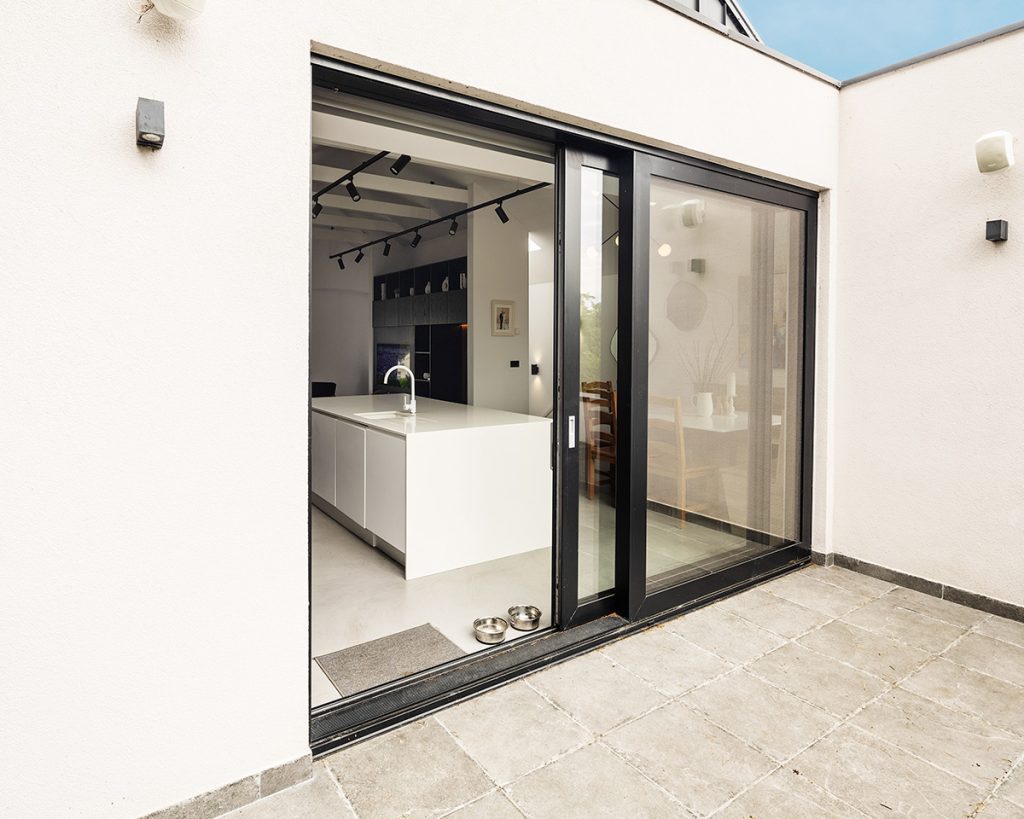 "We were already behind on the build due to the lockdown so having the patio door removed and then waiting nine months lead in time for a replacement door was just not realistic for us. Instead, we had a wall built to act as a kind of frame to the kitchen units which overcame the issue."
In the kitchen, Ronan and Laura insisted on the installation of a letterbox style window along the back wall to allow in more light and act as a focal point. "It's one of the little extras that worked out really well," says Ronan. The monochrome colour scheme continues in here with black and white cabinets and a large white marble topped island.
Landscaping
Outside, the main landscaping element required building a boundary wall between their garden and Ronan's parents.
"We made good their part of the garden and converted some of the space at the front to use as our driveway. We chose a gravel surface, which was one of the biggest mistakes of the build."
"There are a lot of trees around our site, and each autumn the driveway gets flooded with fallen leaves. Although we laid a weed barrier underneath the gravel, the decaying leaves that lie on top get mixed with dust and eventually creates soil where the weeds thrive. The plan is to eventually replace the gravel with an alternative covering like tarmac."
As Ronan and Laura settle in for the third winter in their forever home they are delighted with what they have created. "Every day we say to each other how much we love this house," says Ronan.
"It's bright, and although small, it feels so spacious. That's down to the design. The patio door to the balcony and the big window to the front on the first floor allow the light to flood in, as do the roof lights, and the white walls just add to the sense of brightness. Everything just clicks."
Ronan's tips
Share the same vision as your partner. Laura and I were always on the same page. We looked at online mood boards, found stuff that we both liked and we agreed on it. So every time we had a design decision to make we knew the answer together already.
Pick your battles. There are things that matter and things that don't. If there's a cost involved in changing something the builder has done, ask yourself can you live with it or will it grate on you every single day. You're building this house and you're going to know where the flaws are, so you have to be okay with that.
Establish a set of expectations with the builder and your architect.
Who is going to make decisions? Who's going to manage the suppliers? Who's going to manage the project? What are you going to do if something goes wrong? What are you, as the self-builder, responsible for on delivery? Who's managing the survey? Establish those duties at the start.
Contact your service providers early. Electricity, water and internet connections all take time and you need to do things in the correct order. For example, you can't get an electricity connection without an Eircode, and you can't get an Eircode without a certain amount of the build being done. And when you sign up for it, factor in a couple of months before the Eircode is actually provided.
Educate yourself on the things that need to be acted upon right now, and things that can be considered later. Try to have an understanding of the start to finish of the build and the deliverables in between. Be organised.
Add up the costs. Your build cost isn't your only cost, you also have architect fees and additional fees, like service charge fees, all these things just add up. And then you need to furnish your home. Track your payments to your builder so you avoid the panic of thinking you owe an extra €10k when you don't.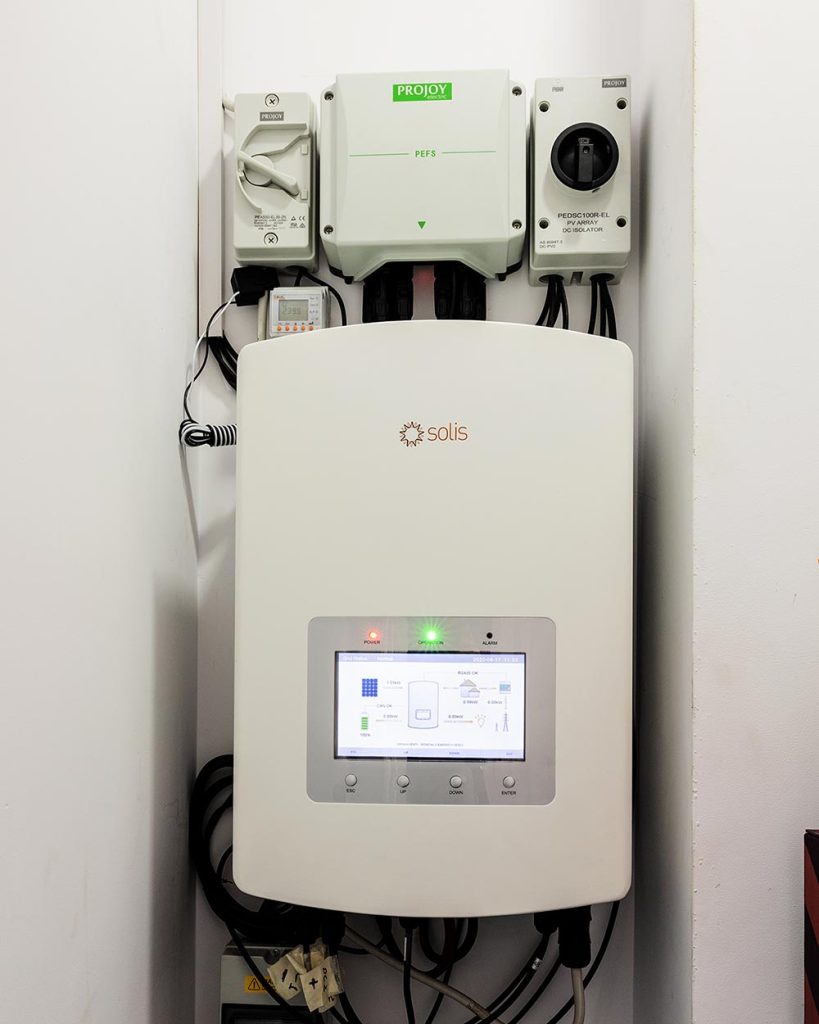 Q&A with Ronan
What is your favourite design feature? Biggest splurge?
I love the modern style of our home, the amount of light that we have and the black and white colour scheme. Our biggest splurge was on the bathrooms, but we also invested in good lighting – the two track lights cost €3,000 – and the marble kitchen island which was €4,000.
What would you change or do differently?
I would walk in with my eyes a bit more open. I think I would take more of a leading role in the project management. Builders are going to build in the simplest and cheapest way to get the job done, so if the job is left unsupervised they'll take decisions that could have an impact on your overall design vision.
What surprised you?
The feeling I had when it was finished. It just blew me away. When I get home, I can truly relax and breathe out, because I'm in my safe space.
What single piece of advice would you give a friend who's looking to embark on a project similar to yours?
Have an overall vision of the house style you want to create, and defend that vision. Knowing this will help you make instant decisions when the builder prompts you. It all moves very quickly.
Would you do it again?
We built this as our forever home, so I really don't know if we would need – or want – to ever embark on another self-build project.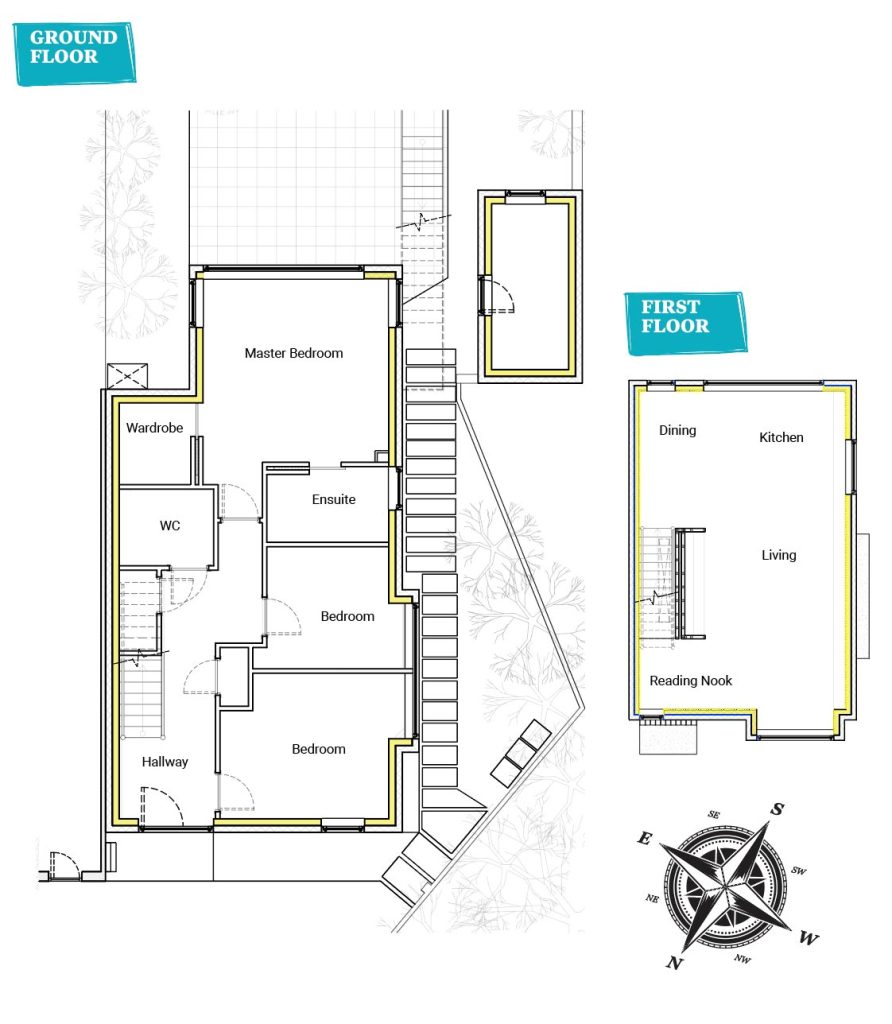 Suppliers
Builder
KAP Eco Homes, mobile 087 953 1951
Architect
Mark O'Donoghue, Moda Architects, mobile 086 826 1328
Ventilation
Vent-Axia Lo-Carbon Sentinel Kinetic Plus
Heat pump
Joule Samsung
Flat roof insulation
Mannok Therm Roof / MFR-GFR
EPS wall insulation
Baumit Ltd, baumitireland.com
Microcement (bathroom walls)
Microstuk from TileStyle, tilestyle.ie
Photography
Dermot Byrne Photography, dermotbyrnephoto.ie

NI calling ROI prefix with 00353 and drop the first 0
Spec
Walls: steel frame with 11mm OSB and 100mm EPS external wall insulation in grey, 150mm mineral wool 11mm OSB, 12.5mm plasterboard.
Roof: metal sheeting, timber battens, roof flet, 11mm OSB, 150mm mineral wool insulation, 11mm OSB, PIR insulated plasterboard 60mm insulation 12.5 plasterboard.
Balcony: 90 mm warm deck, plus 150 mm rockwool insulation to floor void under.
Windows: Black aluminium window frames, double glazed to front and triple glazed to rear.
Airtightness: 1.144m3/h.sqm at 50Pa