Lauren Speers had the prefect site and, in more ways than one, the perfect husband, Alex, who was willing and able to take charge of a direct labour self-build.
In this article we cover:
How they came up with their house design
How to budget for a self-build
Getting planning permission and working with an architect
Heating and hot water systems, reasons for not going for a heat pump
Budget buster
Interior design tips: how to save money and still get the look
Advice to others who plan to manage the build themselves
How they tackled the garden
Timeline, specification and suppliers list
How did the design come about?
We wanted to keep the exterior of our home traditional in keeping with the area. The influences for this came mainly from driving around many country roads and discussing elements we loved about different houses and, with inspiration from magazines and online mood boards, we finally decided on the shape and style of our home.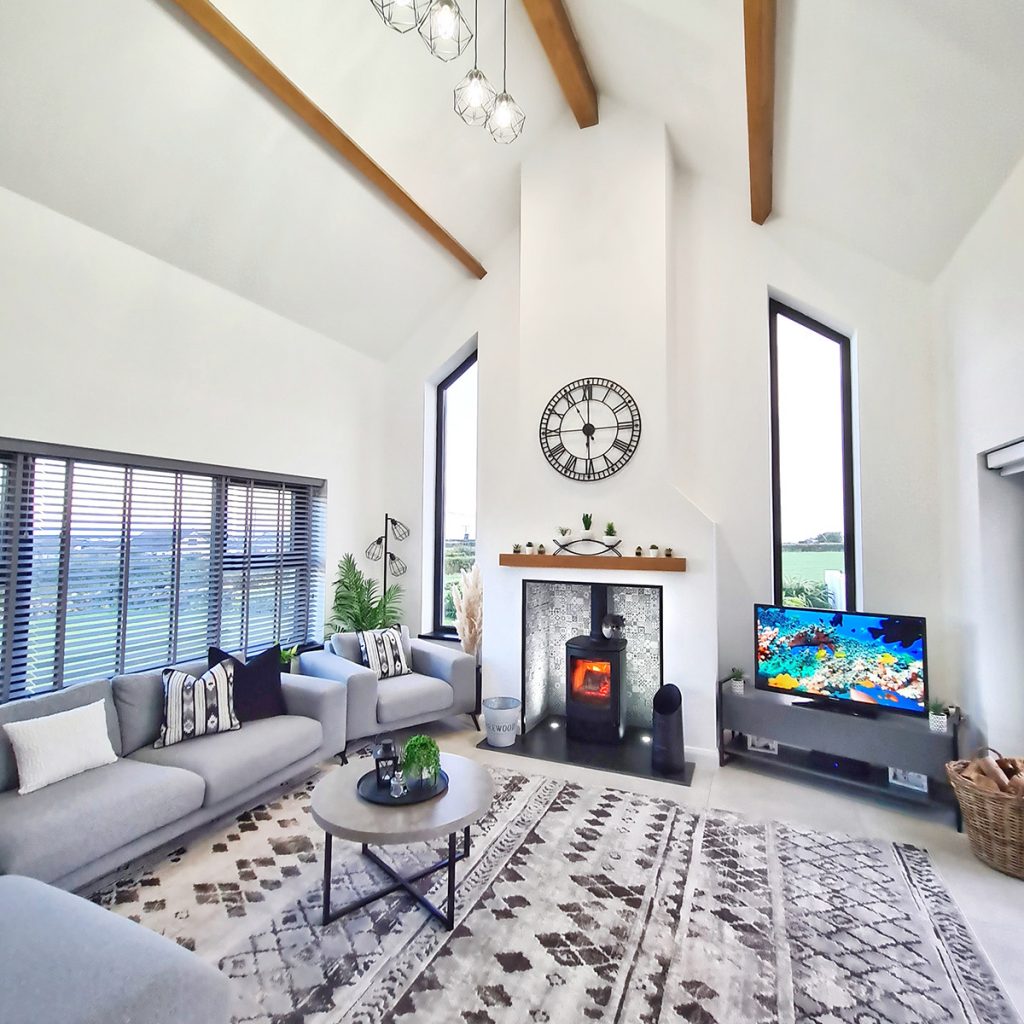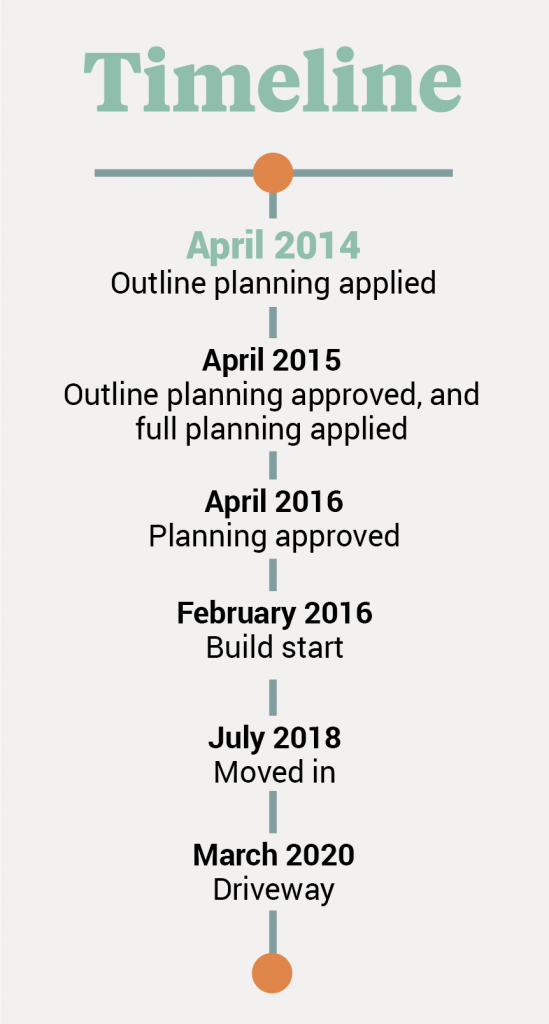 A symmetrical design from the front was an absolute necessity for Alex. This is our first home but also our forever home, so we tried to put as much thought and effort into it as possible as we know we won't ever have the chance to self-build again as we are building on family land.
Our architect guided us on the most likely location to get planning permission, and after deciding on the field, we initially submitted outline planning permission in 2014, to ensure we would be allowed to build a home in the field before paying for plans to be drawn up.
This was approved a year later and had some stipulations. For example, they limited the ridge height which meant we couldn't build a two storey home.
In this waiting time, Alex downloaded some software and we started playing around with floor plans and house designs, even the landscaping, so when it came to applying for full planning, we already knew exactly what we wanted.
Our architect then transformed our own drawings into plans, and these took another year to be passed by the council, although thankfully passed first time.
Our home has two bedrooms upstairs and two downstairs, an open plan kitchen/dining/sunroom and a separate living room. Our master bedroom has an ensuite and walk in wardrobe and in total we have four bathrooms. We wanted to make sure it would be as future proof as possible, so ensured we had a main bathroom and a bedroom downstairs.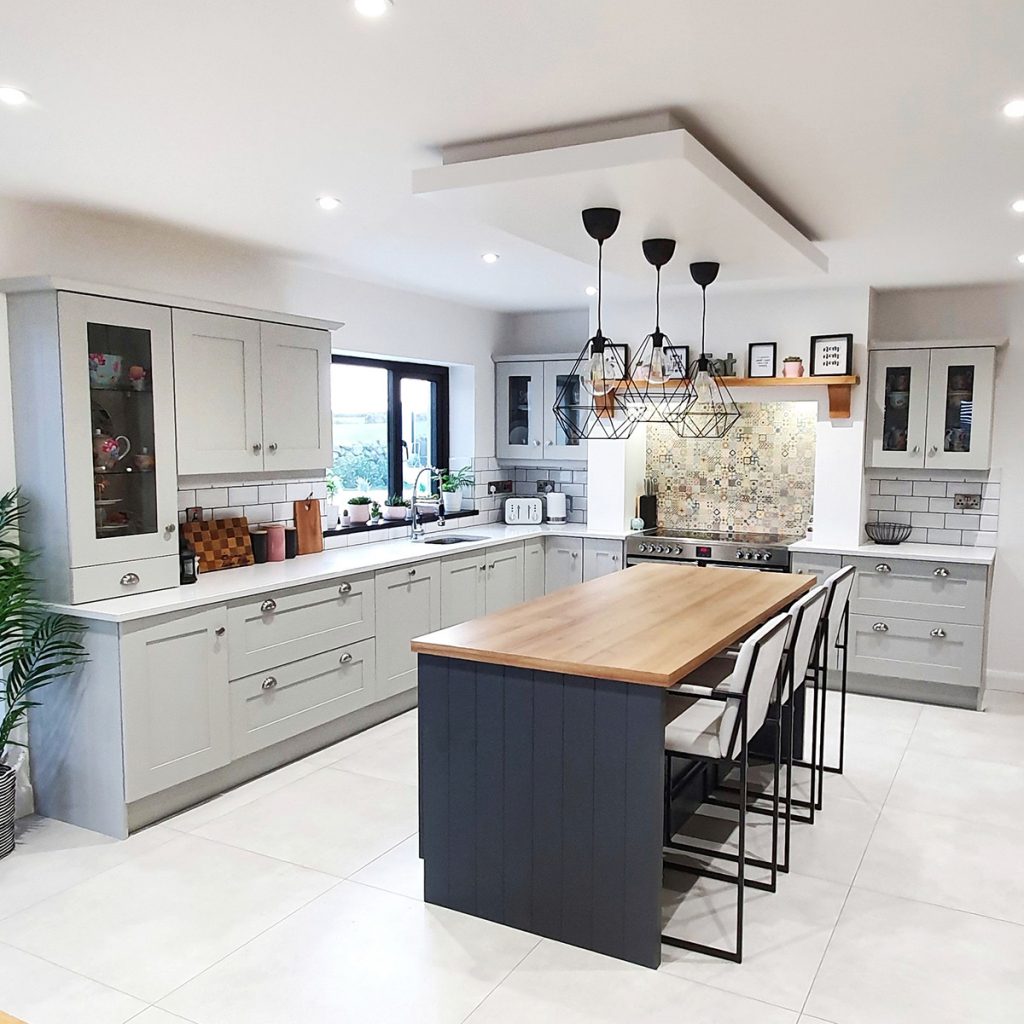 What did you do for heat and hot water?
We went for the largest photovoltaic (PV) panels we could to generate electricity on site. We have our system set up to run all of our electrical needs, so that includes all the lighting, washing machines and everything.

With the remaining energy, the panels are set up to heat our hot water. Once that's done, the remainder goes back to the grid. We have been receiving about £60 per year for the electricity we export back because the rates are much lower for exporting than importing.

The benefit is that for a good four to five months of the year we don't need to use oil for heating our hot water at all, which is great. We are definitely happy with investing in them and would be keen to look into batteries in the future to store the electricity we generate too.

We decided against a heat pump purely down to cost. Maybe long term they will become cheaper than buying a standard boiler, but we felt it would take a long long time for the unit to pay for itself.

We simply didn't have the spare budget at the time, and we definitely don't regret our choice of going with oil heating. We use around £500 of oil every year, and that's keeping the house at 21 degrees all year round and constant hot water; we don't have any electric showers or anything. With solar gain, the temperature in our home goes up to about 24degC in summer.

We could definitely save more by lowering the temperature, but this is how we like it and I don't think we would save much with a heat pump considering what other self-builders have said they pay to run them.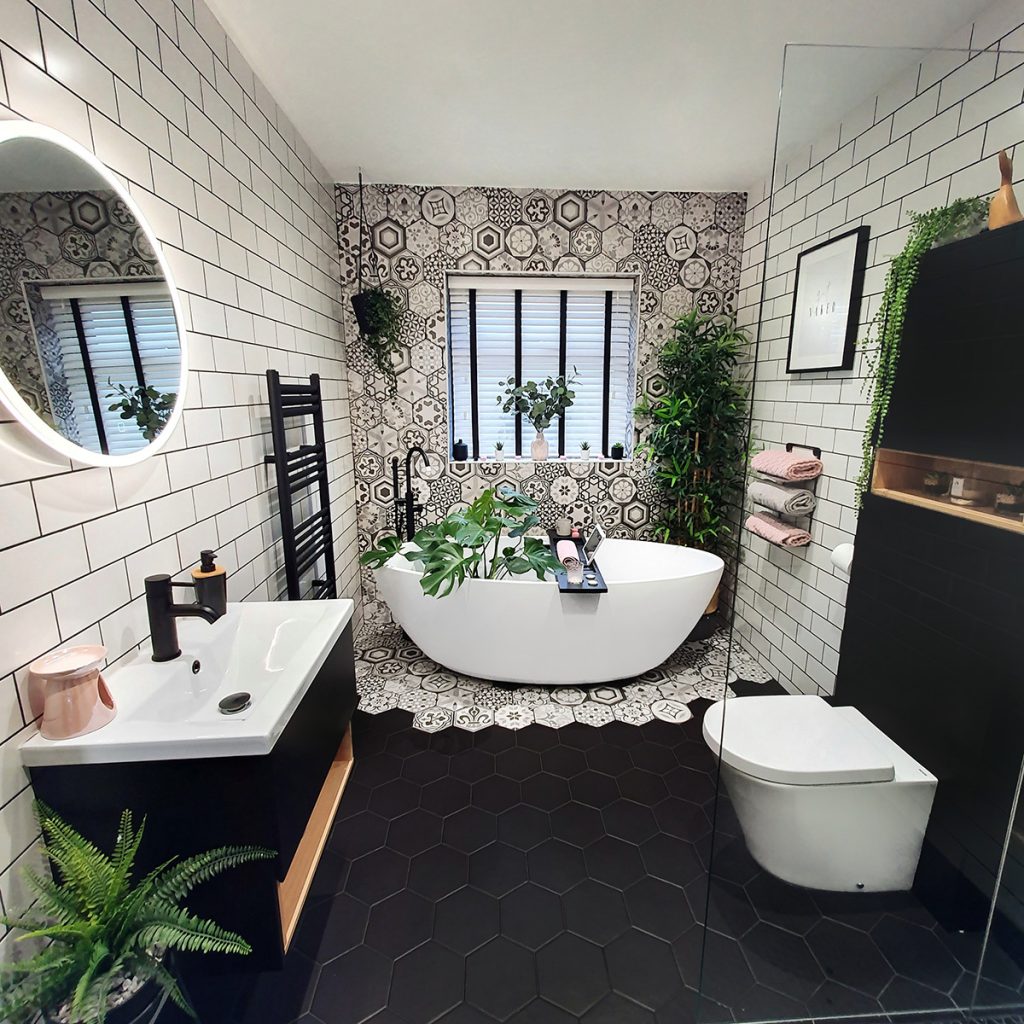 How did you tackle the build?
Our self-build was managed solely by my husband Alex who also carried out the majority of the work himself. He is a trained joiner so had a lot of knowledge of the build process and construction which gave us the confidence to manage the build ourselves. We were so lucky that Alex's dad is a plasterer and was able to help us at many stages of our build and plaster our home for us, which was such an amazing help.

The only other tradesmen on site were the plumber, an electrician and the kitchen fitter. At the start of our build, Alex spent some of our budget on buying some more good quality tools to add to what he already owned so as to take on each part of the build safely. This was definitely a great investment.

As the project manager, Alex dealt with building control directly all through the build. He found it really important to keep in touch with them at all stages and they came out often to check on all the different aspects and ensure everything was built to the regulations.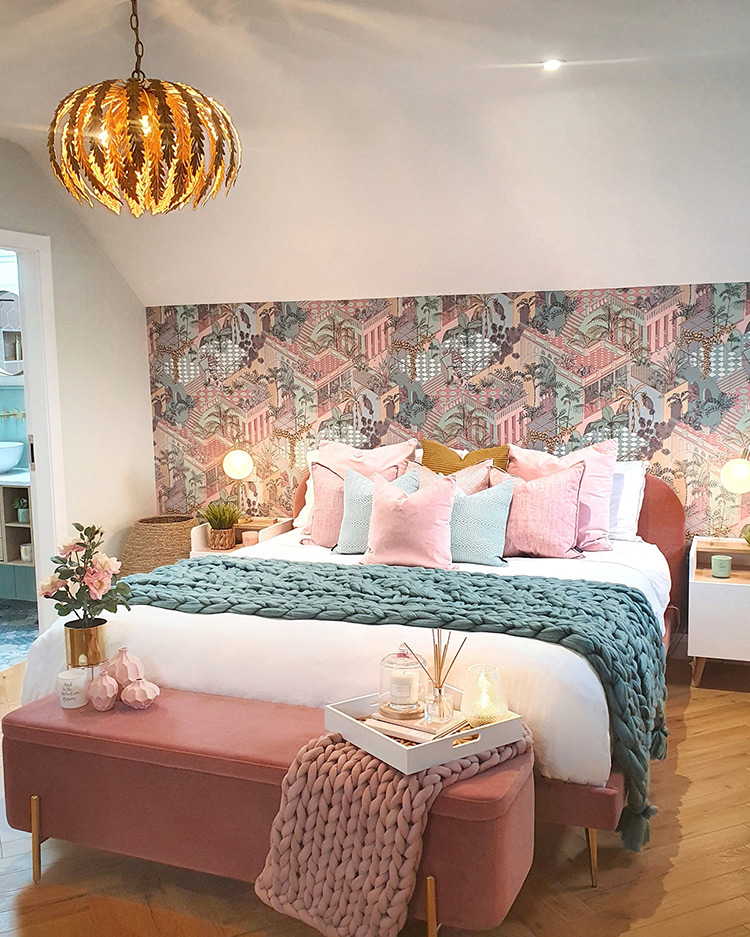 There was nothing we had to change during the build with regards to building control, although a few things in the initial stages were flagged up by our architect. For example a door that would have been too close to the bottom of our stairs to meet regulations, and not being able to enclose off a separate porch area at the front door due to the pitch of the staircase and needing to leave a certain amount of clearance at the bottom of the stairs. Thankfully these things were picked up in the early stages.
We didn't run into any major difficulties of note during our build, apart from having to install a treatment tank instead of a septic tank, which was an extra £3,000 at the start. But apart from that, thankfully the build progressed very smoothly.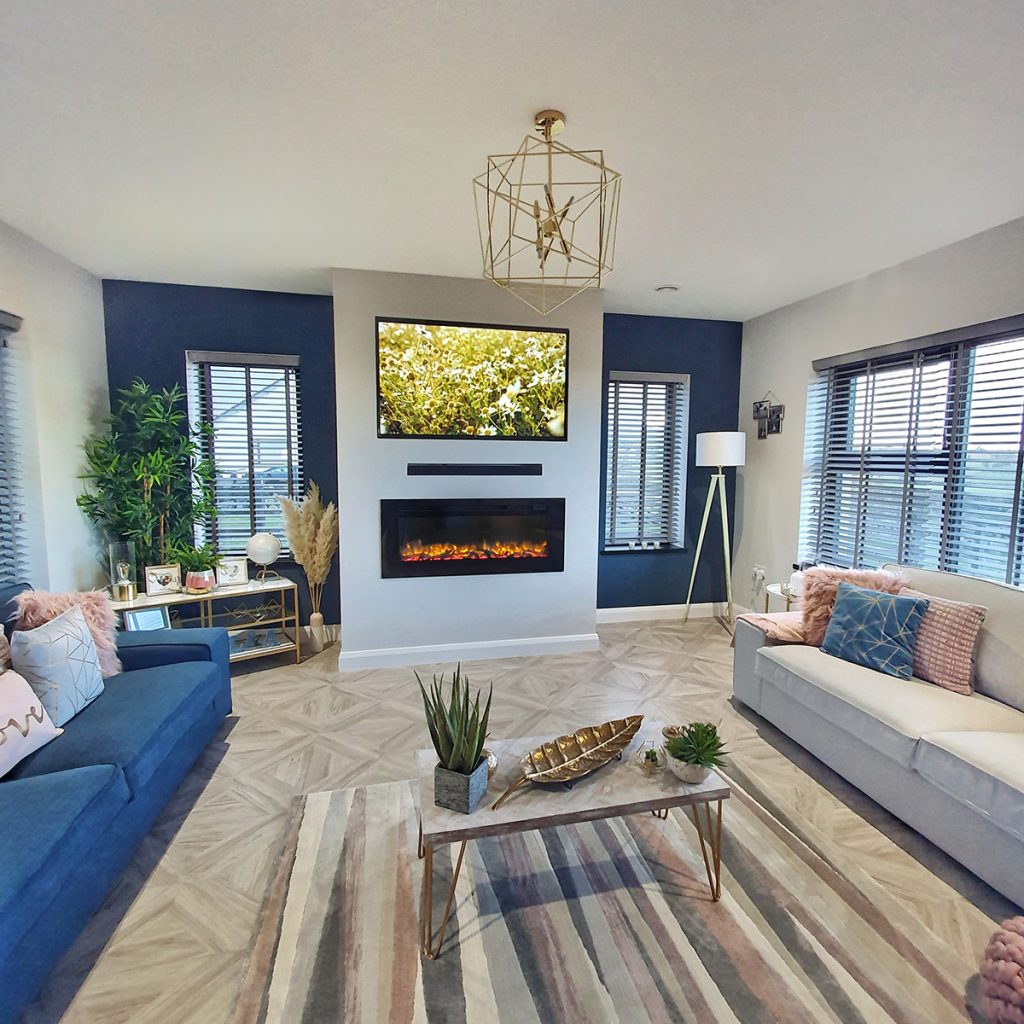 How about the finishes?
I carried out all the interior designing myself, so this was done slowly room by room after we moved in. This meant we could save more to furnish our home to the standard we wanted to. Once you are living in your home, you are so much more aware of how you best want to use each space. It is so much easier to choose colour schemes and narrow down design choices according to how the light changes in the rooms throughout the day.

I actually learned a lot about my own interior style during this process, and I know my home would not look anything like it does today if I had been pressured into making all of these choices prior to moving in.

We only had one working bathroom at the start, as I just couldn't find tiles I loved for our main bathroom. So I put it on hold until I had a design I truly loved. I am so glad we did this.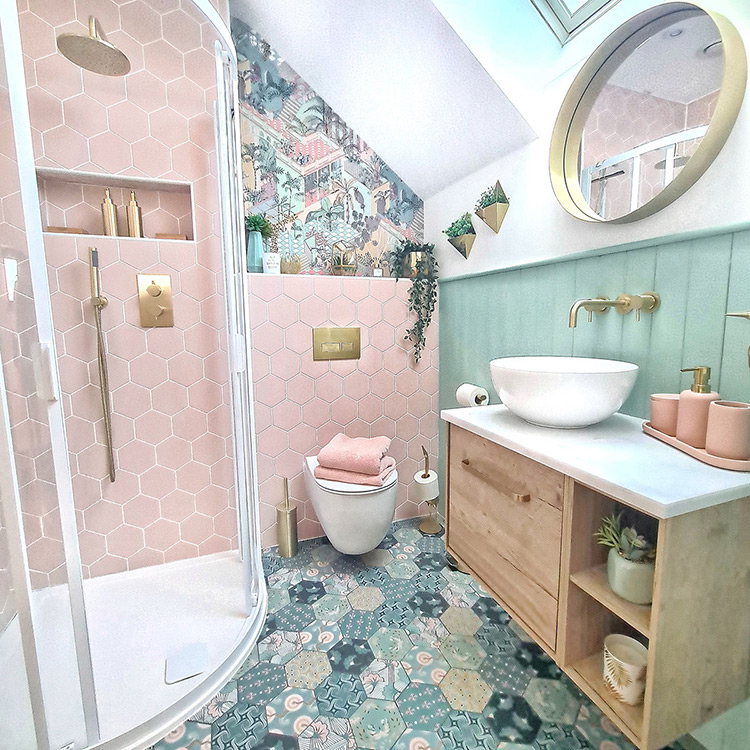 What other advice would you give a budding self-builder?
Plan plan plan! Honestly I don't think you can ever be too prepared for your self-build. 

As soon as you break ground, the decisions will be flying your way and you will be in such a better position to deal with them if you have lots of the big decisions already made and fully researched.

A self-build is probably one of the hardest things you will ever do especially if, like us, you are managing the build yourself and doing a lot of the work. 

While waiting on your plans to come through, start thinking about bathroom layouts, kitchen designs, positions of plug sockets, TV points, internal doors, window colours, stonework, heating systems, ventilation, flooring choices. 

For example, we knew from the start we would have underfloor heating downstairs with radiators upstairs. All of the pipework and ducting has to be figured out before you start on site. 

You will be so glad of every bit of research or decision already made ahead of schedule as the decisions really never stop once the build starts.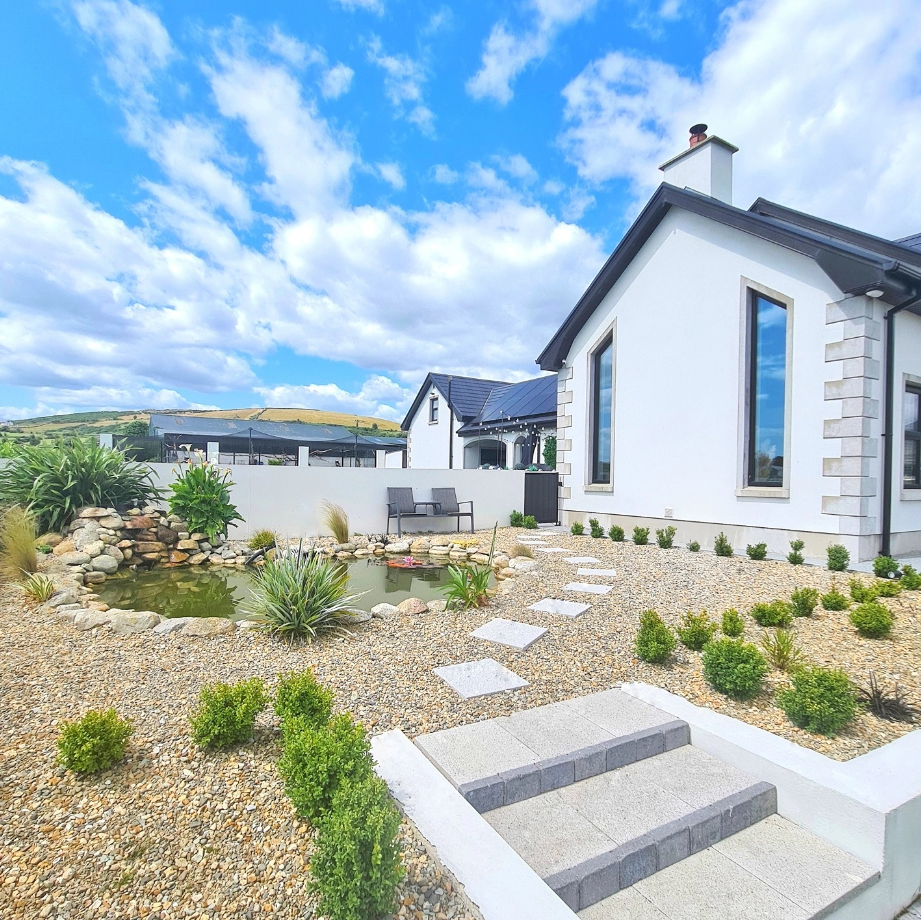 How about the garden?
Landscaping was so important to us as we live in such a beautiful area and Alex spends so much of his time outside.

To me, it was important to have a small private garden area so the house and carport close off one corner of the site, giving us an amazing private back garden which is fully enclosed. I feel it will be amazing in the future, if we have little ones running around, to have this safe space for them to play in.

The patio area leading out from the bifold doors is in the perfect south-facing position for full sunlight all afternoon and evening. We added a small fish pond to the side of the house and Alex has used the back area of our site to house a large aviary with a larger pond and lots of ducks, peacocks, swans and pheasants. We can sit on our patio and watch the birds, which is so amazing.

During lockdown we were able to add a gorgeous resin pathway the whole way around our home and get our driveway tarmacked which felt like a significant milestone – no more carrying dirt and dust into the house every day.

We still have lots to do with the landscaping of our home as it really does cost so much, but we are so happy with what we have achieved since we moved in.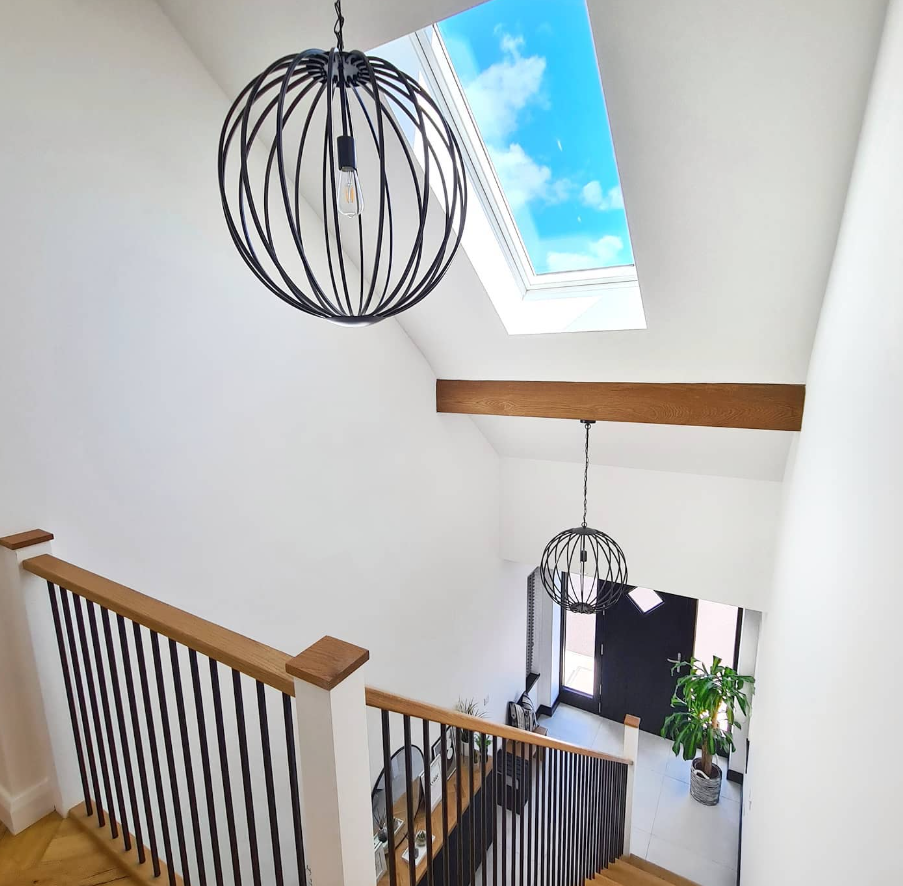 What would you change?
We love our home and there is little we would change about it apart from maybe a few lights we wished we had considered more carefully.

Ideally, we would have built a larger garage. However due to the design of our home and size of our site, we didn't have any additional space for this but we definitely find our garage cramped for space.
Follow Lauren on Instagram @our_self_build_ni
---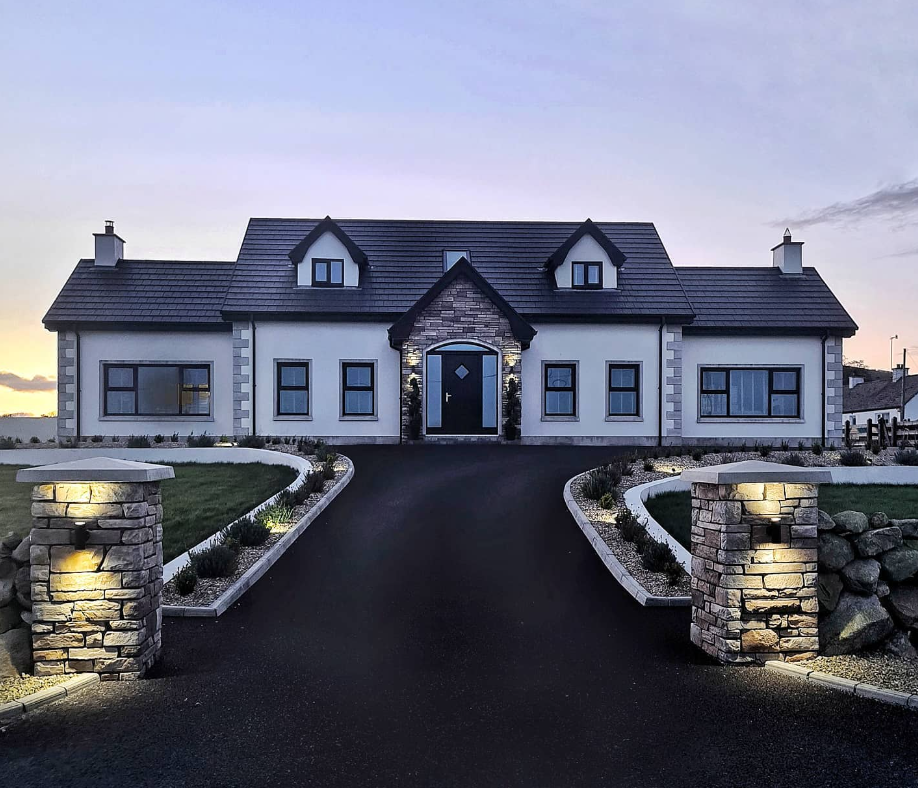 Suppliers
Heat recovery ventilation
Beam Vacuum & Ventilation, beamcentralsystems.com

Resin pathway
Vuba Resin Products, vubaresinproducts.com

Builder's merchant
McCall's, Downpatrick, jwmccall.co.uk

Porch cladding
Fernhill Stone, fernhillstone.com

Roof covering
Snowdon tiles by Lagan Building Solutions, lbsproducts.com

Solar Panels
Solar House NI, solarservicingni.co.uk

Phenolic board insulation
Kingspan, kingspaninsulation.com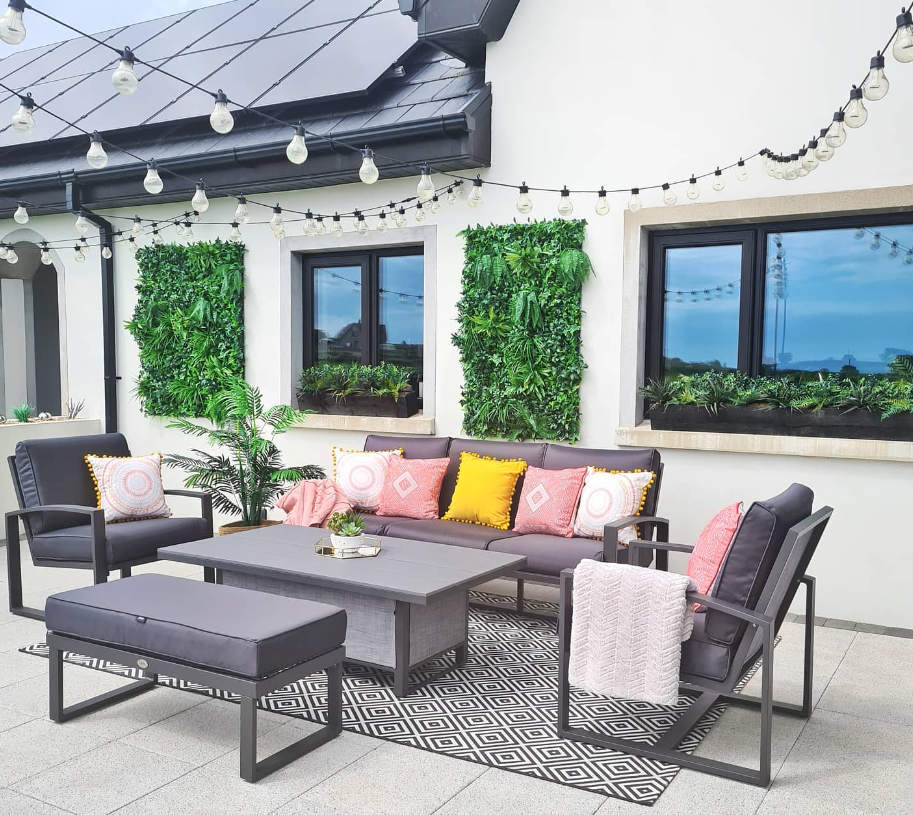 Spec
Walls: 200mm cavity pumped with EPS platinum beads.

Windows: triple glazed and argon filled, U-value 0.6W/sqmK

Roof: roof tiles, felt and lathe, 100mm warm roof phenolic board, 150mm spray foam between rafters.

Floor: 150mm phenolic board insulation, 50mm liquid screed. Precast concrete slab for first floor.