A cost-effective extension pulled this typical 1950s semi detached Dublin suburban house back into shape.
We bought the house 10 years ago; the same person had lived in it since it was built in the early 1950s. It was a three-bed semi detached end of terrace house," explains Emma Blain who lived in it for a year with husband Andy Macken before adding a new kitchen and renovating.
"A couple of years later we realised it was still a difficult living space, we needed a new bathroom and utility, so we did a small renovation on the existing wetroom and did up the bathroom upstairs."
[powerkit_collapsibles] [powerkit_collapsible title="SIZES" opened="true"]
Before: 96sqm
After: 158sqm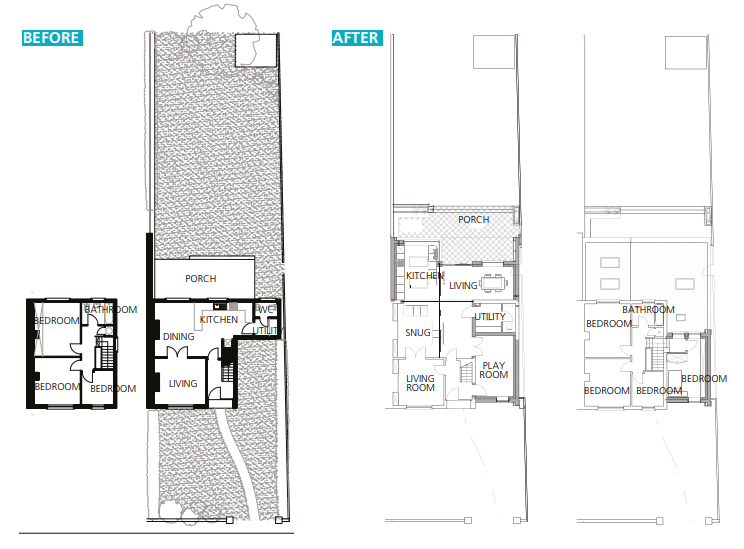 [/powerkit_collapsible] [powerkit_collapsible title="SUPPLIERS"]
Architectural technologist: Joe Fallon Design, Dublin 14 and Bunclody, Co Wexford, tel. 01 514 3688/053 93 77633, joefallon.com
Blinds: Mounttown Curtains and Blinds, Glenageary, Co Dublin, tel. 01 2808379, mounttownblinds.com
Kitchen: BeSpace Kitchens and Bedrooms, Stillorgan, Co Dublin, tel. 01 2108364, bespace.ie
Countertops: Murphystone, Sandyford, Co Dublin, tel. 01 2956006, murphystone.com
Flooring: Mulveys of Dundrum, Dublin 14, tel. 01 2964358, mulveys.com
Photography: Dermot Byrne, dermotbyrnephoto.ie
[/powerkit_collapsible] [powerkit_collapsibles]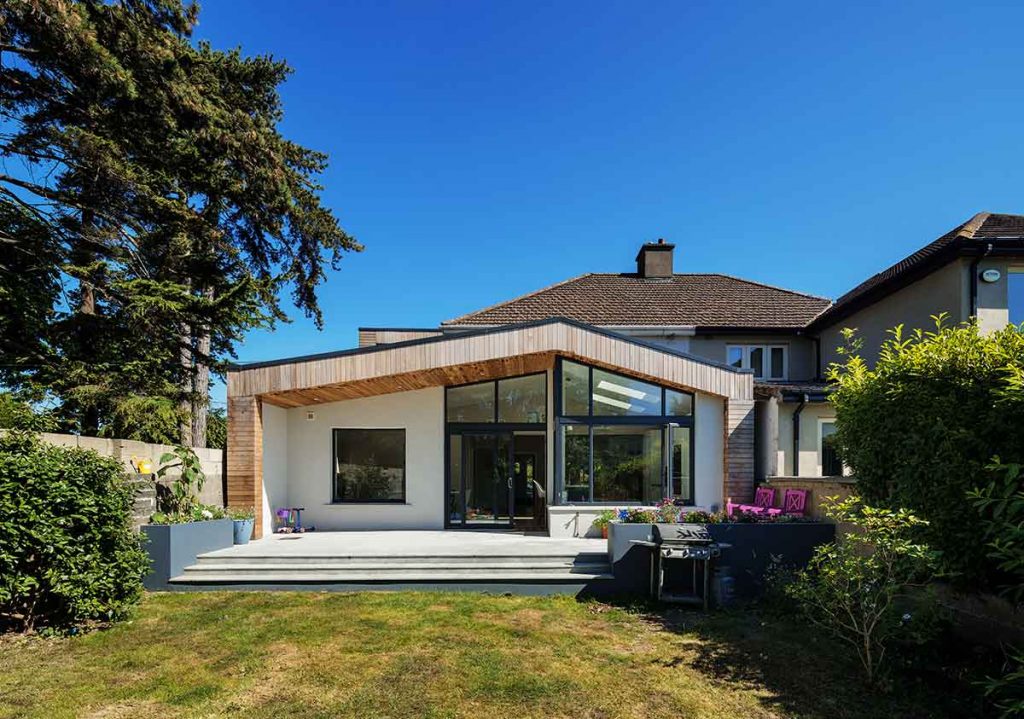 "For the first child this living arrangement was fine," continues Emma, "but we wanted to make the house bigger by the time the second was born. We got plans done up; I had an idea of an extension at the back that would have meant getting rid of some garden space."
"But there wasn't time to get the project done before the second was born, and we didn't want to undertake it while she was a newborn, so we shelved the plan for a year. It gave Andrew time to find our architectural designer; Andrew is the fussier one so it made sense for him to take on that task." "With two children, we had lots of stuff.
We had a small living area and one living room so the mess was everywhere. As kids get bigger so does the mess!" "We could have moved to a bigger house but every home we looked at needed some renovation job. We love our area and wanted to stick to it; close to school, family, friends, transport, neighbours, shops. There's a good sense of community so we decided to stay put and renovate where we were."
"We did need more space but the question was how much we could get in on a reasonable budget. We thought we'd maybe be able to add a playroom; we didn't think for a second we could get an extra bedroom. We hadn't realised the potential."
Design is key
"We didn't have a scrapbook or have very fixed ideas about anything; all we wanted was a nice house that would work for the family," adds Emma.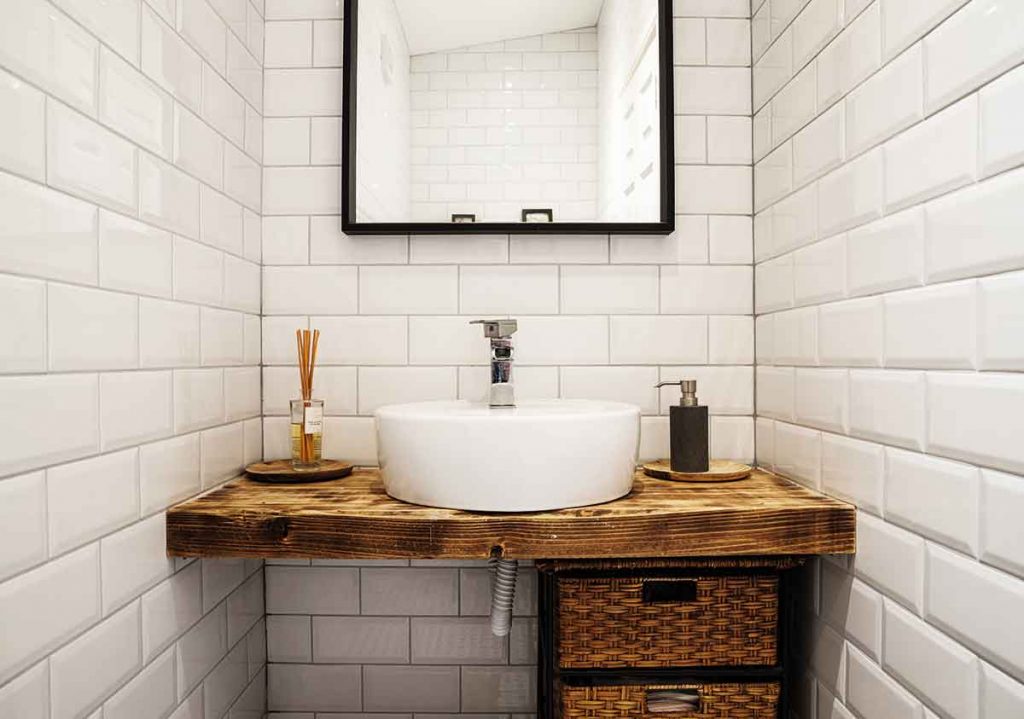 And that's what their designer delivered by adding an extension at the back for an extended living area, another at the side (ground floor playroom with master bedroom above), and a reconfiguration including a downstairs toilet and larger laundry room.
"When we saw the plans with everything we wanted, it was an exciting time," says Emma. "We barely made any changes to the architectural design we were presented with. The only place that hasn't been affected by the upgrade is upstairs; the north facing bedroom is the coldest room of the house."
"I especially liked how it blended but contrasted the two-storey extension to the original house. We had a choice of two looks at the back around the flat roof: we could have had cedar wood cladding only around the edges but we chose to go the whole way around."
'We didn't have a scrapbook or have very fixed ideas about anything; all we wanted was a nice house that would work for the family.'

Emma
"I loved that aspect of the design. It's different yet still complements the house. We have tall trees and the cedar just blends in really well." They chose to stain it with multiple coats as opposed to letting it weather to a silver colour. The couple had to get planning permission but it was a straightforward process.
"What we didn't realise was that we would need a soak pit. There are a lot of homes in Dublin with hard paving and drainage is causing problems. Even though we don't have any hard surfaces around the house we had to add the soak pit which cost us an extra €1,000 to get it built and tested by the engineer."
The choice of builder was largely based on recommendation. "We tendered to six builders including one who did up the house of a friend of ours. Very few got back to us, only two or three; it was getting busy again. The one we had put forward offered the best price."
"During the construction phase we had to move into my parents' house, both retired, who live nearby. The irony is their neighbours next door started work on their house so we moved to another building site, which was noisy from 7am to late into the night."
"We started the job in March 2017 and spent the summer in my parents' holiday home in Donegal," says Emma. "We moved back in September."
"It took longer than we wanted it to; the schedule did slip behind. Maybe living on site would have helped keep the build moving along. It took six months when we originally thought it would take four. It slowed down towards the end but we couldn't move back in with small kids until it was completely finished."
The couple were involved in the process with site visits and there were few surprises as they had budgeted for the drainage issue they came up against.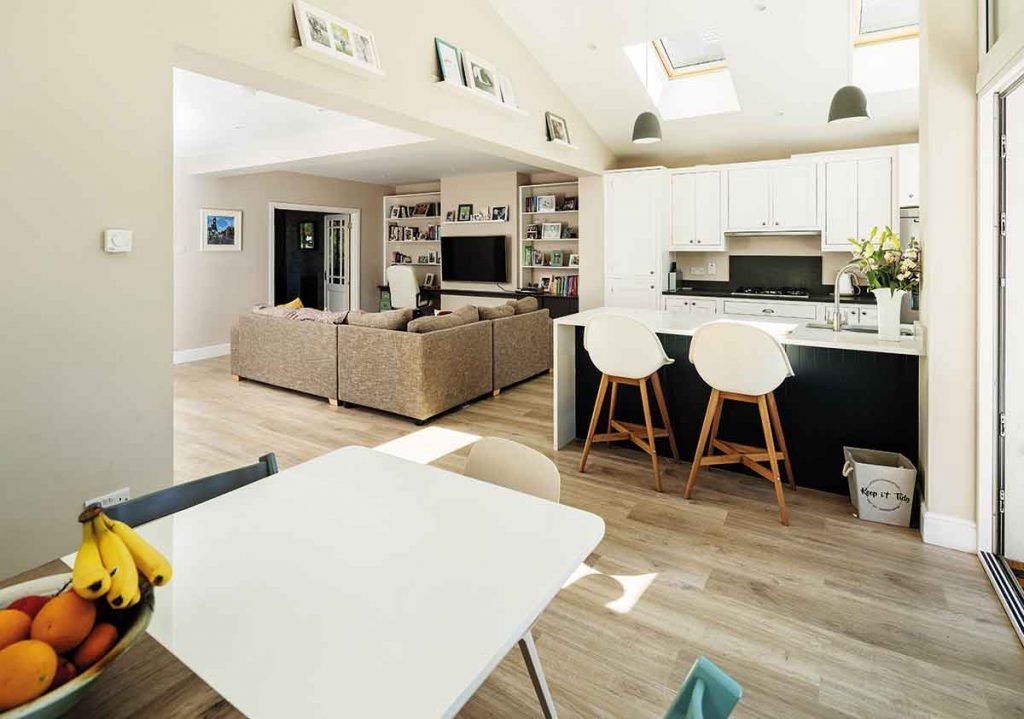 "We did random spot checks, every few weeks. The biggest change was an idea Andrew had which was to extend the porch at the front of the house. It didn't require planning permission as small porches are exempt and we put cedar wood around the edge.
It added a meter to the hallway. It makes a big difference, there's more light and space. For everything else we were very pliable."
All work and all play
The house had been upgraded in the past but they chose to revamp it for one last time with this building project. "We had a shiny cream kitchen with walnut top which lasted really well: we sold it online as it was in perfect condition," says Emma.
"But this time we wanted a more classic look. Not traditional, just something timeless enough that I wouldn't want to replace it in five years' time. We went with handle-less units and chose granite for the worktops. There's a different colour on the peninsula than at the hob which provides contrast."
"The granite in the cooker area has a worn feel and is very tactile; above all it's so easy to use and clean. There is not a mark on it. I also love the fact that everything is accessible and our designer's idea to incorporate the window seats with builtin cupboards. For once in my life I have enough storage space."
"The laminate flooring was another decision we're glad we made; with the children it's so much easier on the upkeep than wood and it's softer than tiles or other hard wearing floor finishes."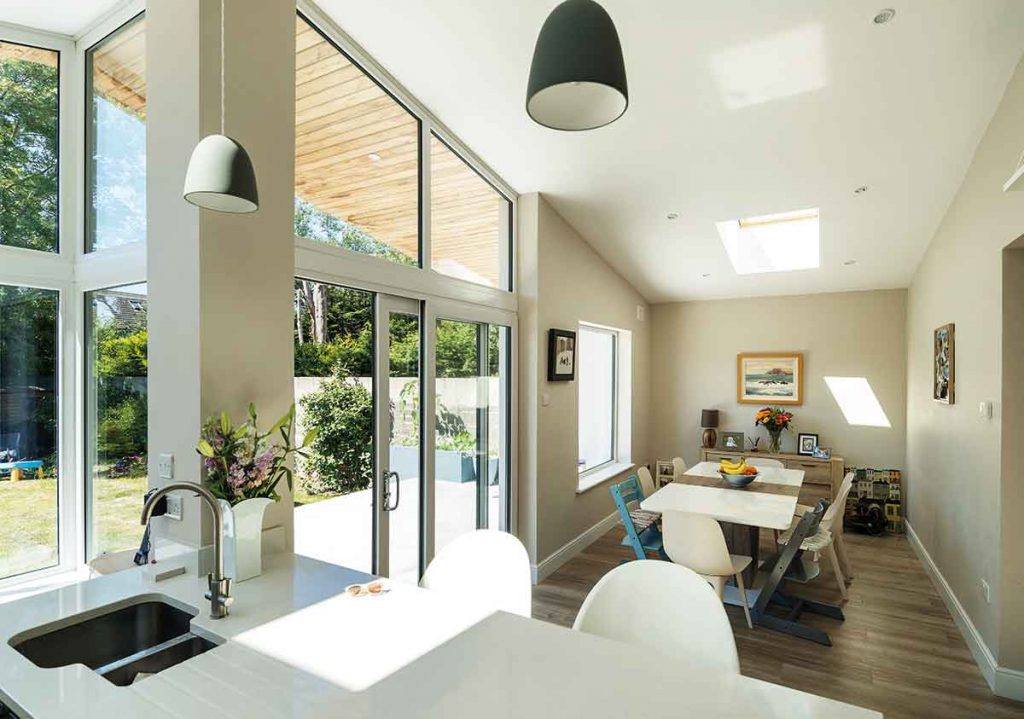 [powerkit_collapsibles]
[powerkit_collapsible title="TIPS" opened="true"]
Don't get obsessed about things that are not so important. I was worrying about getting the right table for the dining area and finding furniture for the playroom but these things fall into place.
Keep it local. Not all kitchen places were accommodating; the local company we ended up choosing was lovely to deal with. They were always happy to talk and had suggestions and ideas. If you can keep it local, logistically it makes things easier towards the end.
Look at friends' places with children of similar ages: different needs for different stages.
Get a full length larder fridge. We had half and half before and this provides so much more space. We have a separate freezer as well. It makes planning for food during the week much easier.
Shop around for light fittings early on; we have spots downstairs but found it difficult to choose lampshades.
[/powerkit_collapsible]
[powerkit_collapsible title="Q&A"]
What surprised you?
We were pleasantly surprised by lots of things; the biggest good surprise was the patio area and how much garden space we were able to retain. We didn't lose anything. We still have space for the trampoline and vegetable patch and toys. We actually use the garden a lot more and we have people over more often. The kids can bring their friends with us knowing the garden is a safe space.
With the trees in the summer, we don't feel like we're in the suburbs; it's not as constricted as it used to be. On the patio we added granite planters which bring the space together; the roof overhang works well to keep out the summer sun and allow the winter sun into the house.
What's your favourite part of the house?
Because it keeps the entire house tidy, the playroom. I love the kitchen as well; it's full of life, always warm with the garden south facing. As soon as a ray of sunshine hits it, it gets warm. Sometimes you don't realise what you want until you actually have it.
What would you change?
As part of the renovation we added a new boiler system, with a gas combi boiler for hot water. There's underfloor heating downstairs. As a result the hot press with boiler in it was made redundant. We couldn't have done it at the time, from a financial point of view, but I would like to make the bathroom upstairs bigger by knocking through to that hot press.
Would you do it again?
Probably not; the idea from the beginning was not to do it again and I can't say I really enjoyed it.
[/powerkit_collapsible]
[/powerkit_collapsibles]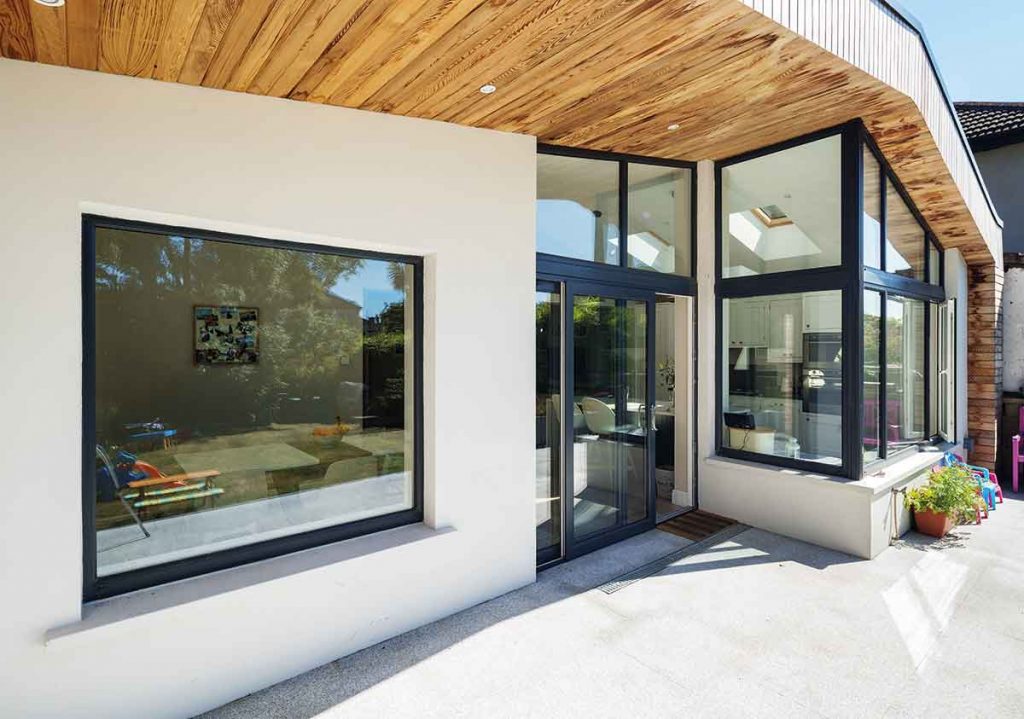 "We used to have semi-solid wood floors and they marked easily. It was our supplier who persuaded us to go with the laminate, it's amazing the difference of what's on offer now as compared to seven years ago when we did our first big renovation," says Emma.
"The laminate looks like wood and is a dream to clean. The floors don't scratch, stain or mark. Plenty of scooters and toys being dragged around have tested them and there's not a scratch." Then came the playroom challenge.
"We were adding a playroom that was to be north facing so we knew it would be dark and off the hallway. It was one of my obsessions on the plans: it looked so small and rectangular I thought I better figure out how to make it work. In reality it was much bigger than I thought and it's actually the perfect size."
"I looked for ideas online and found the ideal image of built-in shelves. I costed it for a carpenter to make to measure and it was quite expensive; then I realised I could get the sections in a flat pack store which I did.
I built it in one afternoon and went with a grey beechwood effect." "In previous play areas we had devised for ourselves we'd chosen strong colours which did get irritating after a while. This was part of the reason why we decided to book a colour consultation.
The interior designer was brilliant; we would have spent far too much time figuring it all out without her help." "We weren't looking forward to have to choose the colours and this made the job much easier and quicker. With the children running around making paw prints I'm glad our walls aren't all white!"
"As for the reclaimed timber in the bathroom, it was hard to get," says Emma. "What we came across was too new looking so we had to ask our builder to find it for us which he did in a salvage yard. The sink and tap were sourced from a large store and weren't expensive."
Sometimes the success of a project boils to knowing when to call in the experts and when to do it yourself.
---
Try our new 'Selfbuild Cost Calculator'. Fill in details and instantly get a rough estimate for your project