Fionnuala Mannion was lucky to be able to self-build on her grandfather's land, near other members of her immediate family.
In this article, Fionnuala talks about building on family land including:
How the new build design was influenced by moving from city to country
Design details from bulkhead in kitchen to U-shaped staircase
Adaptable storage solutions: for young children and beyond
Adapting the design to suit the budget and how they could have saved even more
Windows and doors: choices and installation
Contract with builder and process of building
Full floor plans and specification
Overview
Bedrooms: 4
Plot size: ¾ acre
House size: 225 sqm
Heating and hot water: air to water heat pump
Ventilation: mechanical with heat recovery
BER: A3
"My grandfather was a blacksmith," says Fionnuala. "He had a farm and forge, with some fields in a quiet cul de sac in Co Galway. Sadly, he died in 1999."
"Our family was left the land and, 15 years ago, donated the forge and old sheds to a local volunteer organisation. The organisers got a grant to turn it into a museum. Now you can come visit the restored forge; they did it up exactly the way it had been. It's a lovely way to remember grandad."
"My parents built their own house near the old farmhouse and forge. My sister built on a site in the cul de sac, and I built beside her. It's very picturesque, you can see the old Franciscan Abbey and Claregalway Castle from here. And so nice to have my sister right next door."
From city to country
"Myself and my husband Liam were living and working in Galway City, where we had bought a house. That experience was the most valuable when the time came to building out in the countryside. We became familiar with property transactions but more importantly, it made us evaluate how we live our life."
"This was in the early 2000s and we paid what seemed like a fortune at the time. We then had two babies close together – raising small children in a small house with no playroom or utility is a challenge, and that really got us thinking of how our new house would work."
"We sat down one night and wrote down things that were important to us in how we live our lives, and things that really annoyed us about living in a small house. That list was the key input for the design of our new build."
"But we also knew how much was too much for us. We definitely didn't want lots of bathrooms, for example," adds Fionnuala. "We have one bathroom with a shower downstairs which is located in the middle of the ground floor and just beside the guest bedroom. Upstairs we have the master ensuite and the kids share a bathroom."
"We found our architect through a recommendation; friends of ours had used the practice for their project," adds Fionnuala. "My sister had started her build over a year before us, so we were also learning from her experience."
"She had done a lot of research and pricing for interiors, and had looked at kitchen options, and gave us great tips. For example, she suggested that the wall where we would put the presses and the oven might look a bit like lockers, so we built a bulkhead on top, which makes it much neater. Small details like that."
"Our architect Carmen designed the house, and when she showed us the mockup we loved it. We adjusted the layout inside a little, but overall we were so happy and excited with the design. Materials were also important to us; for instance we wanted some stone facing on the outside."
"On the wish list was also a double height hall with central U-shaped glass stairs, so you can see the top of the house from the front door. It's a bright space thanks to lots of glass and a window that goes from the floor up into the roof. We also chose quite a dramatic picture for the big wall space over the stairs."
"It was really important to Liam and I and have a large space we could share as a family," she adds. "The central idea was to have a kitchen/living/entertaining space where we could prepare meals, chat comfortably to any visitors and for the kids to be able to play close by."
"The living area is a really nice space for us but also for the kids; our boys are now eight and nine and our little girl is two. We have a comfortable couch and a snuggler chair which we put in the corner window. I love sitting there with the kids on a Saturday morning, reading with them and looking out at the view. There's lots of floor space for them to play too."
The space inside is all about family life. "The island is self-contained, on one side there are deep drawers for the delf and cutlery and on the other side there is a shelf for books, and two big drawers for the Lego and crayons."
"We have strip lighting along the bottom of the kitchen units and island. In hindsight we probably should have put some lights in the shelf of the island, so that when we no longer have the kids' books there, it could be more of a display area."
"Because our toddler has a lot of toys, we added a unit in the corner beside the couch. These pieces of furniture are temporary, I will eventually get a piano instead of all the storage!"
"I especially love the two sets of doors out to the garden," adds Fionnuala. "They open directly onto the patio and during the summer the children can wander in and out freely. And when they are playing outside, I can see them."
Budget
"At the time, it seemed quite expensive to build what we wanted, and we made some small adjustments so the build would come in on budget. The left hand side of the house was reduced a bit in size, and we got rid of some stone facing. In hindsight that saving probably wouldn't have made a huge difference in the long term – and our sitting room would be bigger."
"We did invest in insulation above and beyond the building regs, so the house is comfortable year round, and that was well worth it," she adds.
"We asked builders to give us a price for the build, John and Tom at the architectural practice organised the tender for us and five responded. The range of price tendered by the builders was huge, and the most expensive tendors priced themselves out of the running straight away."
"We decided to go with a reasonable quote from a reputable builder," says Fionnuala. "He's a local guy and we hit it off straight away when we met him. He had plenty of experience and gave us some great advice on the build."
"We put a contract in place and, as we wouldn't have had the time to manage the project ourselves, Tom managed the build and dealt with any questions or problems. We couldn't have done it without him."
"Tom handled it all for us, and made sure we made our decisions in a timely way, so that we weren't holding up anything."
"There was so much pressure on us, we were both busy at work plus with young kids there's just no time," she adds. "And the build was still demanding; we had to make decisions on absolutely everything, electrical points, materials, you name it."
"We set a fixed date to move in, linked to the limited timespan we had on our rental accommodation. Our rental was close to the site, so we checked in on progress every day after work."
"It's funny, when we were building the house, sometimes I'd stand in the empty shell wondering if we had made the right decisions about the size of the rooms and the layout of the house," says Fionnuala. "But when it was painted and tiled the house felt so bright and airy with this beautiful view – it felt just right." And just right it is.
Read about Fionnuala's garden design: full article here.
---
Q&A with Fionnuala
What surprised you?
There was a delay with the transfer of our site which meant we couldn't draw down on our mortgage. So we ended up starting the build out of our savings. That was quite a stressful way to start but thankfully it all went to plan after that.
What would you change?
We could have saved by not choosing natural slates – I've subsequently seen really good engineered slate on houses and I honestly can't tell the difference. But the main thing I'd change is not to over cost engineer the design, which we did when the tenders didn't come in on budget.
What's your favourite design feature?
The hallway, the glass stairs. I love the parquet flooring, and the kitchen layout. The three bedrooms upstairs and the master bedrooms are fabulous too. The walk-in wardrobe is such a luxury (after living in a small townhouse) and definitely my favourite room! Before Covid, I used to get up very early to commute to work, and my hairdryer would wake up Liam. The current set up has it that you have to walk through the walk-in wardrobe to get to the bathroom so it's totally separate from the sleeping area. And it has a window. It's so handy.
The corner window in the master bedroom with the views is another treat. The first morning I woke up in the room, I thought, What gorgeous views…we are so lucky to be doing this!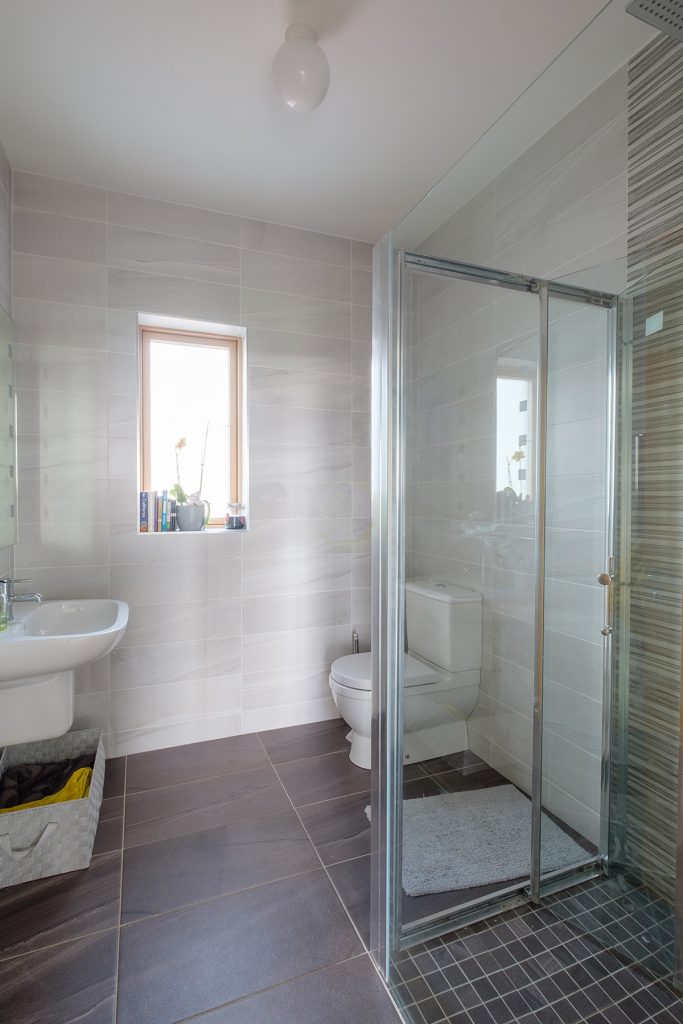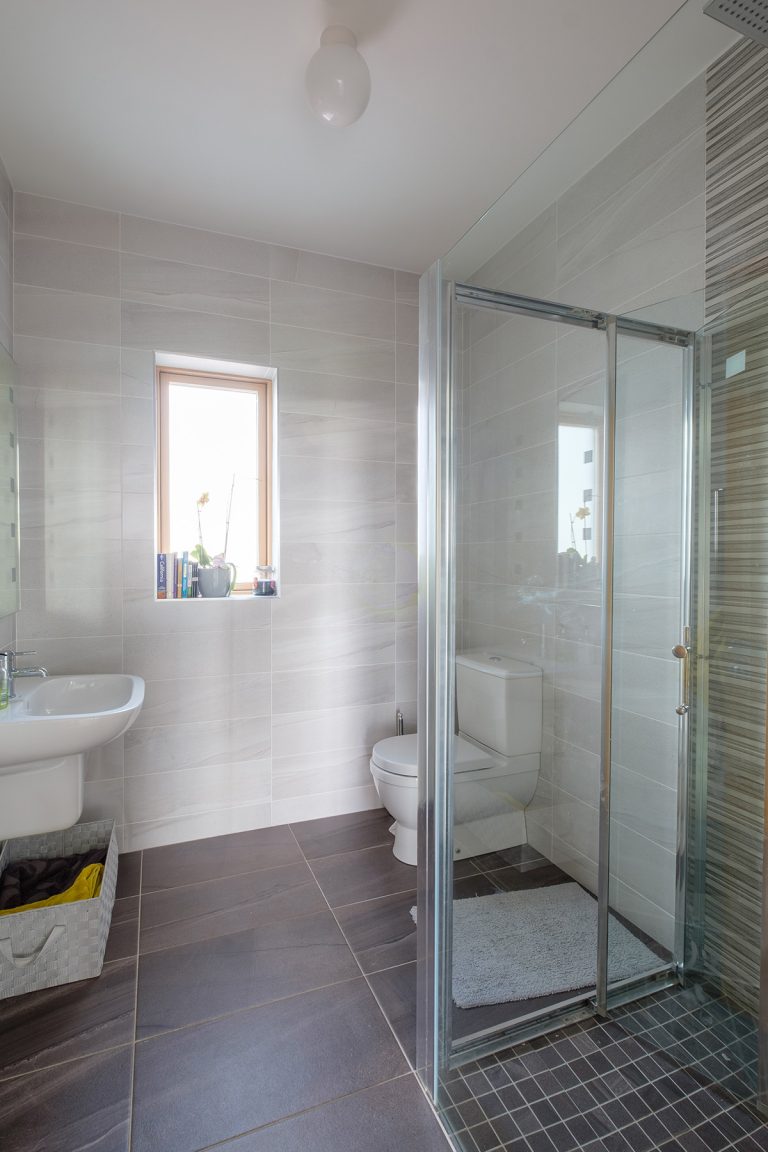 ---
Fionnuala's tips
Invest in the items you will use every day. That means appliances like the fridge but also your windows. It's all budget dependent, but we chose to prioritise these areas and are glad we did. Overall, consider that if you're going to get into debt anyway, an extra 40 to 50k to make the house perfect may be worth it.
Taramac as soon as possible. Especially if you have small kids; also cars will wreck the path with continuous use.
Consider a laundry chute. We have one that lands in a press beside the washing machine. It reduces the number of baskets we need and frees up space for practical stuff. Thinking about your living space, and how you're going to be using the house every day, really helps with the design.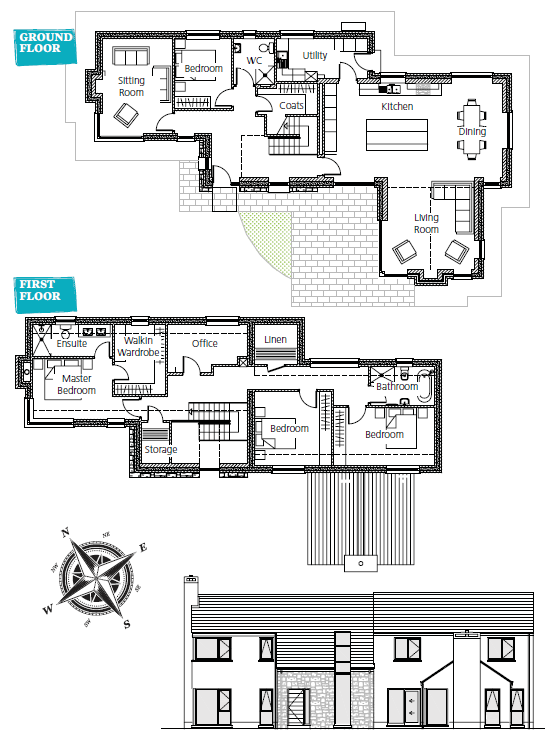 Specification
Floors: 150mm PIR insulation with 25mm perimeter PIR insulation. 75mm sand cement screed with underfloor heating. U-value 0.13 W/sqmK
Walls: Standard blockwork walls with 150mm cavity pumped with EPS beads. U-value 0.21 W/sqmK
Roof: Timber cut roof with natural slates. Spray foam insulation between rafters along with insulated plasterboard on underside. U-value of 0.14 W/sqmK
Windows: wood, aluclad triple glazed, sliding doors in an L shape,
U-value 0.8 W/sqmK
Airtightness test result: 2.573m3 /h.sqm at 50Pa
Suppliers
Architect
O'Neill O'Malley Architects, onom.ie
Civil & Structural Engineer
Shane Hanniffy & Associates, 
shanniffy.com
Builder 
Loumoy Ltd, loumoy.ie
Mechanical/ Ventilation/ Insulation/ Airtightness Contractor
Bromur, bromur.com
Windows
Rationel, rationel.ie
Kitchen
IN Kitchens, Galway, inkitchens.ie
Bathrooms
Tubs n Tiles, tubstiles.ie
Tiles
Cutting Edge Tiles, cuttingedgetiles.ie
Appliances
Stapletons in Tuam, Co Galway, stapletonselectrical.ie
Wooden floors
Glenwood Timber Flooring, Ballybane, Galway, glenwoodflooring.ie 
Insulation
Floor: Xtratherm. Walls: Kingspan Ecobead. Roof: Icynene spray foam.
Photography
Sean McCormack, Galway, 
seanmcfoto.com
---