Orlean and Elton McCaffrey's new build gave them more privacy, space and a house in which they could entertain family and friends, featuring a much coveted cinema room.
In this article we cover:
First steps to building, from finding a site
Design wish list and working with an architect
Glazing details
Applying for planning permission, including drainage issues
Restrictions from the planners and how they adapted to them
Home automation system details
Tender process and finding the right builder
Which external finishes they invested in for longevity
Designing the cinema room, building it and kitting it out
Details of heating system including stove and smart thermostats
Regs compliant insulation and details of fuel bills
Timeline and floor plans
Budget buster: how much they had to pay for electricity
Build cost and house value
Supplier list and full specification
Professional photographs
Overview
House size: 2,750 sqft
Bedrooms: 4
Plot size: ¾ acre
Build cost: £165,000
House value: £250,000
SAP (EPC): 84 (B)
Heating and hot water: oil boiler (97 per cent efficient) and stove with back boiler
Ventilation: Positive input ventilation
Build method: blockwork (cavity walls)
While Orlean and Elton McCaffrey loved the council house that they had bought in 2002, seven years ago they decided that they wanted more privacy, space and a house in which they could entertain family and friends.
Originally from a small rural location in Co Fermanagh, Elton had found a site in his village to build on – to then discover that the owner's daughter had her own plans for it. He and Orlean moved on with their search but didn't see anything that particularly appealed to them and so began to compile a portfolio of houses that they liked.
In 2014 Elton was driving past the site he had first set sights on, and noticed that it was up for sale. The couple approached the owner and were delighted to put in an offer. "Since the owner's daughter had already secured planning permission, the bank approved a self-build mortgage and so we were able to start building," says Orlean.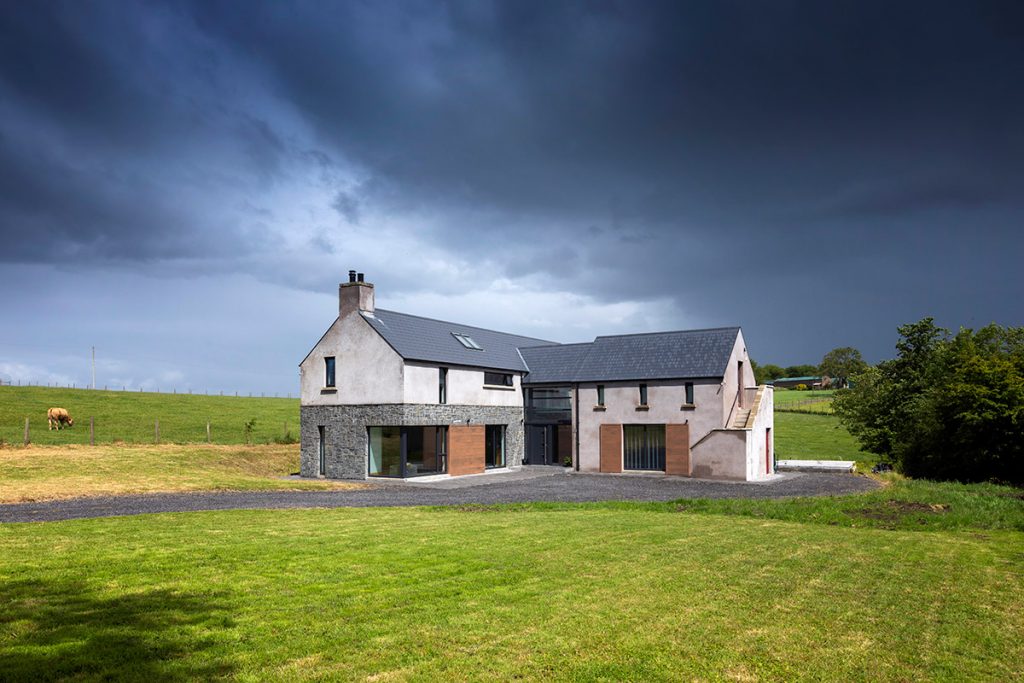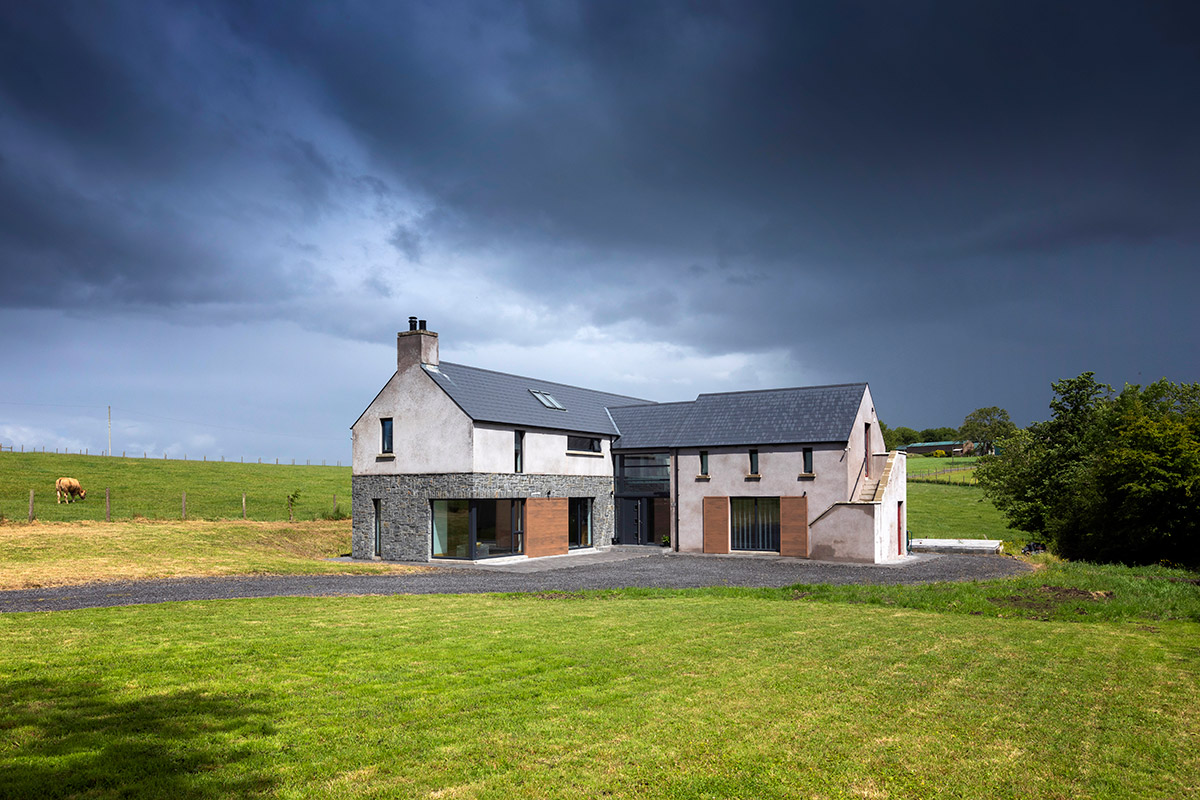 "As soon as the mortgage was agreed, we approached Donal our architect and told him that the plans the previous owner drew up were not what we wanted. At this point we were able to show him the portfolio that we had already compiled including photos we had taken on our phones when house hunting."
"Our ultimate aim was to create a house that would act like one big sunroom and so we focused on big windows in targeted zones. Our open plan design left plenty of scope for light to stream through the whole house all day long," adds Orlean.
"Yet in other areas, the house has very few windows. This was to ensure that the modern look of the windows wasn't compromised, so we only had openings for aesthetic balance and where building control dictated for safety. We also wanted windows we wouldn't have to dress, for the visual impact and for cost reasons."
The only setback that the couple encountered in the planning process was that they had wanted to turn the front of the house in more of an anti-clockwise direction to face looking up the hill, but this was turned down.
Also, turning the house any more would have limited the views due to the rising ground. "In the end, the approved position takes the best advantage of natural south facing sunlight, and the view desired – striking a good balance between both," adds Orlean.
They also had to seek the permission of the landowner to use the dry shuck, a dry waterway only used for excess water draining from the road and field, to allow the treated septic tank water to filter through the land and down into it.
Tech central
"What we envisaged," says Orlean, "was a house that would be a storey and a half, and we initially thought of having an external garage with a cinema on the upper level. We're both big film buffs and so the idea of having a cinema on site was a no-brainer as it would allow us to indulge our favourite pastime without having to leave the house!"
"Elton is crazy about movies – particularly about how they are made and, in our old house, we always had a projector so this was the next step up. We are in a very rural area and the cinema room provides us with a way of 'going out' without the hassle. It also has its own wee bar and toilet; it's totally practical."
The couple's idea was taken further, however, when their architect reviewed the plans and reconfigured them. "Donal suggested something more modern, and integrated the cinema room into the house, with its own external entrance."
"There is a secret internal door but at the moment it is blocked off, behind a mirror, and we can break through at some point in the future if we want to."
In fact the home automation aspect of the build was an important part of making the house easy to live in. All of the bedrooms are hard wired back to the computer, or comms, room and all have USB ports, which enables all mobile devices to be charged.
"The comms room is a fully functioning centre for all of the house's communication systems and the house is hardwired with CAT6A cables. This means that there are no TV boxes in any of the rooms – they're all in the comms room," explains Orlean.
"Upstairs we have large spacious bedrooms to cater for storage and TVs on the wall. We also opted for curved ceilings, which gives a really cosy feel to larger bedrooms. Each of the bedrooms has anthracite grey horizontal radiators, as have the master ensuite and main bathroom."
"In terms of the bathrooms upstairs, we opted for a wet room in the main bedroom. It's about the size of a double shower lengthwise and was designed for when we get older. The master bedroom also has a walk-in wardrobe. Each of the other bedrooms have a shower in their ensuites."
Discerned choices
Orlean and Elton wanted to hire local builder Peadar, about whom they'd heard great reports, but he was reluctant to take on the job as he was concerned he wouldn't be able to get it finished within the timeframe the couple wanted.
"Donal took charge of the tendering process," says Orlean. "There were five builders tendering for the job, although initially Peadar wasn't one of them. After much encouragement on our part, he put his in and his price was the most competitive, following Donal's tender review of all valid returns. Out of the five, four came back, one of which was after the deadline."
"Peadar started work in June 2016 and was contracted to finish the job within 15 months which was a timeframe he was happy to work to. And once the work began, we were delighted to see all of our plans taking shape," she adds. "We opted for block walls with cladding and slate for the roof, which Donal recommended for its longevity."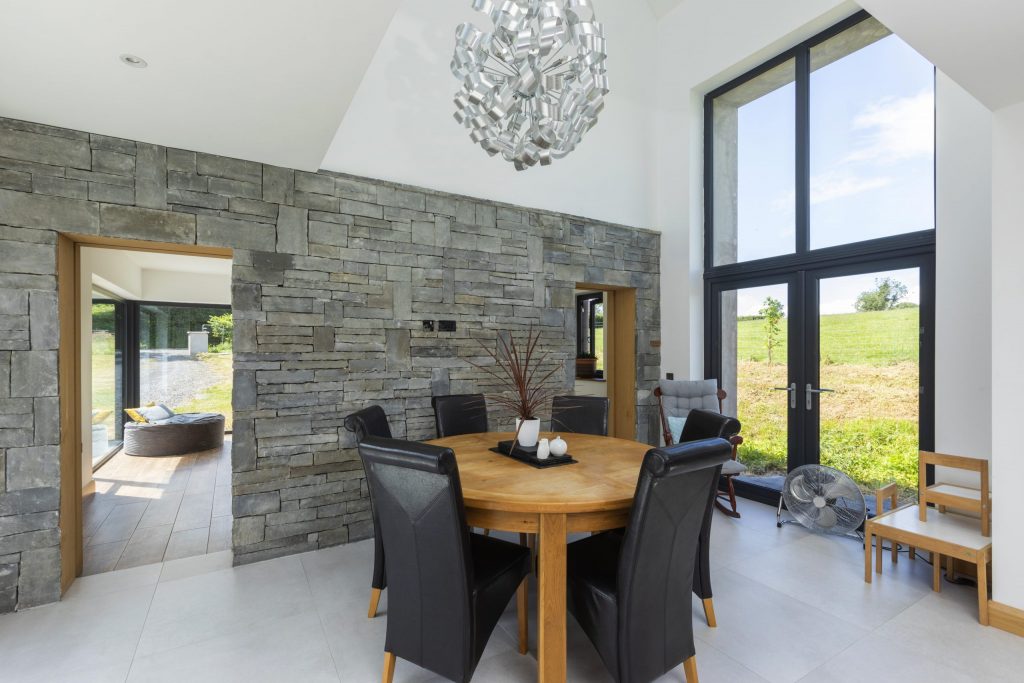 "We also opted for the more expensive option of triple glazing, which, although it was more expensive, I think saved us money in the long run. One side of the house takes the brunt of the wind and rain, and the triple glazing has been very effective in maintaining a steady temperature within the house"
"The multi-fuel high efficiency stove with back boiler and the oil fired boiler (97 per cent efficiency) set up means that we have a dual form of heating in the house. We also have machine learning thermostats, which means that for the first weeks we had to regulate the temperature to give the algorithm a reference data set. The thermostat then learned our schedule, i.e. which temperature we wanted when, and so now we get a steady 23degC."
"The smart thermostats detect when we are not at home (determined by sensors and our phones' locations) and shifts the heating system to energy saving mode. We also have smoke and carbon monoxide alarms with multiple sensors, including a photoelectric sensor to detect smouldering fires."
"As a result of this set up we only invested a middle-of-the-road level of insulation, to meet compliance levels in NI which is quite a bit less than what's required in ROI, yet our oil bills for this 2,700sqft house were £700 to £800 this past year, plus £200 for briquettes and coal to feed the stove." The house is still performing better, at a B energy rating, than the average in NI for a new build which is a C energy rating (SAP of 79).
"Then our electricity bill is about £720 per year for the rest of our energy needs which includes positive input ventilation system. Even though it was relatively expensive it was worthwhile to install as the house is airtight; in the hot weather it's refreshing and in winter you can turn the setting down."
Solar gains also help bring in some heat. "To be honest, the fact that the house is a complete sun trap means that last year we didn't have to use any form of heating for about three or four months."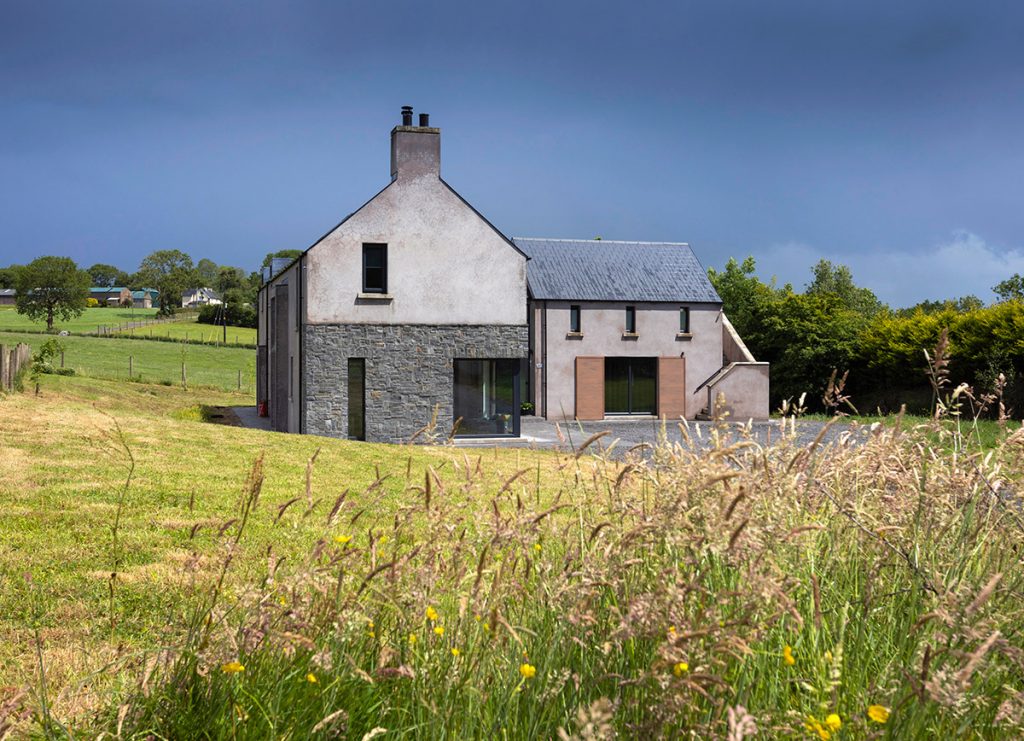 Settling in
Orlean and Elton moved into the house in April 2018, even though the build wasn't complete. "We had to move out of the house that we were renting because it was just wasting money on the rent and we were also paying a bridging loan," says Orlean.
"We moved into the guest bedroom, which is the only bedroom downstairs," says Elton. "All of the other bedrooms are upstairs but these weren't ready when we moved in. Having a guest bedroom downstairs is good for privacy and practical for those with reduced mobility."
"In addition to the bedroom, we also had the use of one bathroom and a toilet, so we really had everything we needed. We had to run a generator to dry the floors and walls, but it was fine."
The build was finally completed in April 2019, by which time the couple had also worked on the garden and exterior of the property.
Orlean's Tips
Research as much as possible. You can never do too much research. The portfolio that we had compiled over a few years proved to be invaluable in terms of having something to show our architect.
Check out examples of other work your builder has done. We spent quite a bit of time going and looking at other houses our builder had completed. It gave us peace of mind that his work was of the standard that we wanted.
"The house takes up most of the site," Orlean continues, "but we have made the most of the outdoor area. We've already put in a row of silver birch trees – positioned 2m out from the embankment, each with a light at the base. We've used railway sleepers around the boundary and are planning on putting bark or pebbles in between them."
"At the back we've planted trees that came as cuttings from neighbours and family members. One, for example, is from my dad's grave. We just felt that this gave our garden a really unique, personalised feel."
"The section at the top is quite wild and there are badger sets, so we've scattered wildflowers to encourage pollination by bees. We're also planning on getting our own beehives soon. We have to have hedges within five years, and we're using locally sourced plants throughout." A true haven.
Q&A
What would you change? We would change the external cinema steps to the back of the house, but it probably wouldn't have worked as well aesthetically as it does now.

What's your favourite part of the house? It has to be the cinema, closely followed by the view from our landing halfway up the stairs as it is surrounded by glass. The staircase itself is a big feature of the house; it is a bespoke oak floating staircase with glass balustrades and balcony above the hall and a glass wall overlooking the kitchen into a vaulted ceiling.

Would you do it again? Yes. Although it's a stressful process, it's also very rewarding since it is an education watching it being built from scratch.

What would you tell a budding self-builder? Be patient. Don't rush any processes. The house drying out, for example, will happen naturally. Also ensure that you have contingency money because what you think things will cost and what they actually cost tend to be two different things.

What surprised you? By the time we applied for the electricity connection, we discovered that the guy who had owned the site had got the last place on the transformer, so we got a bill for £13,500 for a new transformer and two poles.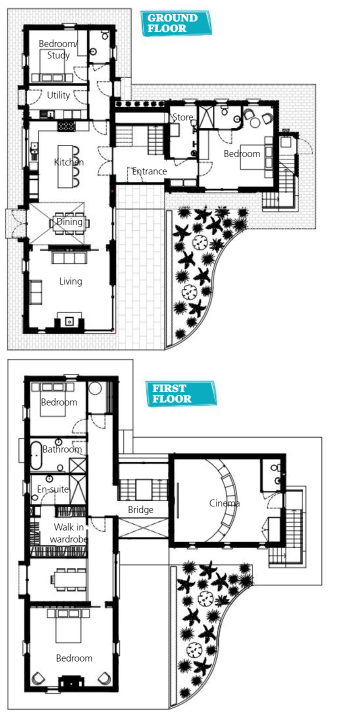 Timeline
Research: 2012 – 2016
Planning applied: July 2015
Planning granted: October 2015
Building start: June 2016
Building end: December 2019
Moved in: April 2018, officially March 2020
Landscaping: Ongoing since January 2020
Spec
Walls: 350mm cavity wall construction consisting of 12.5mm render on 100mm dense concrete block, 1 EPS beads pumped inside the 50mm cavity, on 100mm dense concrete block, on 12.5mm plasterboard, U-value 0.19W/sqmK
Floors: 100mm screed on underfloor heating pipes on 100mm PIR floor insulation on 150mm concrete sub floor on blinding on compacted hardcore bed. Vertical edge insulation. U-value 0.16W/sqmK
Pitched roof: 10mm slate over bitumen felt, 22mm timber, 22mm ventilated cavity, timber, 100mm PIR boards, truss, 25mm PIR board, 12.5mm plasterboard finished with lime plaster, U-value 0.2W/sqmK
Airtightness test: 3.07m3/h.sq
Suppliers
Architect: Donal McPhillips, mcphillipsarchitecture.com
Block and precast: Quinn Building Products, quinn-buildingproducts.com McMonagle Stone, mcmonaglestone.com
Energy design and airtightness test: Qel Air Ltd, email qelservices@aol.com
Positive input ventilation: Drimaster
Boiler: Grant Vortex 26-36kW condensing module, oil fired 97 per cent efficiency, grant.eu
Thermostats and alarm system: Nest Learning Thermostat and Nest Protect
Bespoke floating staircase: Euroscroll Engineering, euroscroll.com
Patio stone: Acheson & Glover, ag.uk.com
Tiles: Tilermade, tilermade.ie
Cinema Supplier: Richer Sounds, richersounds.com
Feature lights: Archers Lighting, lightingnorthernireland.com
Photographer: Paul Lindsay, paullindsayphoto.co.uk