Paul and Lindy Browne went the extra mile to source everything they wanted for their budget friendly self-build in Co Westmeath.
In this article we cover:
How they approached the build and how they sourced every element
Saving on the cost of tiles
Shopping for windows and glazing, tips to save money
Corner window cost and installation issues
Shopping around for a kitchen and lighting, budget saving tips
How much DIY they did and how they saved on groundworks
Troubleshooting on site
Tips for a smooth build schedule and to stick to the budget
Designing the house from the inside out
Designing the house to sustainable guidelines
How they went about visiting other self-build projects
Choice of build method systems (heating, ventilation)
Specification, suppliers list and build cost
Professional photographs
Overview
Site: 1 acre
Project cost including all site works and interiors: €370,000
Size: 3,100 sqft excluding detached garage.
One often repeated, piece of advice all aspiring self-builders and home improvers will be very familiar with is 'do your research'. Paul and Lindy Browne are a couple who quite literally went the extra mile to source and check everything that they wanted for their new house in Co Westmeath.
"I think the windows, kitchen, curved glass balustrade and tiles took the most work," said Paul. "Windows are such a major expense we wanted to ensure we got the best value, best product combination possible and at the outset approached 19 companies who had aluminium clad windows. From their quotations we narrowed it down to five who we then visited, after which we were left with three and then it became a matter of price."
"The initial quotations for the glass balustrade were mad money, but we kept trying until we got one that – almost – came within budget. For the kitchen we began with 15 potential suppliers, the tiles resulted in visiting 20 different tile showrooms and we even got quotes from five builders instead of the usual three."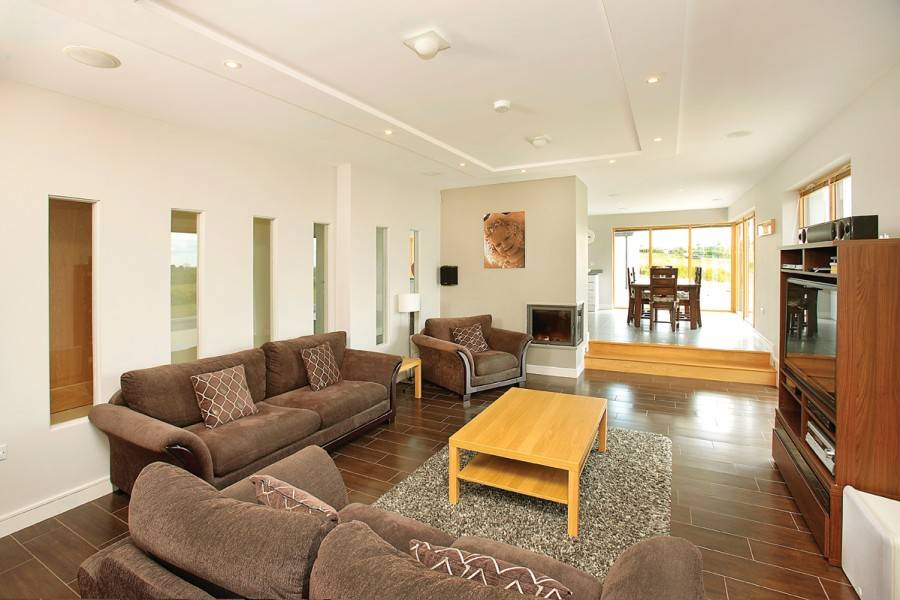 This very thorough approach to self-building was evident from the start. Being in the fortunate position of having a site on the family farm, the Browne's first challenge came with the design for their new house. Typically, they set about this in a very structured, practical and logical way, using the Cork Rural Design Guide (CRDG), and approaching a local partnership of an architectural technologist and an engineer who had designed other houses in the area and were also neighbours.
Their task was to create a house acceptable to the planners, based upon features in the CRDG chosen by Paul and Lindy. With a scrapbook of these compiled, the couple hit the road, touring the country until they came to a house with one or more of them. At this point most of us would be content to take a photograph and move on, but Paul and Lindy were much more thorough.
"A big glass corner window might look nice, but what we wanted to know was – what were the problems building it and what is it like to live in a house with so much glass? So we knocked on doors and spoke to lots of different self-builders who were really helpful and it was great to get such first-hand accounts" explained Paul.
Guided by their architectural team, the design was created from the inside out. Using measurements of rooms they liked in friends' houses, an emphasis on light, arranging the rooms to follow the sun's path and incorporating a selection of features from the CRDG, was the brief they were given. A full year was spent on this and following a further six months research, the Browne's were ready to apply for planning permission. As a result of such thoroughness of preparation, permission was granted in just six weeks.
Work began on site in November 2009 hitting, as Paul described it, a 'sweet spot' in the construction industry. People were unsure which way the market was going so there was a lot of discounting of materials and with fewer jobs available, labour rates were very competitive. Three years later, the labour market is still over supplied but prices of materials have firmed. Like all self-builders, Paul and Lindy worked hard to get the most out of their budget and critical to this, alongside the huge amount of research they put in, was the involvement of their architectural team.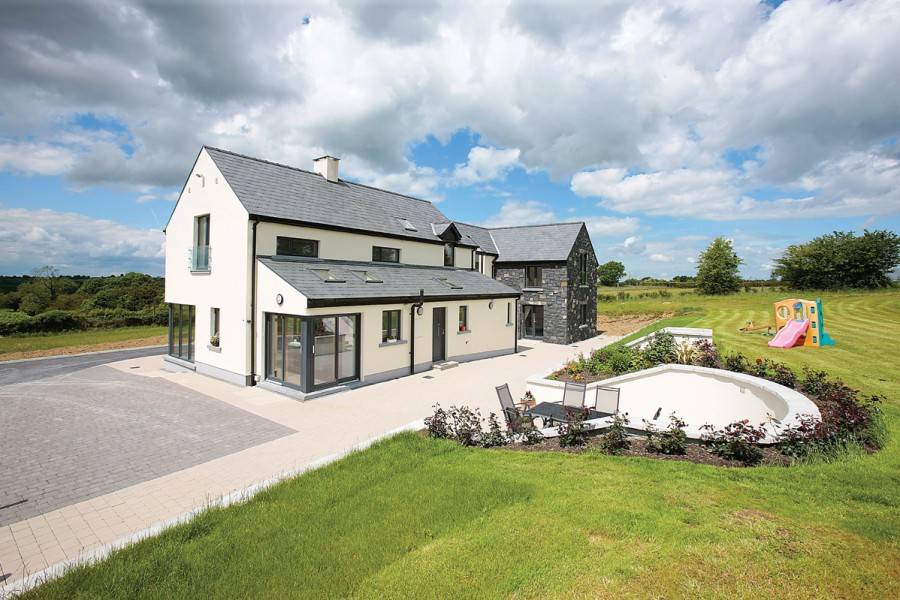 "It was Patrick and Mel who encouraged us to firstly think about how we wanted to live in the house and base our design upon that, they also emphasised the value of sun in warming it. Once the design was set, very detailed construction drawings for everything were produced, which meant that there were no queries over how it was all to be built, or what was or was not included. We could also check that the builder had followed them and if not, it was clear where corrections had to be made."
"Because every self-build is unique, products have to be adapted, but if you don't get it right at the start, following the drawings, the knock on effect is substantial."
Starting with the interior, the effort put in to the kitchen is a lesson in thoroughness, thoughtfulness, practicality – and pretty much perfection. Knowing that this was the room they would spend the most time in, and the utility should be just that and not a means of using up an awkward space, the kitchen was where the 'inside out' design began.
Although it was an extra cost, Paul and Lindy paid for a professional kitchen designer to come up with a plan during the house design process so that it would be designed around the kitchen and not the other way around. This also meant they were free to go to a range of suppliers and not tied to one.
"Apart from the windows" said Lindy, "I think this required the most effort because we sent the design to 15 different suppliers, but it was time really well spent. It's so easy to use. The dishwasher was raised and put near the sink so we don't have to bend down to practically floor level to load or unload and the cupboards for the dishes are right next to it. It's a joy to work in and it, plus our central vacuum system, have positively transformed the job of running a family home."
Having seen just the right kitchen table and chairs, these and the stools were bought six months before the build began. However, if you are by now feeling rather inadequate in not being so well prepared, take heart.
"Because we knew exactly the stools we wanted" explained Lindy, "when we saw a set we bought them immediately, thinking we'd never find them again. Since then we've seen them everywhere, and cheaper."
Lighting can often eat up a sizeable chunk of the budget so Paul and Lindy kept things simple, but effective. 20 LED bulbs later, Paul found the right one; the light fitting in the sun room involved rather more, as Lindy discovered. "I saw the perfect piece on TV so phoned and got the supplier, Habitat. Unfortunately the store had closed so I then contacted the UK head office, but they wouldn't ship to Ireland. eBay came to the rescue but bidding for it was rather nail biting."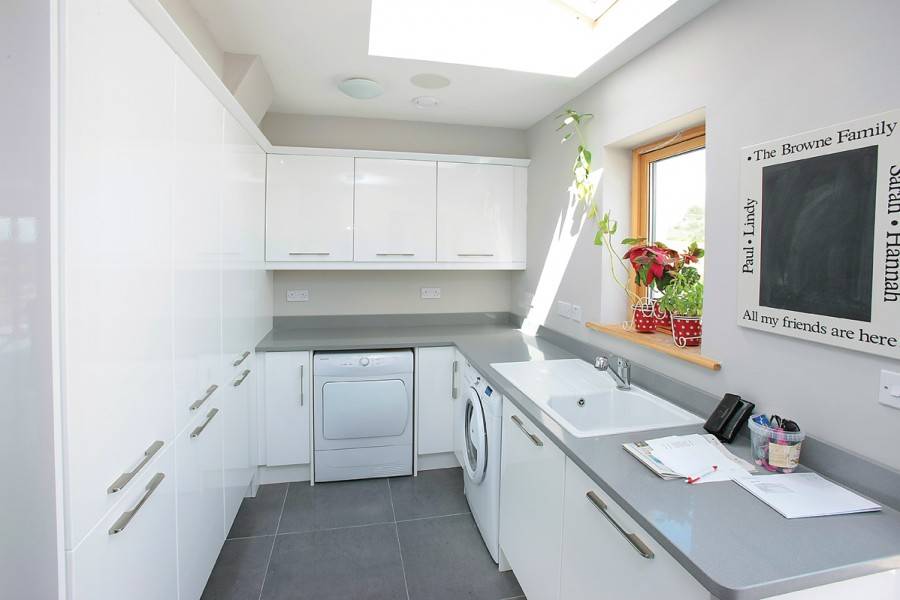 The value of this 'inside out' approach is also apparent in the main bathroom where the couple wanted a sunken shower tray, which resulted in the house being extended by more than a metre to allow for this. Another 'tweak', rather later on when the design was virtually completed, was the inclusion of a laundry chute between the master en suite and the utility. Every shower has an in built cubby hole, an idea copied from a friend, and there was a lot of planning with the plumber to ensure all the pipes and wastes would work in correctly with the preferred positions of the sanitary ware.
The steam room off the master bedroom is one of the reasons Paul and Lindy chose to self-build, a major feature like this is certainly not standard and finding one at a price they could afford was hard work. Also working hard on their behalf was Patrick, who was involved at every stage and in every decision, from light shades to skirting boards, providing, as Paul said, "the seal of approval."
In a modern self-build, one of the more complicated parts is usually the IT system, but as this is the 'day job' for Paul, he was the perfect person to design and fit. The result is total flexibility for audio and visual so that it is possible to watch and listen to something different in every room.
For the construction, the Brownes' aim was to insulate as much as possible as well as create an airtight envelope and thus reduce the cost of heating and hot water. The plan has worked well. The condensing oil boiler is rarely used as the solar array of 80 tubes backed up by the solid fuel stove with back boiler heat a large 600 litre hot water tank. This services both the underfloor heating downstairs and radiators upstairs, as well as providing hot water. With the sun doing most of the work, the result is a warm home and an oil bill for only 600litres/year.
"We actually ran out of oil for a week during the very cold spell last year, when temperatures dropped to -15degC, but because the house retained the heat so well, we never realised the tank was empty." added Paul. A heat pump had been considered but Paul felt the technology was still in its early stages, however, as with rainwater harvesting, (currently they share a well), the house has been future proofed for these to be added at a later date if the economics stack up. A heat recovery ventilation system also helps to retain warmth and solar gain is a huge factor.
"There are only two north facing windows and as you lose a proportion of solar gain by going to triple glazing, on balance we decided to use double."
Outside, Paul and Lindy made good use of the plant and machinery on site to create mounds to the rear and side of the house, which sits on the side of a hill, to make the site more enclosed and provide shelter. 300 native Irish tree saplings were planted and in time these will also lend shelter as well as create a habitat for songbirds and other wildlife.
Did all the pre construction research result in a trouble free build? "We did most of our research online and through web based communities which provided invaluable advice and information for amateurs like ourselves. However much you plan – and I would encourage everyone to know how things work otherwise in any discussion you're at a disadvantage – there are areas over which you have little or no control.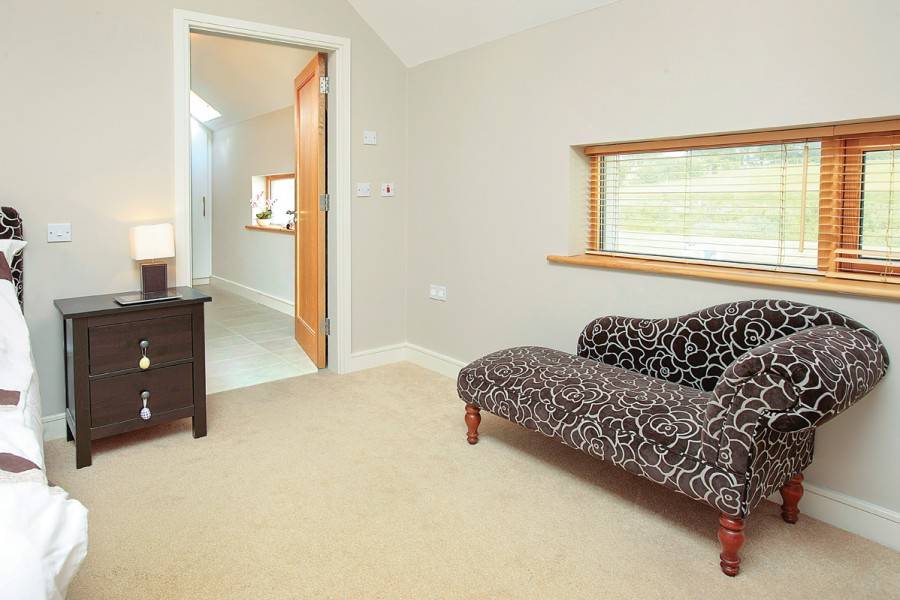 The plumbing was our headache, but one that didn't materialise until after we'd moved in. There were four separate leaks, one of which led to a major leak. The plumber had unfortunately gone bust since the job, so and we had to find another one. Putting things right involved a lot of digging and then re-tiling etc. but we haven't had a leak in a year so fingers crossed. The builder went into liquidation as well, the week after finishing, as did others, so there is now no future support from them should we need it.
One thing we did learn was to talk to the carpenter really early on, at the design stage. He gave us invaluable advice and from his experience was able to see problems before we were committed, and suggested a better way. It's too late when they arrive to do the job" advised Paul.
With so much thought and effort put into every aspect of this build, was there anything they missed out?
"We did" replied Paul, "but it was intentional. We haven't got a separate dining room because I found a UK survey that said for the cost of building one against the number of times it would be used, you could eat out at a five star restaurant once a week for the rest of your life."
Budget-friendly self-build in Co Westmeath
Specification
Walls: Nap plaster or natural limestone cladding/100mm block/150mm cavity fully filled Certainfill Graphite 27 plus bonded bead/100mm block/20mm wet plaster finish.
U value: 0.21W/msqK
Ground floor: 130mm Kingspan Thermafloor (70mm + 60mm boards staggered)/ufh heating pipes/sand & cement screed 75mm/ceramic tiles
U value: 0.12W/msqK
Horizontal roof: 300mm mineral wool between and above rafters U value: 0.14W/msqK
Sloped ceiling: 150mm Knauf wool insulation between rafters+ 37.5mm Quinntherm insulated board over. U value: 0.19W/msqK
Windows: Nordan Alu-clad (aluminium exterior, timber interior) double glazed. U value: 1.2W/msqK
Air tightness: Q50 test result of 2.54m3/hr/msq with Siga membrane
BER rating: A3
Suppliers
Tiles:
Right Price Tiles, Cork – www.rightpricetiles.ie
Tubs & Tiles, Athlone, Co Westmeath – www.tubstiles.ie
Nationwide Tiles, Naas, Co Kildare – www.nationwidetiles.ie
Glass: Trucurve Unit 122, Ashbourne, Co Meath – www.trucurve.com
Groundworks/paving: Joe Finn, Mullingar, Co Westmeath – 087 918 2008
Heat Recovery Ventilation: Vortice (2 x Promoto Recovery units) ATC Electrical & Mechanical, Tallaght, Dublin –www.atc.ie
Heating Systems Supplier: Uni-therm (Peter Lynskey), Ballybrit, Galway – www.uni-therm.net
Solar panels: Kingspan Thermo-max Kingspan Environmental Portadown, Co. Armagh BT63 5LF tel: 3836 4400
Oil boiler: Grant Vortex 97% efficiency – www.grant-vortex.com Hot water ECO Combi multi energy hot water cylinder
Underfloor heating: Rehau, Santry, Co Dublin – www.rehau.com
Radiators: Alu Rad, Mountcharles, Co. Donegal – www.alurad.ie
Stove: Kobok chopok, Kobok-Fireplace, Abbeyleix, Co Laois – www.kobok-fireplaces.com
Steam room pump – www.oceanic-saunas.com
Stonemason: Charlie McGuire Stonemasonry, Mullingar tel: 087 912 1021
Stone: Multyfarnham limestone, Multyfarnham, Co Westmeath 086 258 0435.
Structural engineer: David Skene of DS Consulting Engineers 087 2199 689
Windows: Nordan, Park West, Dublin 12 – www.nordan.ie
Central vacuum system: Newry, Co Down – www.huskyvac.ie
Slates Capco natural slates: Nangor Road, Dublin 12 – www.sig.ie
Hollowcore concrete beams: O'Reilly Concrete, Kingscourt, Co Cavan -www.oreillyconcrete.com
Paving Barleystone: Shercock, Co Cavan – www.barleystone.ie
Joinery: PJ Flynn, Blyry Industrial Estate, Athlone tel. 090 647 5852
Kitchen: Mark Lohan Fitted Furniture, Roscommon tel. 087 417 1056
Worktop Roscommon Stone Design: Mark Feely 086 830 2183
Appliances: Stapleton's Expert Electrical, Tuam, Co Galway tel. 093 24335 em: stapletonselectrical@eircom.net
Sanitary ware: Glynns Homevalue, Claremorris, Co Mayo www.glynns.ie
Lighting: Brightideas, Old Galway Road, Athlone – www.brightideas.ie
Plasterer: McCormack Cleary, Drumraney, Athlone tel. 087 6779 162
Tiler: Richie Maloney tel. 087 927 6330
Photography: James Carney, Navan, Co Meath – www.jcarneyphoto.com