Even though Andrew and Julie Rogers' barn conversion, completed over a decade ago, gave them the home they always dreamt of, once they were living in the house they realised they could do with some additions.
In this article Andrew and Julie explain how they went about their barn conversion project in Co Down, including:
Renovating for maximum resale value in an area of outstanding beauty
Draughtproofing the barn with details of porch design
Garage design
Planning approvals and floor plans
Working with Building Control, including changes to beam sizes and insulation
Living room extension with new wood burning stove
Overview
Original House Size: 130sqm
Extension: 20sqm
Porch: 25sqm
Spec: Insulation to building regulations requirements, walls natural stone with facing brick eaves and reveals, natural slate roof with clay ridge tiles. Windows Iroko hardwood frames, low e double glazed.
Heating and hot water: oil boiler and log stove
Ventilation: natural
The original 18th Century barn Andrew and Julie renovated is in an area of outstanding natural beauty. "We're very lucky to be nestled in this incredible scenic setting, combining country and coastal delight," enthuses Andrew.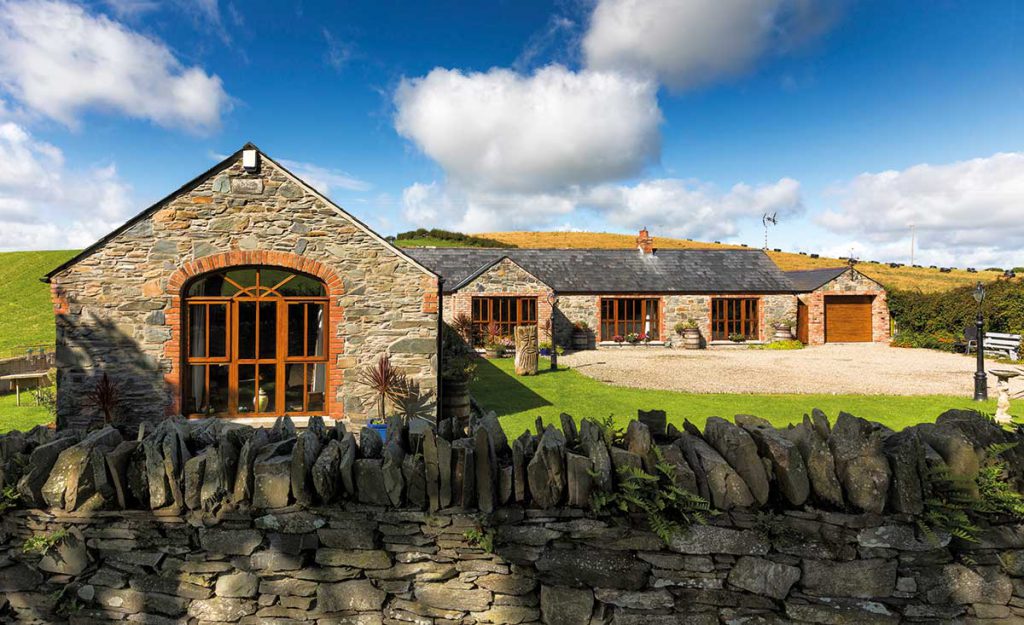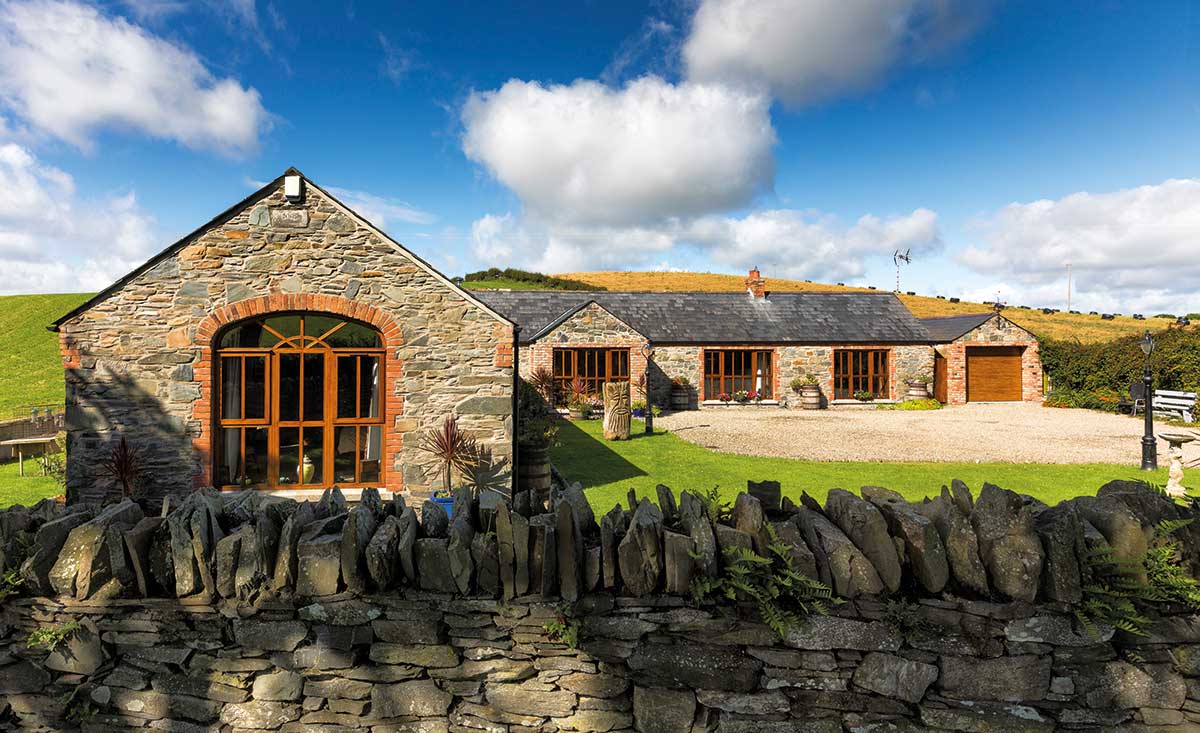 However after moving into their new home in 2005, their circumstances changed: "It wasn't long after we were settled in that we found a lot happening; namely we both became retired and our elderly family in NI all died off."
"We thought of moving to mainland UK to be close to our children and grandchildren and for this purpose decided to carry out renovations to the house so it would appeal to a wider range of buyers."
"However after completing the extensions we fell in love with the house all over again and came to the conclusion that we could only ever live in the countryside and not in a built up area. Our present location is only two miles from our local village which has shops, pubs and restaurants."
"We're close to the sea and in an area of outstanding natural beauty, it was obviously going to be difficult to find something to replace it," continues Andrew. "The bonus these days is that all major supermarkets deliver to the door."
"We now go over to visit three to four times a year and believe the time we spend with the family is of more quality. We're sure living close and popping in and out would not suit either of us. Also they all come every year and enjoy the tranquil lifestyle we have here."
Upgrades
"The first couple of winters we realised that the prevailing winds had a way of entering the house at the front door and make its way into the kitchen," recounts Andrew. "That's when we decided to build a porch as an antidraught measure."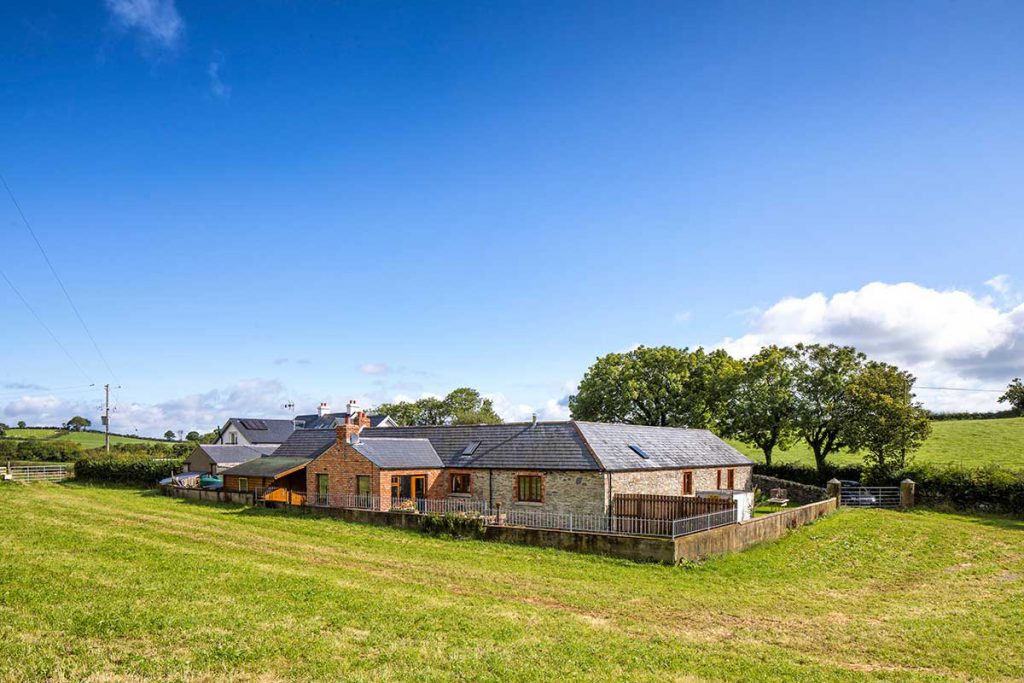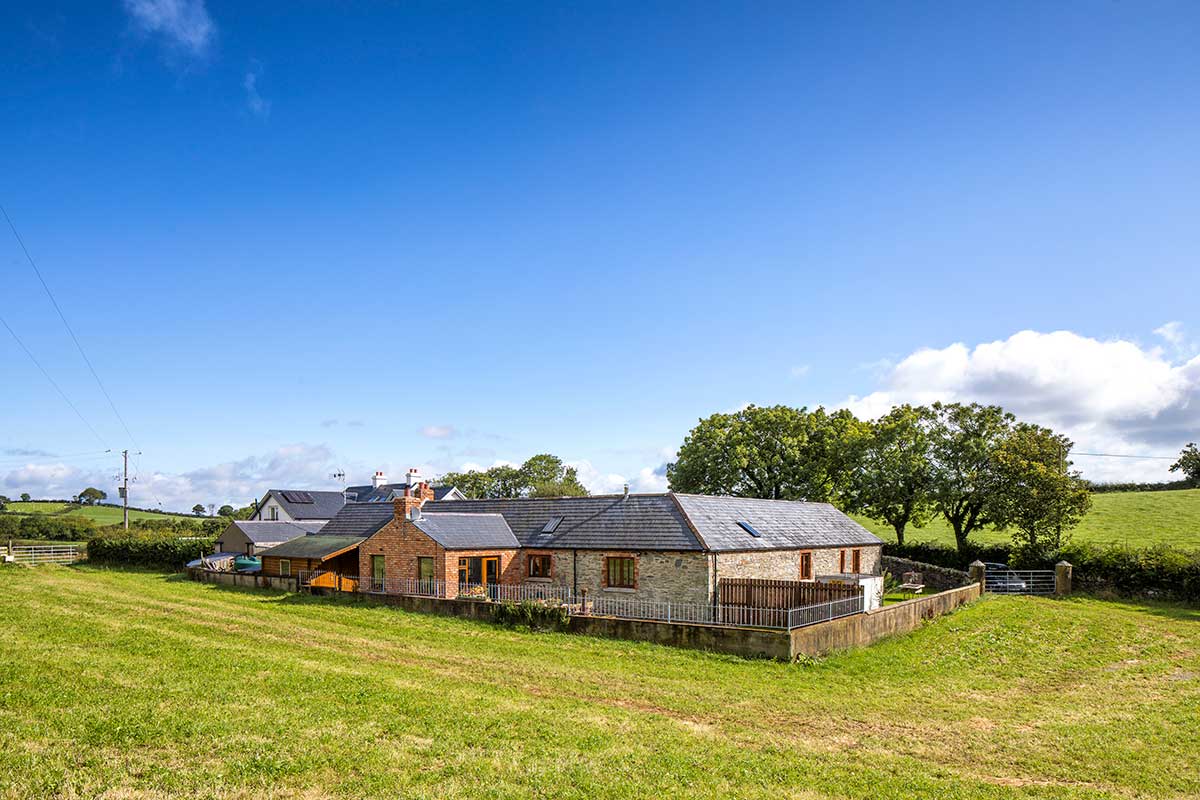 "The plan was initially a modest one, a small box, but then we considered the potential resale value of the house and also of how usable we wanted to make it."
"At first we thought we wanted it big enough to put up the coats and then common sense prevailed and we made the most of its orientation by turning it into a small living area – as it gets the morning sun we can sit in it to enjoy the sunshine with a cup of coffee."
'After a couple of years living in the house we realised that even though there's only two of us we still needed the extra space, especially with visiting family…'
"I thought if we're building a porch let's at least make it big enough for a pram and kids' bikes," adds Julie. "We now realise having a large porch could be handy in our advancing years for a wheel chair or electric buggy."
The outcome was a very successful one: "Adding the porch on the front has made the house so very much warmer," opines Andrew.
As the plan required planning permission the couple took the opportunity to extend at the back and build a garage. "Even though we had a large shed we realised that a garage was essential, so that was added to our wish list," says Andrew. "Having decided that we loved our house and area and would never want to move, we decided on a rear extension with a log fire."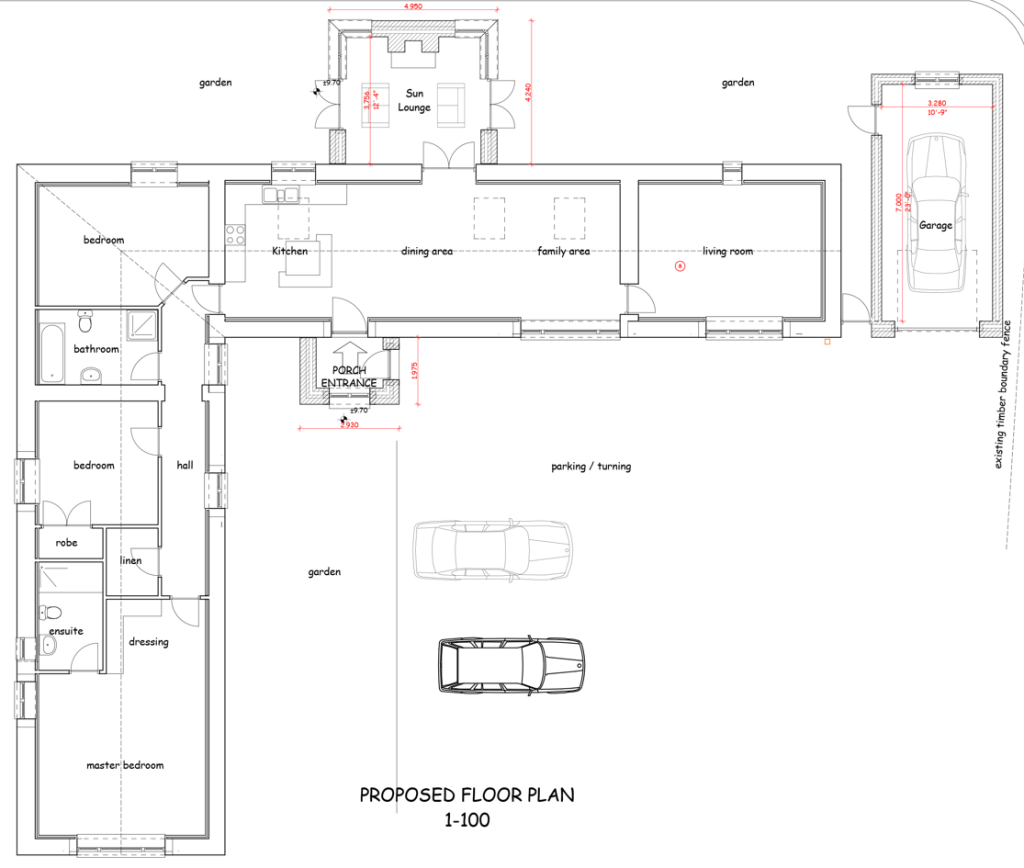 New extension
"I would advise people to think of how much room you need to live comfortably. When we bought the original building our main objective was to downsize and to have easy maintenance," explains Andrew.
"However after a couple of years we realised that even though there's only two of us we still needed the extra space especially with visiting family. We now can't imagine not having the extra room, front porch and garage.
The extension has now become our main living area, meaning our main lounge is always tidy for visitors."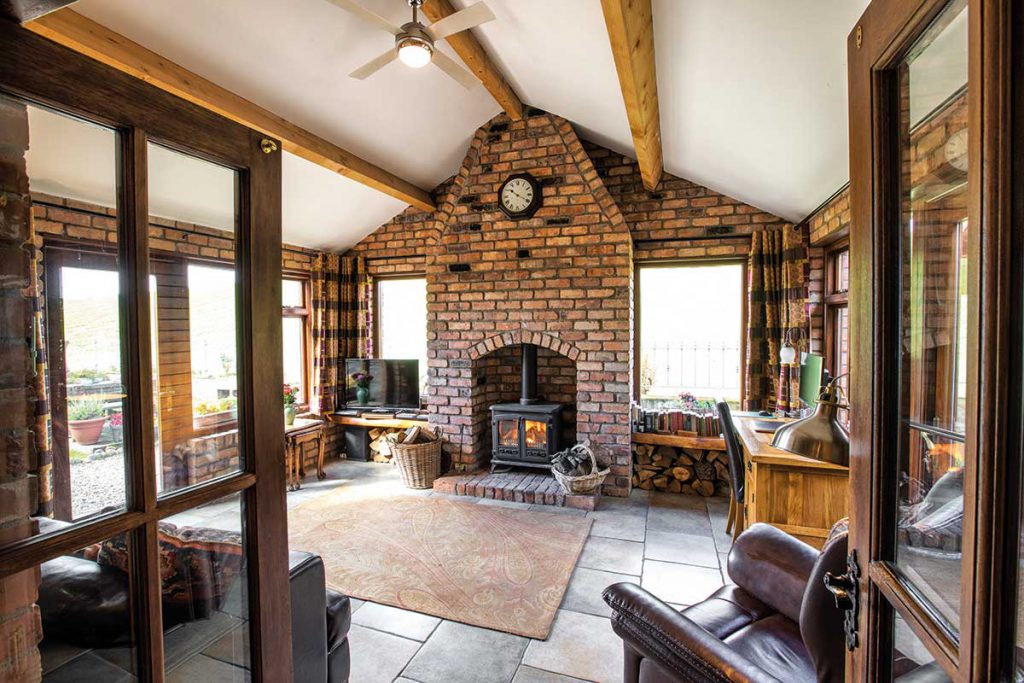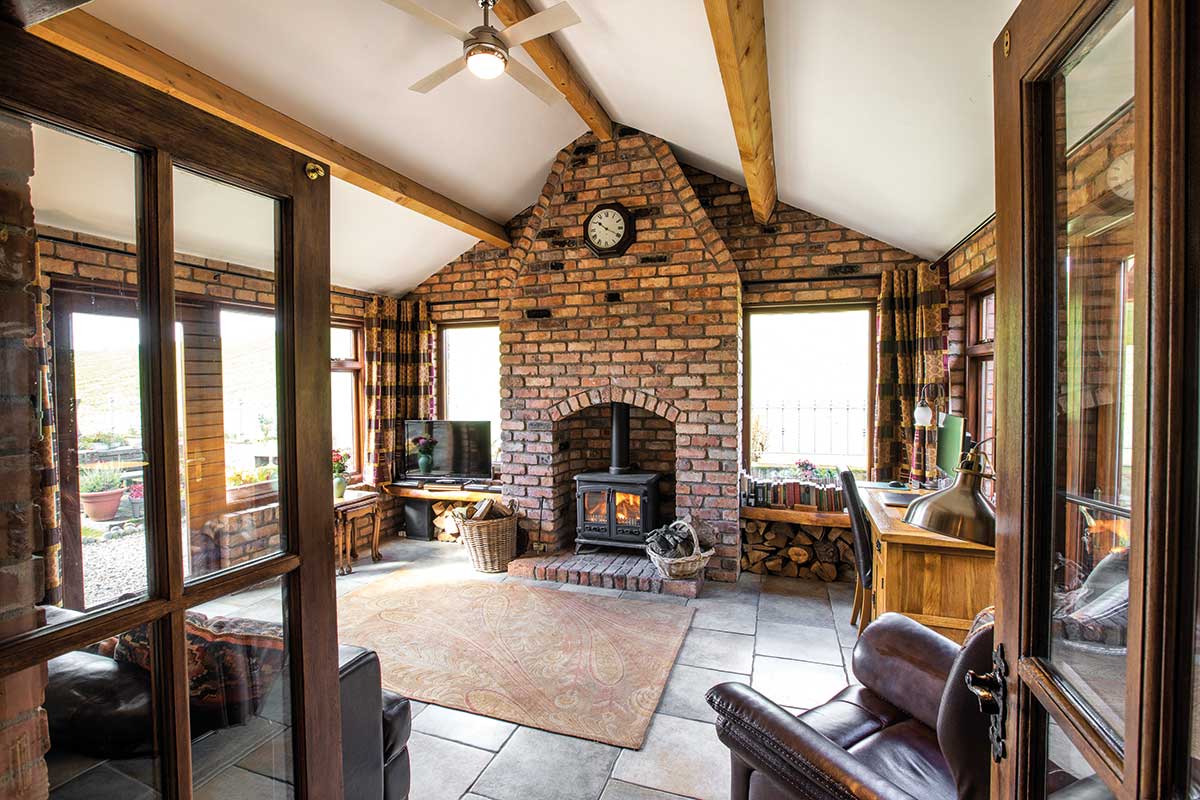 As for the design, how the couple lived in the home drove their decisions. "Our double patio doors at the back took up a lot of room and they were seldom used, so we put together rough sketches and got our plans drawn up by an architect."
"We then got planning permission for the garage and extension, none was needed for the porch, and we found that the Building Control inspector was mostly concerned with the way we were building the extension as the garage was a straightforward build." This was in 2012.
"Building Control was very helpful, for example the architect drew up plans and our engineer had suggested beam sizes, but Building Control advised us the thickness of the wood wasn't right. We came back to them asking if an alteration our engineer suggested would do, and the inspector was very accommodating taking into account the structural nature of the problem as well as cost constraints."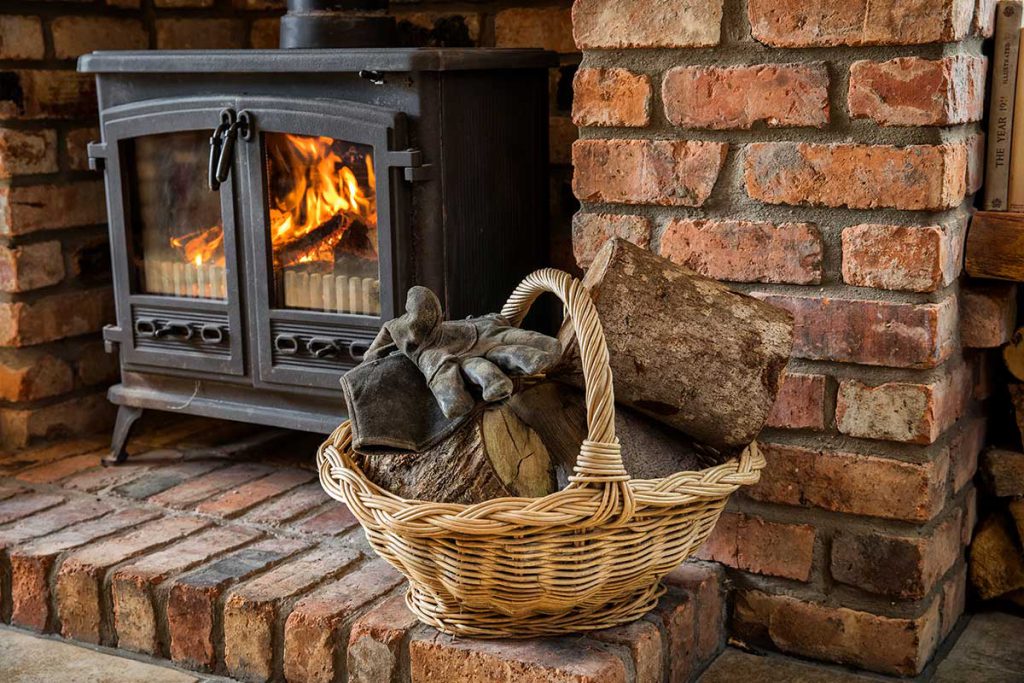 'With the large windows and highly insulated walls and roof, no heating is needed for at least six months of the year…'
The inspector also helped with the thickness of insulation in floor, suggesting a slight alteration in the specification. In terms of getting a builder, the couple chose to project manage it themselves. "We found tradesmen on the recommendation of neighbours who recently had some work done," says Andrew.
"Julie and I took great pleasure in our involvement and being able to change things are we progressed. Self-build for us has definitely worked especially as we have ensured that all work was to a very high standard."
Andrew's barn conversion tips
DIY window cleaning. Thanks to internet how-to videos I now know how to clean windows. Wire wool Grade 0000 used dry is brilliant, also great on car windscreens. In our previous house we had large south facing windows which even when clean never looked perfect.

Think single storey. I would never consider a property with an upstairs which only complicates heating control and window cleaning.

Where appropriate, match the materials. With the extension we took care to make it look as if it's always been there. Inside we chose bricks, stone, tiles and hard wood windows.

Think of cabling. It was a good opportunity to install data cables, satellite multiroom TV as well as CCTV.
Q&As
What's your favourite room/feature? Sitting in front of the log fire watching TV. The rear extension has been an amazing success and is used as our main day area.

Would you do it again? Yes but there would be no need as this is definitely it! We've been in over five years now and we love it.

What would you do differently? I can't think of anything we would change. We used local tradesmen and project managed it ourselves. We paid on a weekly basis which allowed us to change craftsmen if required, also to adjust time scales to control our budget.

What surprised you? Getting fit! Being able to do the labouring work on the extension has been a very satisfying experience, learning new skills and toning up in the process.

What advice would you give others? If I'm asked for advice I would say use the planning and building control departments, they can really help you save a lot of time and expense. Every time I've spoken with them they have been amazingly helpful. They were always keen to help.