You will need to carefully select the type of frame to match the style of your house.
In general, good detailing and sealing is critical to performance. Are the windows best to open outwards or inwards? That is, does the seal form a part of the opening section or does the opening section close against the seal? You also need to look and see how any rain that might penetrate round the edge of the window can escape. All of this requires close inspection of an actual sample; diagrams are helpful but don't tell the whole story.
Something to bear in mind is that some materials expand and contract in relation to the atmosphere. When you are aiming to eliminate virtually all air leakage, quality detailing will be important to check.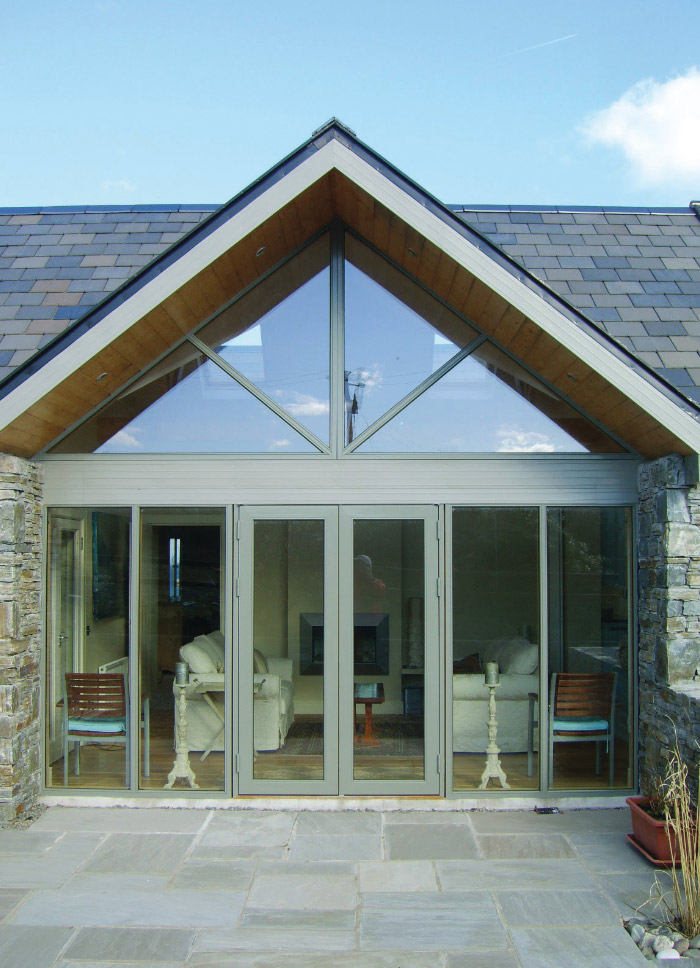 Window parts
A typical window is made up of the following:
Head and sill Top and bottom horizontal frames. The sill has a groove on the underside to ensure water drips away from the wall.
Jambs Two side vertical frames.
Sashes The opening parts of the window that swing on hinges.
Lights Fixed openings.
Mullions Vertical frames between the sashes.
Transoms Horizontal frames between the jambs.
Glazing bars Very slim pieces of framing material dividing up the glazed areas (eg. Georgian windows with their multiple, small panes).
Furniture hinges support the window and provide its actions (eg. tilt-and-turn), handles and stays and latches secure it in place.
Vents Specially engineered small openings in the framework that allow air to trickle in and out of the room by opening or closing a small shutter. In bad weather, allows room ventilation without opening the window. Building inspectors (NI) take different views on their necessity, be guided by their advice. In homes with a centralised ventilation system, vents in windows are usually unnecessary.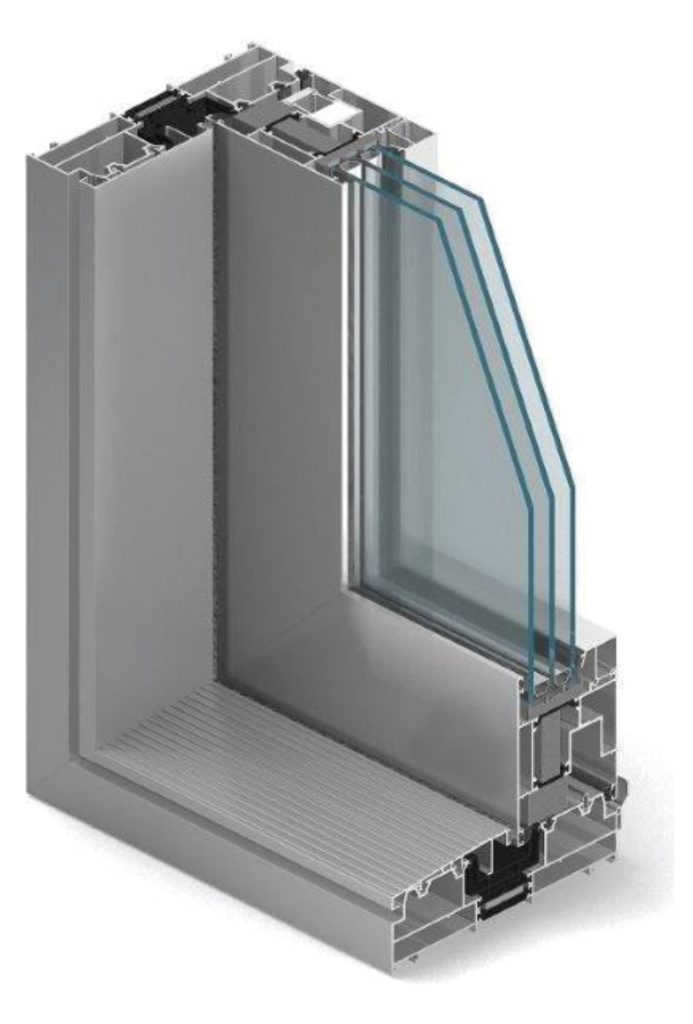 Frame types
The specification of the actual frame makeup will impact on cost, from composite to timber to now frameless designs. Much of the cost impact will come from what basic material you choose for the frame. There are four main options:
Unplasticised polyvinyl chloride more commonly known as uPVC, is a commonly used plastic widely available across the country. The material provides a high level of thermal comfort, is durable and long lasting. It is usually found to be more cost effective than alternative materials, although high end uPVC products do exist which are more durable and recyclable. Generally found to cost in the region of €250-300/£250 per sqm.
Timber window and door products vary greatly across timber types and styles. At the high end of the scale, sliding sash type windows can cost into the thousands per window depending on the size of the unit. Hardwood units tend to cost over €1,000 or £900 per sqm. More widely available are softwood, finger jointed units in a standard casement opening which generally run at about €600-700/ £650 per sqm. It should always be kept in mind that the cost of ongoing future maintenance on timber windows should also be factored into the overall selection and costing process.
Aluclad units are a mixture of an aluminium exterior with the warmth and natural look of a timber finish internally, or a more cost effective uPVC finish. Once only available in the higher end of the market, aluclad is now a widely available and a competitive option. Costing in the region of €500 to €700/£450 to £600 per sqm, (prices seem to have increased in recent times, reflected in the higher cost estimate), they are generally maintenance free and offer the best of both worlds in terms of a timber finish without the need for future maintenance. Units that have an aluminium exterior and a uPVC interior are less expensive than those with a timber interior.
Aluminium is a lightweight metal that is highly malleable and offers great strength to a window system. The material of choice for large scale fit outs including shopfronts and curtain walling, aluminium offers the ability to achieve architecturally clean lines and large unobstructed glazed sections. Aluminium will generally run at a cost in excess of €750/£700 per sqm and is less widely available.
Frameless windows are a new addition to the market and consist of an all glass exterior with colour added to resemble a frame. It's at the higher end of the cost scale.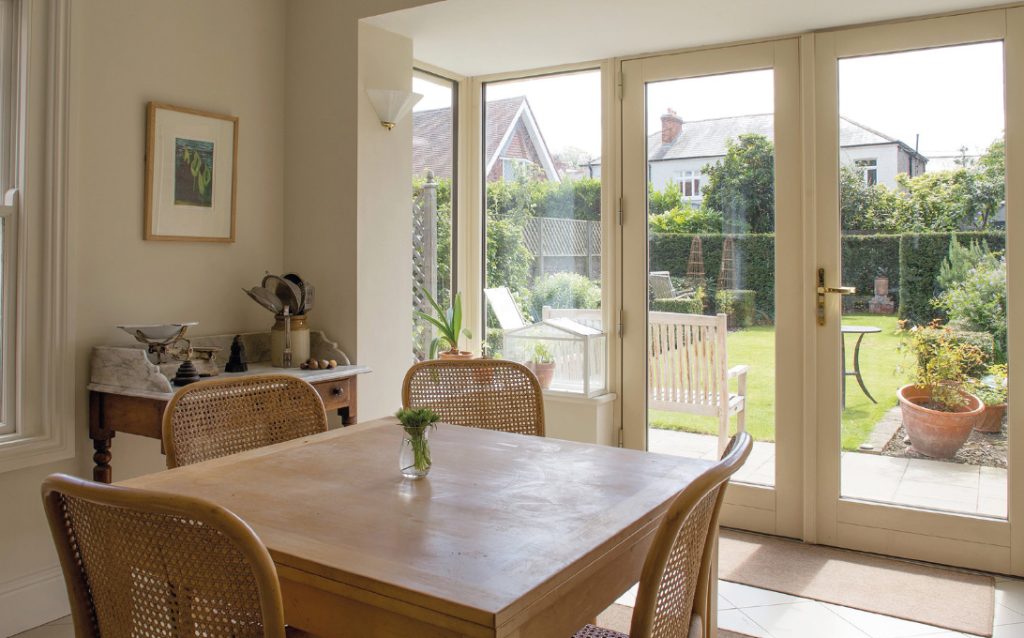 Pros and cons
All window frame types can perform well for thermal efficiency.
Cost wise, the entry level uPVC options are the cheapest you will find on the market, offering a limited colour range. Higher end uPVC windows come in at a high price point but are sturdier (always check there are steel structural supports for rigidity and security) and can successfully copy the look of wood. uPVC generally can't cover large spans, e.g. for large sliding doors, and may not look as cutting edge as the alternatives.
Until the 1980s, aluminium window frames were all the rage but they produced condensation problems and needed maintenance. uPVC frames, in comparison, are robust, need virtually no maintenance and cut out condensation problems.
Their disadvantages include: chunky frame appearance (which does not suit small windows and opening sashes as well); yellowing with age (though it is now possible to get good paints to remedy this, should it occur); their manufacture and disposal pose issues for those who think 'green'; and their appearance from indoors.
Timber frames are also robust, if made from the correct timber; take paint or stain well; are less likely to create a cold bridge than (un-broken) steel or aluminium; and can last for thirty years if well cared for. The design combinations are endless, and because timber is a strong material, elegant small sections can be used.
But they do cost more and require maintenance (painting at least every 10 years in a sheltered location) and are now not that common for this reason. You also need to be careful about sustainable sourcing, e.g. is the wood certified (common labels include FSC and PEFC).
Timber frames do have an appearance that enhances the look of a room from the inside, which is why they are more common supports for aluclad than uPVC.
A word also about terminology. If, as many people do nowadays, choosing a composite such as aluminium on the exterior but within an interior timber frame, remember to specify that the inside of the window will be timber also so that you don't end up with an aluminium window sitting inside an internal timber frame.
Specialist perhaps, but all aluminium is a great choice for a modern design. Very small elegant profiles can be powder coated to any RAL colour. Aluminium is particularly good for sliding or bifold doors because of its stability, relative lightness, and elegant profiles. This, of course, comes at a price.
Colour
If the frames are to be painted, this is best done in the factory at the time of manufacture, as it should ensure that they arrive on site sealed and not susceptible to absorbing moisture. Check the paint specification and treat with caution any suppliers who do not offer this option.
The industry uses a set of RAL colours. There are about 12 standard and 1,001 others! If you don't choose a standard there will usually be an extra cost, but it depends on the supplier.
The frame colour is quite a difficult thing to visualise, especially if you have a lot of windows, and you may find it helpful to have a colour visual of your house, as it will look once built on the site, put on screen and then try the various colour options.
When the colour will be permanent, such as in aluclad or uPVC, it's important to get it right, for the overall look of the house.
---
I want to go for a Georgian style timber sash window – what are my options?
The most cost effective would be to take a standard stormproof casement window as your base – a standard argon gas filled double glazed unit.
To make it look Georgian, the window company can then add dummy horns to the end of the opening sashes. These windows are sometimes called mock sash.
You can also add a 22mm or 28mm Astragal bar detail to the glazing. These are planted on internally and externally to give the impression of individual panes.
The options are single line (two pane effect), cottage border (border effect), 4 Over 4 or a traditional 6 Over 6 detail and so on, depending on the overall size of the window.
There is then the option of ordering a traditional sliding sash window which will come with traditional horns as standard. Again, you can also add a 22mm or 28mm bar detail to the glazing.
For replacement windows, in historical buildings, it's possible to match the existing ones with a replica with six individual panes of glass per sash. A krypton gas filled unit (12mm slimlite) double glazed panes to make them as energy efficient as possible. These can also be putty glazed externally.

Seamus Harkin of Newbridge Joinery, newbridgejoinery.co.uk