How Damien Keane Garden Design carved out a tropical hideaway within a larger garden for a busy family in Dublin.
In this article, garden designer Damien Keane explains how he tackled this Dublin tropical hideaway including:
How much it cost to design and plant the tropical hideaway
Details of the brief and where Damien started with the design – an area to relax in and entertain
Full details of the plants and design to deliver a garden that's usable all year round
Plants for shaded areas and those in full sun
How to design a garden that's self-sustaining
Border planting
Details of the water feature
Aerial design: what it is and how this project is an example of it
Continental patio design with construction stages
Garden design plans
With a busy work and family life, the owners of this rather quirky garden in south Dublin wanted to create a space where they could relax and unwind amongst nature. Having previously worked with Damien Keane Garden Design on transforming the larger part of garden, the team was invited back to work their magic on this smaller, triangular side space.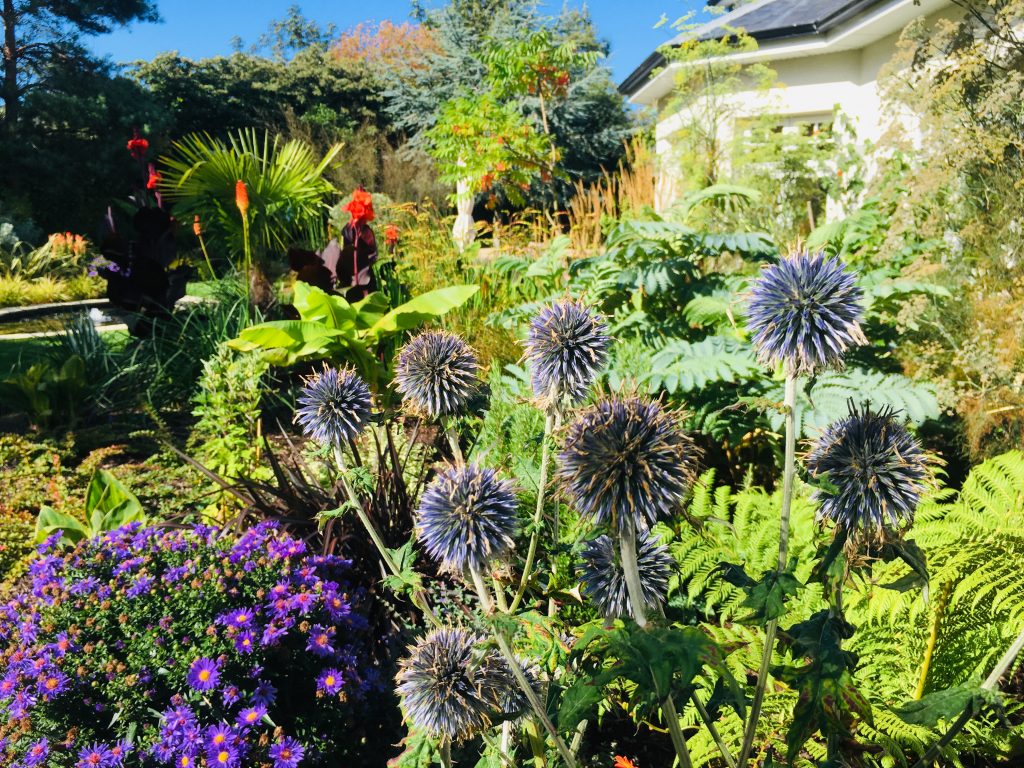 "We were given a budget of €30,000 to create a semi-private space, which would be very laidback and tranquil, within an established larger garden," says Damien. "The space needed to be free-flowing and informal but also contemporary and usable throughout the year for entertaining friends and for relaxing amongst the plants."
The brief also asked that the garden have three access points and the client was keen for the design to include a lot detail when it came to the planting.
As one of Ireland's leading landscape and garden designers, Damien has years of experience in creating bespoke outside spaces for a wide range of clients. While one half of the business focuses on larger landscaping projects, the other side is dedicated to cultivating smaller yards and city spaces like this one – or as Damien calls them, 'Keanespaces'.
"I love doing Keanespaces," he says. "This site was a really strange triangular part of the garden. It's a very windswept garden – very exposed – but there's some good cover from trees. My dad was a gardener as well and his advice was always – get the problem areas out of the way first and use the site to its best potential."
Creating the tropical hideaway concept
After visiting the plot, Damien returned to the client with a concept plan, including a sketch plan for his team, who complete all aspects of their projects, from start to finish.
"The client already knew our style – very soft and laidback," he says. "It was all very lush and tropical so there was no lavender or hydrangea included in the plans."
What they did include, however, were designs for a serpentine-shaped grassy path, an elliptical pool with space for a glass art installation behind it, and a secret hideaway area for relaxing with a quiet coffee. The plans also featured a patio, along with ornamental urns and brickwork hidden amongst the plants and a rich mix of shrubbery, grasses, Bamboo and tropical species to fill out the triangular space.
"We designed and built this garden specifically for this space and its climate," says Damien. "Each client is different and getting to know them is also a really big part of my job as we pride ourselves on creating gardens that are individual to each client and their brief.
"The planting was very detailed, with lots of architectural specimens included, such as Tree Ferns, Trachycarpus Palms, Gnarled Olives and Bananas. Fleshy Canna and Hostas are also contrasted nicely with drifts of ornamental grasses, Fennel and Salvias.
"Fennel seeds everywhere but I was planting it so that it would seed," he adds. "It's all about picking the right plant for the right place in the garden and I wanted to get that exotic feel and make sure all the plants were well matched to the space and grew well."
One of the trickier aspects to the project was in merging the existing garden with the new, taking into account the shape and varying temperatures of the plot – approximately 450sqm.
"Some of this patch of garden is in deep, deep shade and some is in the blistering sun," says Damien. "So it was all about melding that together. Lots of rooms in the house look out onto it as well, so making the design look seamless was the really hard part.
"We used an exuberant style of planting, which is really our signature style. This allowed for the perfect melding of the older mature planting into the new scheme along the walls, as well as helping to soften the house and patio. The free-flowing style of the planting along with the installation of serpentine lawn paths helped to counteract the triangular site and harsh lines of the house."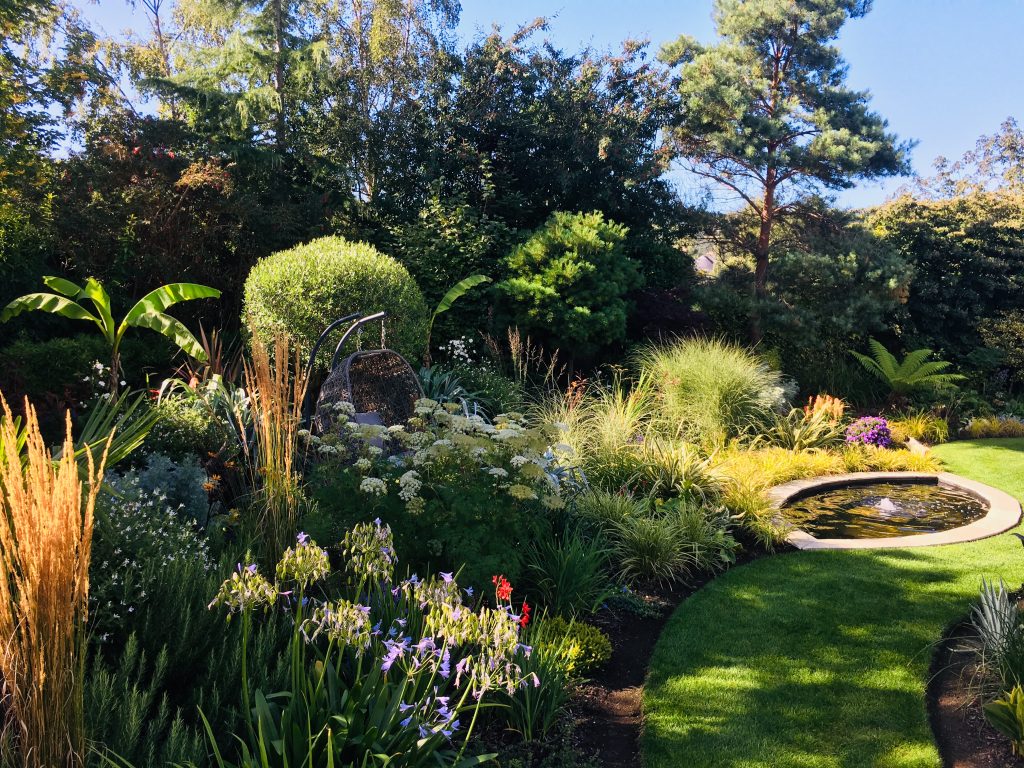 Sumptuous borders and secret hideaways
Entering the garden via the first side entrance, the grassy path is bordered by a rich variety of plants, including delicate Salvias with their glossy oval leaves and cheerful flowers. These long-lasting blooms are complemented by a mixture of grasses, along with Agapanthus (African Lily), whose trumpet-shaped dusky blue flowers and bright green leaves give a graceful appearance to the garden.
The species planted in and around the pool are those which grow best in the damp and shade, says Damien, again, tailored to this specific slice of garden. Meanwhile, the colour is calmed by the cool white of Cow Parsley, which grows just back a little from the path and towards a secluded spot behind the pool, complete with swinging seat.
Nestled amongst the plants, this extra-special space is ideal for relaxing, with access through the foliage itself. The idea, says Damien, was to create an immersive effect within the garden and to get people into nature without the need for manmade paths.
"We created a cool mini hideaway by the edge of the pool with a swinging seat nestled amongst aromatic Umbelliferae and beside a large gnarled Olive, framed between two Bananas – a great spot for a coffee," he says.
Quirky water feature
Looking out from the house towards the elliptical pool, whose small gusher feature brings an element of drama to the space, vibrant colours add further depth in the form of tall Red Hot Pokers. Their spicy orange colour appears throughout this section to "build things up and give that vibrancy," says Damien, while being suitably "cooled down with the whites."
"It's really important to use white properly within a design," he adds. "It doesn't have to be a huge amount – just enough to break up the more dominant colours."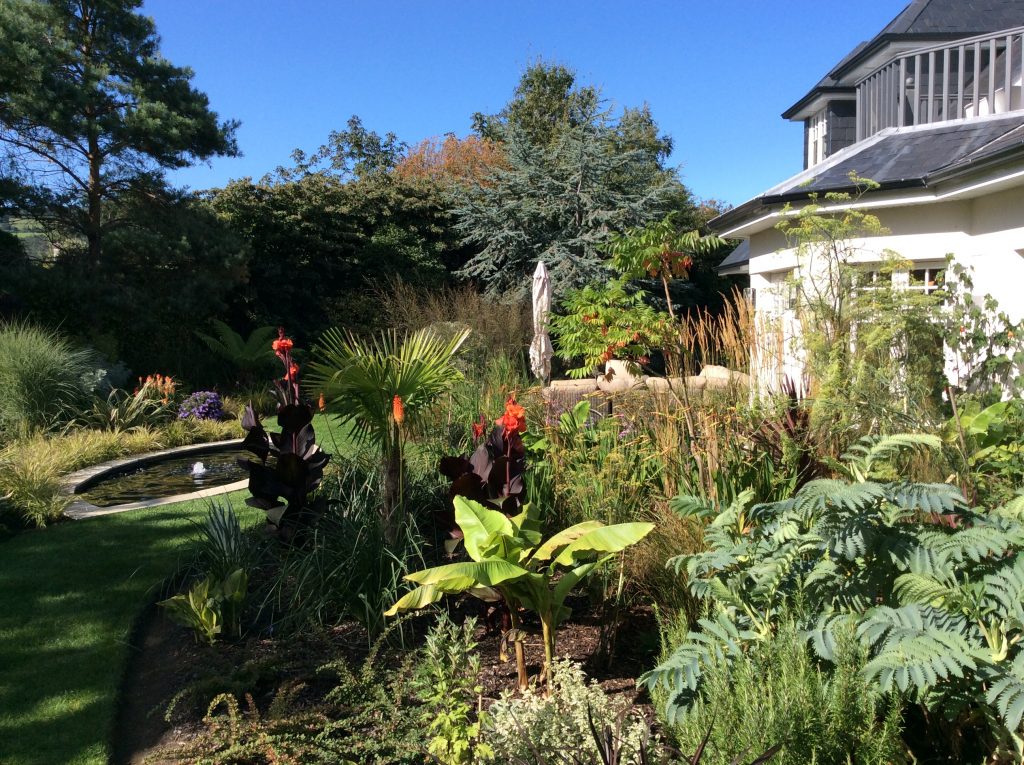 The pool itself, meanwhile, was installed to break up those straight lines of the garden, something Damien is always keen to do. The design for this is again bespoke for the space – indeed, usually, the pools installed by Keanespace are circular or square.
"This part of the garden was also designed so the double doors from the kitchen would be centred over the grass path which leads away from the pool," says Damien. "It also doubles as a great reflection pool when the gusher is turned off and has been designed so that a glass or piece of sculpture can stand behind it."
Aerial aspects
Also factored into the overall garden design is the effect of the space when observed from the house. Indeed, in days gone by, says Damien, gardens were more especially designed for homeowners to look down upon, so layout and the aerial view were key when creating them. With this in mind and, considering the Irish weather means we often spend more time inside than we'd prefer, this space can be fully appreciated both inside and out.
"I always try to get a few shots of the garden from upstairs afterwards," says Damien. "I think this garden definitely has that 'look down from above' feature. It's really important to go round the interior of the house too, when planning a garden, as you need to be able to appreciate it from there."
Another trick of the trade which Damien likes to deploy where possible – with permission from his clients, of course – is planting right up against a house's windows to create a 'landscape window'. People inside can still see out, but their vision is filtered by whatever species is growing up against the panes. "It's very effective," he says.
It's also important, he adds, to ensure that the space looks good all-year-round. With so many species planted, aftercare is also crucial and this is something his team takes care of for this particular client (and many others), ensuring the Keanespaces retain their vibrancy.
Lush planting for sun-soaked space
While the side of garden furthest from the house is generally in shade, the section closest to this Dublin property is a sun spot and can grow incredibly hot in the summer, says Damien. He subsequently planted a variety of herbs and Fennel in this area and sought out plants which "thrive in those dry conditions."
In amongst these there are vibrant Aster Novi-belgii, also known as New York Asters or Michaelmas Daisies. Very tolerant to dry conditions, these are versatile and fast-growing flowers, with rich purple petals and orange centres. The Echinops Ritro or Veitch's Blue, an ornamental globe thistle with distinctive spiky leaves and metallic-blue globe-shaped flowers also appears in this slice of garden.

Melianthus is another addition to the sunny house-side border, bringing a further dash of colour with its reddish-brown flowers and grey-green leaves, complemented by those Red Hot Pokers, which also like lots of sun.
"You can just see the Canna plants from the house side, too," says Damien. "They like lots of heat and are a beautiful plant with vibrant orange flowers. Looking across to the far side there's also Banana, Fennel and Stipa Grasses to the back, as well as Olive, Bamboo and Pine."
Neutral patio area
Moving past the pool, the serpentine path curves around into a comfortable patio area in earthy tones, which contrasts neatly in design with the more secluded swinging chair space across the way.
"The patio is fairly large and open," says Damien. "We installed an amazing modular sofa system from Bridgeman which adds a nice laidback feel to the space. A Bonsai Olive and large fruiting Lemons in pots complete the look and add a very continental vibe."
Having completed the project in 2018, just one year on the garden is flourishing, with the clients making great use of the space, says Damien. Indeed, they have since installed a large set of bi-folding doors which open out into the garden to make the most of their new haven.
"This space is part of a much larger garden and really exemplifies the basis of my ethos, as I love to create 'rooms' in the garden wherever possible which can be enjoyed from different rooms within the house," says Damien. "It really worked a treat and it's amazing to see the difference in just one year."
As for the clients, delighted with the new-look, they describe the revitalised space as "the ultimate dream garden space."
keanespaces.ie & damienkeane.com