Ventilation, heating and lighting are vital to get right if you want a bathroom that's comfortable to be in. That's because poor or underpowered lighting will make the experience miserable, as will a cold or stuffy bathroom.
Accommodating wiring isn't usually as inconvenient as accommodating pipework but, again, having a precise location of where everything is to go is essential as it will have a knock on effect on first fix.
Think of everything from electric showers, to mirrors with bluethooth speakers. Also bear in mind a lot of furniture now comes with integrated lighting.
Some things can be retrofitted, such as speakers into ceiling LED light fittings, but if you want to avoid a patch job or being told you can't fit the backlit mirror you wanted, plan early.
Electrification
Apart from a shaving plug, there are no sockets in bathrooms so if you want to introduce some music consider wiring speakers in the ceiling, with integrated radio, or a Bluetooth mirror.
Television is another possibility as is the heated demister option on your mirror, which is a mat that's wired into the lighting system to prevent the mirror from steaming up. These work well if you want to shave or do your makeup after having had a shower.
All electrical work in a bathroom must be carried out by a qualified electrician but it is useful to know that the building regulations divide bathrooms into zones according to moisture exposure.
Zone 1 is directly over baths and showers, up to 2.5m. Fittings here must be safe when subjected to a jet of water. Zone 2 is the area 0.6m around the bath, basin and shower. Here fittings must be splashproof. Finally, the area above the 2.5m limit of the bath and shower and the area around the basin over 0.6m is classified as Zone 3.
For fittings, the IP rating is the most common classification used to determine suitability with regards to intrusion from moisture and foreign bodies (fingers, tools and dust).
IP means Ingress Protection and the digits after this acronym advise the class of protection, the higher the better (where a single digit is used, an X fills the space). In bathrooms, a minimum rating of IPX7 is required in the wet areas (showers) while a rating of just IPX4 is sufficient around hand basins. It is not permitted to bring portable lighting into a bathroom: it must all be architectural (built in).
Lighting
From a safety aspect, you can't install standard light fittings, and the bathroom specific versions can be quite expensive in comparison.
One option is two separate lighting circuits so that you can have a more subdued effect when you're having a relaxing soak in the bath, and the normal full blast when you're not.
Think of how many light fittings and circuits you want to have, what can be controlled individually, and on what circuit to put the fan on. You might not want the noisy fan to come on every time you walk through the door.
Motion sensors (known in the trade as Passive Infrared or PIR) are worth considering too. They are cheap to install, at €100/£80 a point. Use them to automatically turn on ambient light in windowless bathrooms or to turn on the lights when you walk into the shower area.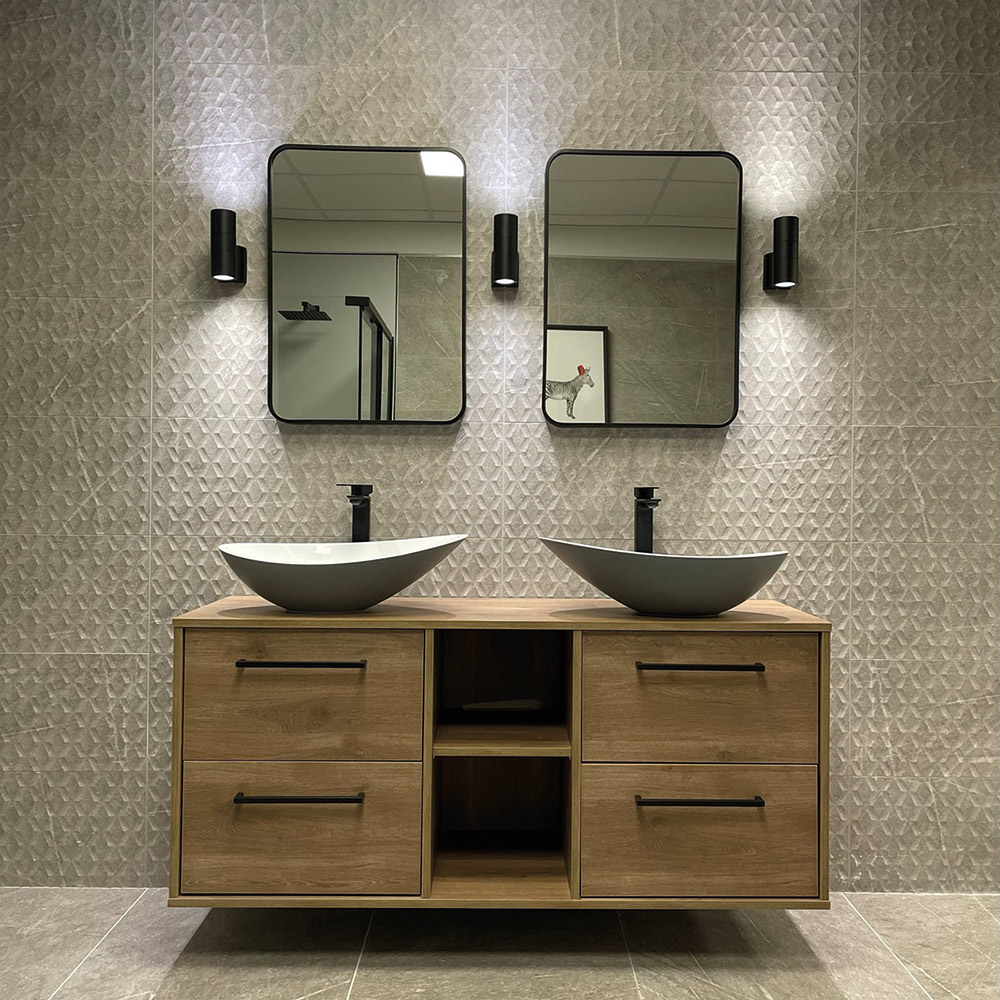 A combination of both wall and ceiling lighting works well with downlighters being a better alternative to a single central fitting. Wall lights either above or beside the mirror provide ample illumination for applying makeup or shaving but beware of overhead light sources casting shadows.
The level and height of task lighting depends on the activity so again, consider how you will use the bathroom. Be aware that vanity lights are intense and can lead to glare and that wheelchair users may require lower level lights.
Think beyond task lighting and include ambient and accent lighting features to give the desired effect. Up or down lighters in alcoves, backlit shelves, even LED lit bathtubs can all create drama.
Remember that LED lights can either be cool (as you'd see in retail or commercial buildings) or warm in colour. Cool light tends to pair with grey and white colour schemes, and with mirror lights for task lighting. Warm tends to go with cream colour schemes and adds a softer touch. Check the difference as some people don't like the cool lighting in any scenario.
Ventilation
Nowadays, new builds in ROI will have a centralised ventilation system which means you will have an extractor fan organised for each of the bathrooms already. This is necessary to reduce condensation and odours.
In NI natural ventilation remains a common option for new builds, and if you go down this route you will need to install standalone extractor fans for each bathroom.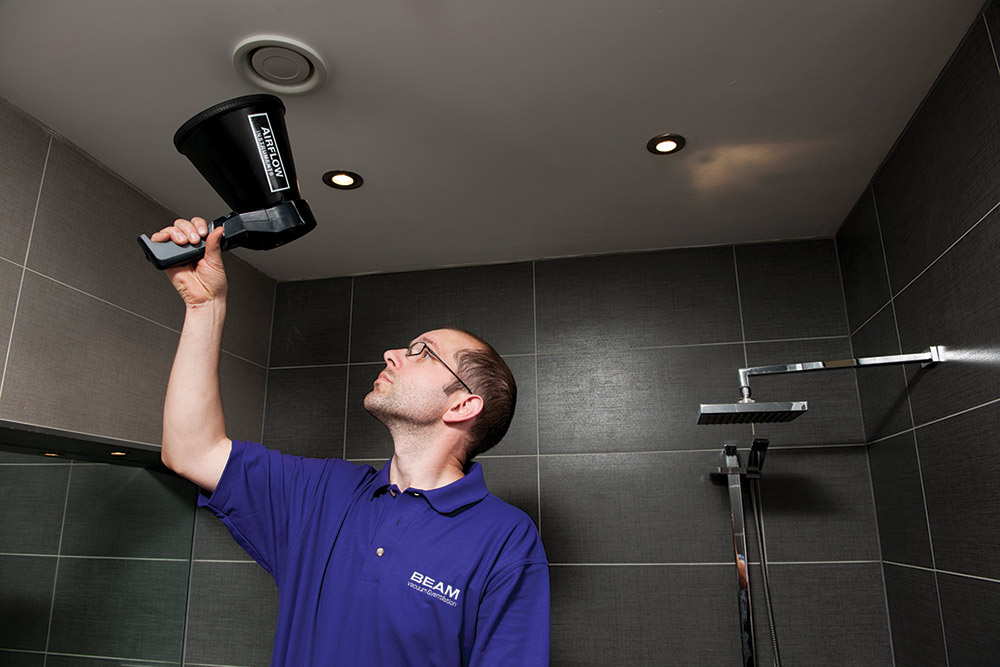 Nobody likes the noise the fans make or the fact that they run on after you've left the room, but it's essential if they're to fulfil their function. Current models are more controllable than they used to be, e.g. shut off depending on moisture level, run on period can be adjusted.
For noise reduction, consider upgrading your fans to an in line model that allows you to site the fan in the roof space. Shower fan lights are always an attractive option for those who dislike the usual look of an extractor fan; they too can be bought with timer controls and inline fans.
Lastly, colder air outside the bathroom will draw hot warm air out. You can stop steam travelling through the rest of the house by fitting a draughtstrip on the bathroom door.
Heating
If you have installed underfloor heating throughout your house then it makes sense to run it into the bathroom.
But unless the bathroom has independent zone control, heating it when you're only using the room briefly except for a slightly prolonged time once or twice a day does seem rather a waste. While disliked by some, it's hard to beat a properly installed electric convector heater for economy in the rarely used bathroom.
A popular alternative if you haven't got wet underfloor heating is to fit the electric version which comes in a mat. It's easy to install (your electrician and tiler should be familiar with it) and easy to control with a thermostat.
It's not very expensive, only a few hundred euros/pounds for an average sized bathroom, and while running costs can be high, if the system is on a timer/programmed you should be able to keep these to a minimum. The alternative is wearing slippers or having bathroom floormats scattered around.
These electric versions aren't sufficient to heat the space, and neither are towel warmers.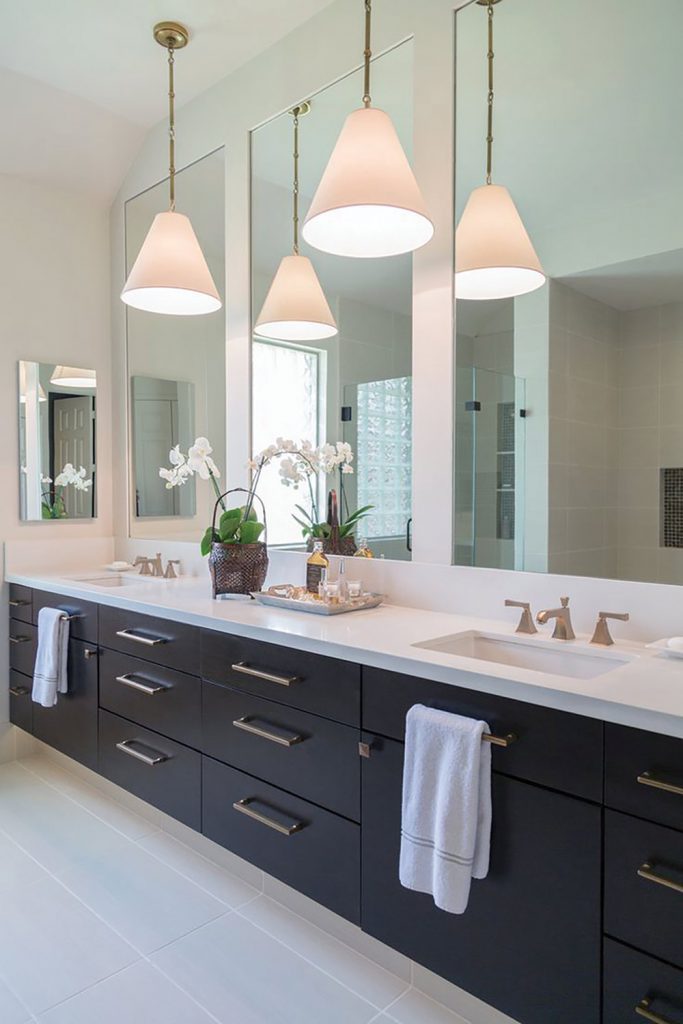 Towel rails
Indeed, bathroom heating is synonymous with towel rails but, unless you have a very, very big one (i.e. one that's too big to be appropriate), this type of radiator will not heat a bathroom adequately.
But they will add a nice touch to the design, and most importantly, warm, fluffy towels go a long way towards creating that feel good factor.
In a new build or renovation, consider investing in an electricity mains connection so you can turn it on in the summer when the heating isn't on. Make sure it's programmable so it turns on when you want, and thermostatic so it switches off when it reaches temperature.
Regulations
In both NI and ROI you must hire a registered electrician for all electrical work. What you can fit and where is strictly regulated. Users must use common sense in the knowledge that water and electricity don't mix.
Also good to know is if you want to install the extractor directly above a shower, you must use a low voltage model. You will need a 100mm diameter hole in the exterior wall or into the ceiling with ducting through the roof space.
Then there's the fact that metal pipework and any metal baths or other fixtures must be cross bonded to earth. If you replace a section of copper pipe with plastic you may interrupt the earthing so this will have to be checked by your electrician.