A fire pit creates a primal connection to the garden. One that's layered with social and communal meaning. Here's how to add one to your patch of green.
In this article we cover:
Types of fire pits
Where to put it and how it ties in with the garden
How to use it
Fuel types
What we get out of gardening seems to change every couple of years. From something to do (to potter about or grow your own), to something to have (boosting kerb appeal or perfecting exterior design) and now, something that nurtures wellbeing.  
Yes, the garden has become a place to connect with nature in a more mindful and deliberate way, to get your hit of vitamin D and a lungful of fresh air, to move and be active in, to contribute to climate action and the self-empowerment of that, but it has also become the focus and safe space for gatherings with friends and family. For the easy communication that flows when in a relaxing and comforting space.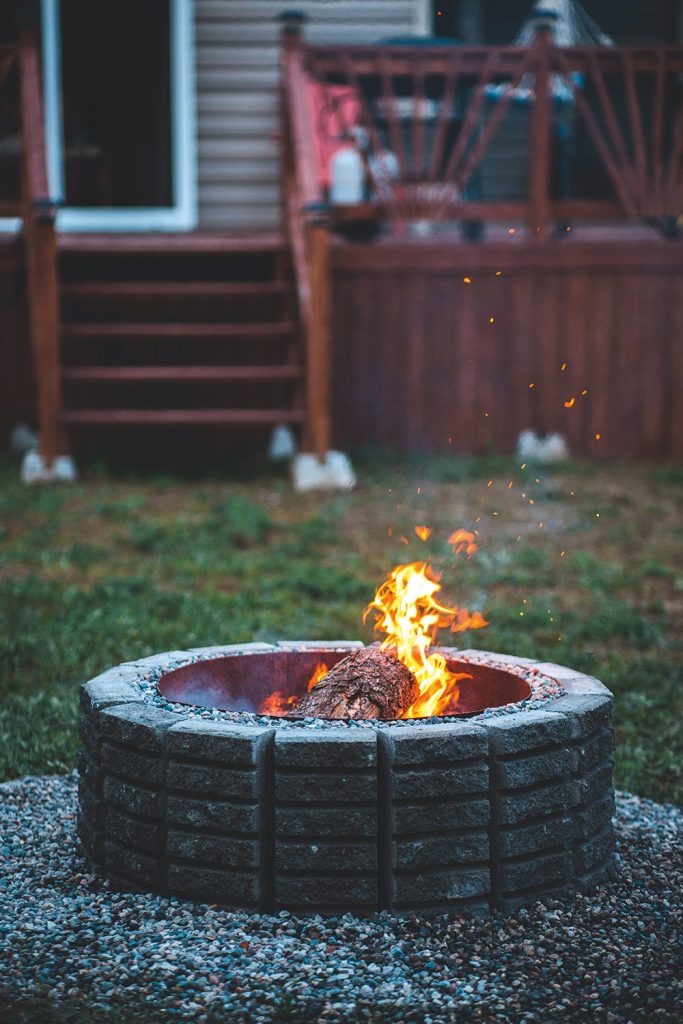 Focal point
So as we use the garden to come together for the joys of life, where is the hearth?
Sure, a blanket on the lawn with friends and wine is instantly cordial. A huddle around a barbeque provides the spark for craic and banter, and any style of garden benches, seats and tables make a hub for family interaction and socialising.
But, there is value in having a true hearth. A spot that is the heart of the action. A spot that is the beacon to good times and letting go of all the stresses of the world. A fire pit.
Given that the campfire is the symbol and support of communal gathering since the dawn of humanity, there is a beautiful continuity in sharing that experience with those we love and care for.
The flicker of the flames and warmth, encouraging the very primal connection and endorphin boost of being in company, of gathering to eat, laugh and share stories and memories, of creating new bonds and new memories.
Yeah, I am a fan of the fire pit as the modern campfire. But where you place it is key.
You want it where it is good to gather. But not too close to trees and buildings, somewhere if sparks arise there is no concern, nor too close to shrubs and plants that could be scorched by the heat. Let it have its own space: 2.5 to 3 meters away from flammable or damageable items is the rough guideline.
You also want space to sit around, so often professional garden designers will mount a pit on a wide patio or paved circle, or place it as a standalone feature within an existing lawn area on a non-flammable base surface, or sunken into a gravel expanse. All setting up the sculptural aspect and the significance of the feature.
Types
You can build one by digging a dish like hole, surrounding it with stones or slate to clearly define the spot as a fire pit. Or you can avail of many off the shelf and bespoke outdoor fire pits available in local DIY stores and garden centres.
The manufactured fire pits are designed to not only look fabulous but to be efficiently functional – simple to position the fuel, easy to clean the ashes, easy to maintain the parts and relatively easy to assemble.
There are fire pit kits and preassembled sets that come on tripods or legs – making them suitable for decked areas. As well as barrel types and even caged or mesh topped varieties for patio and paved areas. All with safety as well as aesthetic appeal in mind.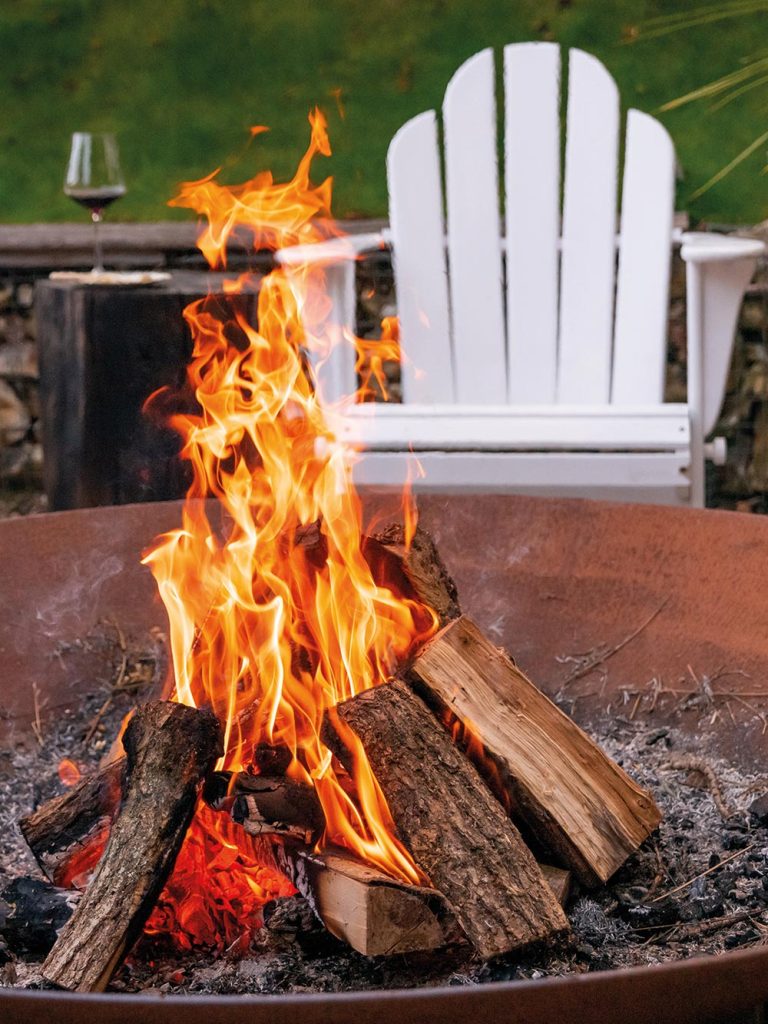 Some may be gas/propane fuelled and some may require professional installation and ongoing cost and maintenance consideration. Most are wood burning. Many are simple bowl or dish designs that are low maintenance. There is the perfect choice waiting for your space and needs/demands. Your local supplier will have plenty of advice and considerations.
Some fire pits are designed to be permanent structural, and even sculptural, additions to the garden. Others are portable or quick assemble/disassemble pieces, to store away until needed.
Each type comes in a variety of budget and aesthetic ranges – incorporating different metals and materials to blend in with the existing garden style and even matchable to garden furniture and accessories.
Fuel for thought
Of course, you will need to adhere to some fire pit safety rules when in use. Use the right fuel and be eco-conscious with that – nothing overly smoky and definitely nothing with pollutants or toxic gasses to emit.
The aim is to burn enough fuel to keep a good glow and sufficient warmth. It's a campfire, not a bonfire. Some pits are suitable for cooking, others are not. Check manufacturer guidelines.
Depending on your fuel, most embers will take a good few hours to fully extinguish and some can still be glowing 24 hours or more, later. Always check them thoroughly. After the fire has done its job, leave the ashes until completely cool before safely disposing of them or using them as a compost agent if suitable.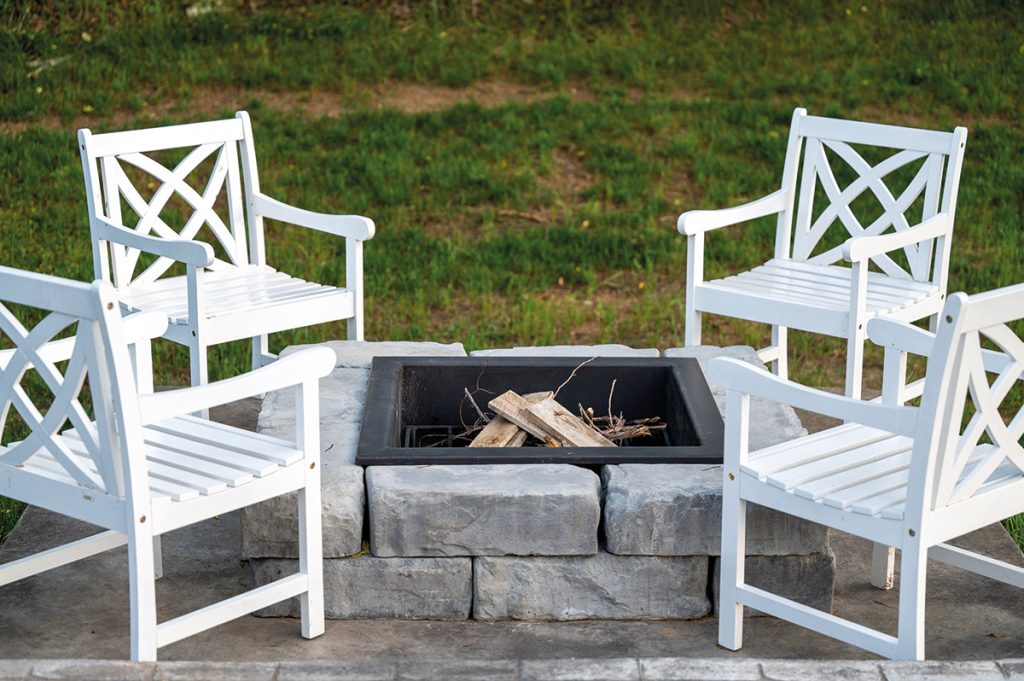 A fire pit may seem like a convenient way to get rid of garden leaves and debris. Don't. Keep the fire as a sacred fire – one to cherish with family and friends around.
With that reverence, never leave your fire pit unattended, take care with pets and children attending. Be fully aware of the dangers and precautions with fire. It is best to keep a large bucket of water or hose close by, just in case of an emergency or accidents.
So that's it, a fire pit makes a wonderful addition to a garden. It will provide hours of joy and comfort, light and warmth. A primal, empowering and health enhancing feature that's a wonderful focal point to experience with close ones.