Choosing between the myriad of options for heating, hot water and ventilation is confusing at best. Self-builder Brian Corry, who's on a mission to build an eco house, explains that is precisely why he relied on professional advice to come to a decision. In the end, he and his wife Karen chose an innovative system that combines all three.
Reality very quickly sets in once you have been granted planning permission to build your dream home. Chief among the most complex decisions Karen and I had to make early on, was how to heat our home, supply it with hot water and ventilate it correctly.
In the past, it was relatively straightforward to heat your home with a large, oil guzzling boiler and large radiators in every room – controlled by a simple on/off timer that never knew how warm or cold the house was (there certainly were no thermostats).
The house wouldn't have been built with high levels of insulation and natural ventilation would have been the preferred method of injecting fresh air. This was done by boring four inch holes through the walls (typical in ROI) or having windows with integrated trickle vents (more typical in NI) causing your curtains to shift on a windy day.
A fireplace or two came in handy for the colder days and nights, as long as it was fed a steady stream of coal or turf. Not exactly good for the environment, your lungs or your pocket!
Ever stricter building regulations, especially in ROI (and soon to be in NI), have forced self-builders to think carefully about their choices, and in many ways have limited their options.
As with the motto, Reduce, Reuse, Recycle, the best kind of energy in the home is the one you don't need in the first place. In building design this is called the "fabric first" approach. In other words, maximise the energy efficiency of the house before you even look at what you need to heat it.
Even though we are building in NI and didn't have to go down this route, we chose to heavily invest in insulation and airtightness to minimise the amount of heat we would need. The fabric first approach is a well proven method.
My parents, for example, built a house back in 2012 that was near Passive House standard, which is a low energy building methodology that focuses on the fabric first. They didn't quite have the confidence at the time to do away with radiators in every room, just in case, however in nine years they have never once been used.
Ventilation
Given the level of airtightness we plan to achieve, we knew we would go for a mechanised ventilation system to ensure a steady stream of filtered, fresh air. The most efficient system we came across was mechanical ventilation with heat recovery (MVHR) so that was on our must have list from the start.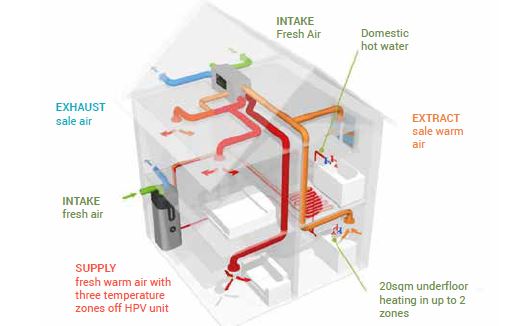 Researching suppliers, we found a heat recovery ventilation company that offered a system that combined ventilation with heating (see next section).
Of huge importance is designing and sizing the MVHR correctly to the specific layout of your home and the necessity to do so at the early design drawing stage so that ducts can be accommodated and hidden in the walls, ceilings and voids before the layout is finalised.
If we had tried to do this at a later stage, it would have been a complete nightmare and led to costly and unsightly compromises. For example, the MVHR contractor found early on that we had left too little space in the plant room to actually fit the unit into. It was then dead easy to make the room 300mm wider and the next door bathroom 300mm smaller.
This is not something you would notice when built, but would have been a costly error if we had discovered it too late. Similarly, the freedom to plan the duct routes will lead to a cheaper install with fewer ducts, less bends and a more free flowing, quiet and efficient system.
Space heating and hot water
Working out the heat load requirement to heat the home was done as soon as we had our specifications finalised for the floor, wall and roof build up. This step definitely requires an expert. After all, you wouldn't dream of ordering a structural beam without first employing a structural engineer and the same goes for working out the heat loss calculations for each room.
Such granular detail is necessary given that the orientation of each room (e.g. North facing) and the amount of glass (solar gain, less thermal performance than a wall, etc.) will each have an effect on the amount of heat required to heat it to a comfortable level.
We paid for a professional to work out the calculations and it turned out that the heat load for each room was really very small. So small, in fact, that installing a house wide heating system would have been a complete waste of money.
Instead, we looked at a system that would provide heating, hot water and mechanical heat recovery ventilation all in one, using an air to air heat pump as the primary source of heat generation.
The system was able to provide the small amount of heat we needed by warming the incoming fresh air and using the MVHR ducts to deliver it to each room. In addition, this system can heat a 300 litre unvented hot water cylinder with an electric immersion as back up.
This hot water cylinder has a third coil that can be connected to a solar thermal panel. However, our intention for the future is to install photovoltaics (PV) and battery storage to reduce the electricity usage of the heat pump.
We have some electric heated towel rails in the bathrooms, and a small area of electrical underfloor heating in front of the large windows in the kitchen and living area. These will be sufficient to cope with the coldest of days. We have all heat emitters integrated into the main heating controls.
Choosing this as our heating system meant we had to configure our ventilation ducts so that they would correspond to our heating zones. We have three heating zones, and therefore three sets of ductwork that feed back to the central ventilation unit; each of the three zones are then laid out in a tee'd configuration.
Cooling
Overheating can be a problem in many well insulated homes, particularly in south facing and heavily glazed rooms. The solid timber build method we chose helps regulate the temperature inside, as it does not heat up or cool down quickly.
However, we do have a large south facing glazed area, so we will be adding a brise soleil to provide shading. Our hybrid heating and ventilation system will also be set up so it can provide up to five degrees of cooling for hot summer days, by running the heat pump in reverse.
This cooling function comes at an additional cost but worth it, considering we didn't have to invest in a standalone heating system and heat emitters. Then again, if the brise soleil does its job, the cooling mode may turn out to be used just as much as my parents' radiators. Only time will tell.
The bottom line
The overriding lesson throughout our journey was to work out what we wanted or needed as early as possible and have these details fed directly into the architect's drawings.
Very few architectural designers have the skills and knowledge to provide this specialist advice to self-builders, but thankfully we found that any heating and energy efficiency consultants we came across were well practised working with them.
Making changes at the design stage saves a huge amount of redrawing and costly changes later on in the process. Every change has a knock on effect; some can be minor but others require entire areas to be redesigned.
Remember, professional input is critical in narrowing down the bewildering number of options available to you. Otherwise, you may find yourself quickly disappearing down a multitude of rabbit holes.